Archive: March, 2012
Virginia A. Smith

, Inquirer Staff Writer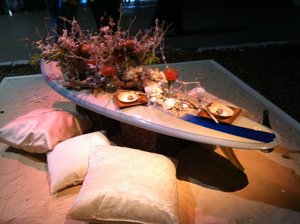 This is another entry in the Table class, by Roots & Shoots Garden Club. They describe it this way: So here's to the golden moon, and here's to the silver sea, and mostly here's a toast to you and me!
Dinner on a surf board. Driftwood, proteas and shells on the tabletop. Open champagne bottle stuck in the sand. Beautiful pillows for sitting. I mean, how romantic can one dinner be? Sign me up.
Virginia A. Smith

, Inquirer Staff Writer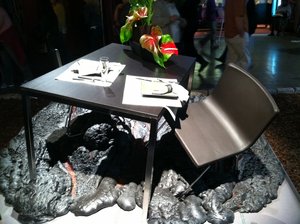 Sometimes it's the tiny exhibits at the flower show that prove more enjoyable than the big Berthas. This is one in the Table class. The theme is "Malu no," which means reserved for. The story goes like this: A young couple from NYC moves to Hawaii and brings their minimalist style with them. As they sit down to enjoy their first meal in their new home, "the lava flows instead of champagne." Cute.
The creators call themselves, simply, "The Gardeners." And I think they were pretty brave to put up an entry like this one - all gray and black, functional and unadorned. I'm no minimalist, but I like this one.
Virginia A. Smith

, Inquirer Staff Writer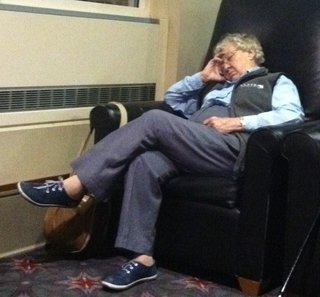 There are no flat screen TVs, no bar, no fries and beer, but at the west entrance to the flower show - the other side of 12th Street at Arch - there are large, soft, comfy chairs. And boy, are they worth the walk down from the show.
I've heard lots of complaints this year, same as last year and the year before, about seating. As in NOT ENOUGH. So folks are heading for the Man Cave and the Family Lounge and grabbing a spot on the floor if they have to. But there are places to sit inside the show, if you're clever - the Designer's Studio in the far right corner has audience benches, and you can learn something about floral design while you rest.
The Kafe in the center has seats - if you're hungry. But you can't stay there too long. And there are rows of seats out in the hall. My experience has been that these are taken within a few minutes of the show's opening and they stay full throughout the day.
Virginia A. Smith

, Inquirer Staff Writer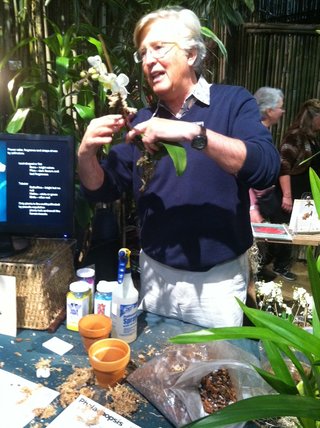 Bob Eaves of West Chester, a volunteer with the American Orchid Society, was holding forth on a subject close to many hearts at this year's tropical-themed show: orchids, and how to transplant orchids to larger pots. Bob's also a volunteer at Longwood Gardens, where - he reminded me - the Orchid Extravaganza continues till March 25.
Question posed to Ed involved when to repot Phalaenopsis? Simplest answer: not when it's blooming. Transplanting then would disturb root hairs and roots. The new pot should be one inch bigger in diameter than the roots are long, Ed said. Put a little dampened wood-chip mulch in the bottom - he likes translucent plastic pots with drainage slits. And don't bury the plant.
Submerge the pot in a bucket. Let it soak a bit, and drain, then put in an east- or south-facing window with bright light. Water every seven days or so, when the surface is dry. Bob says orchids don't like drafts, whether warm or cold. They like a nice ambient temperature with calm air movement. Drafts make blooms fall off.
Virginia A. Smith

, Inquirer Staff Writer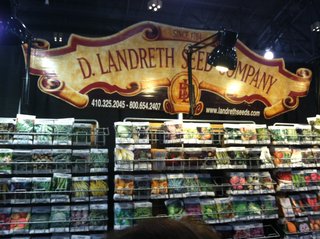 Barb Melera, owner of the D. for David Landreth Seed Co., looks like she hasn't sat down in days. Judging from the consistently long lines at her booth at the show this week, she hasn't. This venerable heirloom seed company, so recently on the brink of financial oblivion, is inching its way back to solvency, helped along by strong response to its 2012 catalogue.
Barb does the garden/flower show circuit - where does she get the energy? - and she's drawing big crowds here. (I intend to join them this weekend when I'm off duty. The balmy weather has me and everyone else in the mood to plant, and Landreth's seeds are consistently cheaper than the Seed Savers Exchange seeds, also heirlooms, at the show's Meadowbrook Farm Store.)
Landreth has been around since 1784, making it the oldest seedhouse in the country. It's counted among its customers every president from George Washington to Franklin Roosevelt and been responsible for the introduction of many flowers and vegetables that remain favorites today. Among them: the zinnia, the first truly white potato (they were yellow up till then), various tomato varieties and Bloomsdale spinach.
Virginia A. Smith

, Inquirer Staff Writer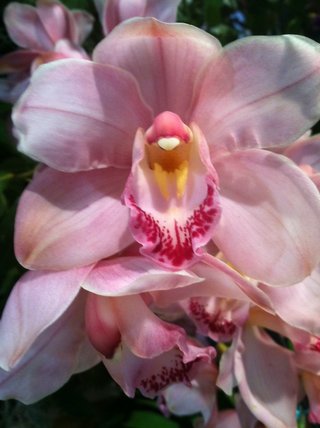 This isn't a picture of Phillip Watson, but it's pretty eye-catching. So is Watson, the golden boy of QVC, with his March tan, perfect physique and blond hair. Very TV, and I'm sure it helps him sell a ton of plants. He spoke today at the flower show and all I can say is, too bad he can't stick around. His onetime talk, "Big Ideas for Small Spaces," was excellent, though he didn't always stick to the small spaces bit -- we saw many pictures of sprawling estates in Greenwich, Ct., where he does a lot of design work.
But who doesn't enjoy vicariously (or otherwise!) poking around those grand Greenwich estates, with their turreted guest houses, go-on-forever pools and geometric parterres? I sure do.
Phillip - may I call you Phillip? - is the author of the book Pleasure Gardens. Also the font of many great tips and suggestions for garden plants. I'll try and remember a few. Such as ...
Virginia A. Smith

, Inquirer Staff Writer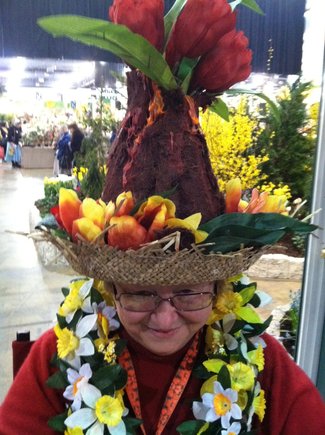 Karan Snyder is at it again. You might remember her from last year's show - her fabulous, bright orange Moulin Rouge hat? This year, she's doing the Hawaiian theme with a Dutch twist, since she and her husband Tom are the brains, the support, the everything behind the Netherlands American Business Association organization and exhibit (Hall B, middle of the row closest to the Marketplace).
Karan's sister is a codstume designer in L.A., and each year, she sends Karan an amazing chapeau that incorporates the flower show theme. This year, Karan's sporting a straw hat volcano up top with red/orange tulips around the base/brim with red ones coming out the top. It's lots of fun, though she spends her whole day posing for pictures. Gets tiring.
She's also wearing a lei made of silk daffodils and has a Hawaiian-style muu muu made out of tulips, or so she says. She's not wearing it today. Just the hat. But that's enough. "If I had a dollar for every picture, I could have taken my sister and me to Waikiki for two weeks," she says.
Virginia A. Smith

, Inquirer Staff Writer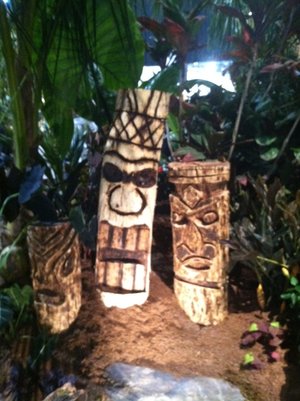 The kids at W.B. Saul High School in Roxborough actually carved these tikis, and a dugout canoe, for their exhibit - Hall B, the row before the Marketplace. Juniors Caitlyn Majzik of Mayfair and Samantha Colti of Chestnut Hill say it took about two months to get all the work done. They originally wanted to do a water feature, but soon discovered that water can be problematic. So the exhibit simply suggests water with a straw hut by a sandy shoreline. a clutch of tikis, and a canoe packed with fruit.
"We didn't always think it was going to work out but it came out pretty nice," says Samantha, who may work for her uncle's landscaping business when she graduates.
Both girls are studying landscaping, and say they and the other students worked about three hours a day in the weeks leading up to the show. A good chunk of that time went for the canoe, which was painstsakingly hollowed out by chain saw and chisels. The log actually came from the Wissahickon.