Archive: October, 2012
Virginia A. Smith

, Inquirer Staff Writer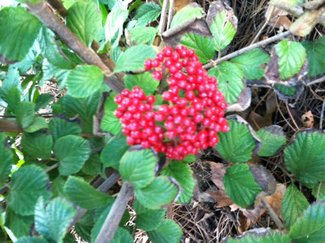 We all know viburnums are veritable soldiers in the garden, tough, easy care and - sometime - beautiful. I'm not a huge fan of some varieties, but this one - Viburnum dilatatum 'Cardinal Candy' - has signed me up as a fan. It was planted in spring to take the place of the biggest yew I've ever seen. My contractor, who thought it might be 60 years old or even older, recommended its removal because the roots were undermining a porch and some steps. It took an entire day for a very stron young man to dig it out - by hand. (Ah, youth!)
'Cardinal Candy' gets white blossoms in spring followed by these great clumps of red berries. It does not need a pollinator in the area, which to me is a benefit. (How many hollies have gone fruitless in your yard for that reason?) The birds haven't yet attacked these berries but that will come later. Too much other good stuff to feed on in my habitat garden, I guess.
'CC' tops out at 6 feet or so, is said to be unappealing to deer (yes, but ...) and extremely tough in cold weather. Which will come in handy if we ever get a robust winter again. Not that I'm wishing for one ...
Virginia A. Smith

, Inquirer Staff Writer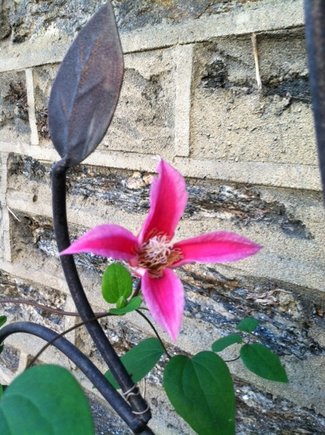 I'll never understand why this clematis - 'Princess Diana' - isn't a runaway hit in American gardens. In fact, I've never seen it for sale in any garden center or on display in any public garden. Only online. But take a look! It's extraordinary. I saw it several years ago completely covering a trellised wall in a suburban garden - in summer - and knew I had to have it.
Now I have three. They bloomed once several weeks ago and are at it again, with less vigor but the same beauty. THe flowers are smaller than what you might expect from a clematis, but 'Princess Diana' is a Clematis texensis, which typically has bell- or tulip-shaped blossoms. Diana is tulip-shaped, with a dainty reddish-pink flower. It's touted as suitable for use as a groundcover, blooming from summer into fall.
Interesting idea for groundcover, but I think it's stunning on a trellis like this one.
Virginia A. Smith

, Inquirer Staff Writer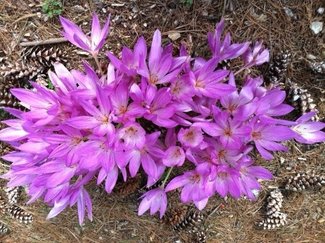 That's a fun way to describe the never-ending process of updating and refreshing the gardens at Morris Arboretum. It came from Gary Koller, Morris' plant curator from 1973 to 1976, who joined fellow curators Paul Meyer (1976-1991 and since then, director), Rick Lewandowski (1991-1998)and Anthony Aiello (1998 to present), for a panel discussion on Friday afternoon about the arboretum, which is celebrating its 125th anniversary this year.
Morris, which has sponsored more than 20 plant-collecting expeditions since the 1970s, now has 12,248 labelled plants spanning 2,500 different types. Listening to these distinguished panelists, it was humbling to realize that they faced obstacles that would surprise visitors to this well-run place today. For example, Paul described the "deferred curatorial maintenance" as "just astounding." His issue became "how to get things done without resources. We had a very small staff, very little money" - but a lot of enthusiasm brought in by seasonal interns, a program he started after a longterm gardener retired.
Tony described his arrival at a greenhouse that was bursting with plants collected during seven trips to China in six years - 2,400 plants, everything labelled "highest priority." (Morris has 500 now.) "That was the most overwhelming part of the job," he said.