Archive: January, 2012
Virginia A. Smith

, Inquirer Staff Writer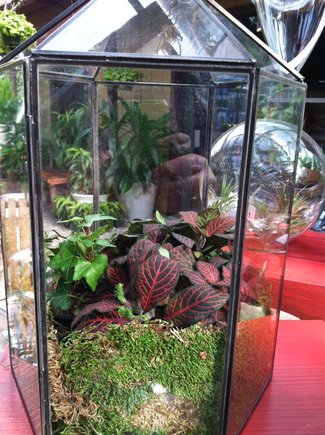 A trip to Terrain is always a treat, though I rarely buy anything. If I do, it's usually a gift. But guess what. They have great workshops. I attended one last night on terrariums, which is the most popular topic they offer.
Last night's was the 50th terrarium workshop since Terrain opened in April of 2008. They go all year long, with the most heavily attended, naturally, falling in spring, autumn and winter. But assistant manager Diane Maguire does make summer terrariums, open ones using sand rather than soil. And lots of succulents.
The "gardens under glass" put together last night were pretty interesting. Students used one to five plants, opting for succulents and miniature palms, a lot of ferns and in one case, a small plant with tiny lavender blooms that looked like a mini-rose. Many of the plants suitable for use in a terrarium bore no names.
Virginia A. Smith

, Inquirer Staff Writer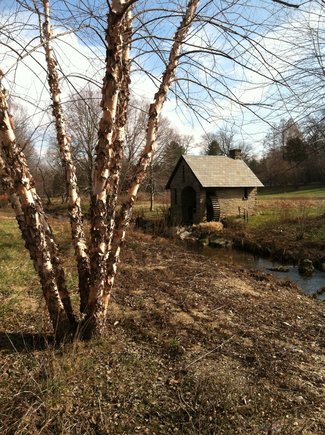 As recently at 1985, the Pump House at Morris Arboretum was a sad mess, its roof open to the elements, its walls smothered by poison ivy. Built in 1908, the wheel historically was powered by a three-cylinder pump that pushed water uphill to a cistern in the tower of the mansion belonging to John and Lydia Morris.
It provided water for their household, and also for livestock and fountains in the garden. But by 1917, it was no longer in use, the arboretum having been hooked up to the new city water system.
The building remained, however, season in and out, year after year, weather and age taking a huge toll. An argument certainly could've been made to tear it down and perhaps that argument was made.
Virginia A. Smith

, Inquirer Staff Writer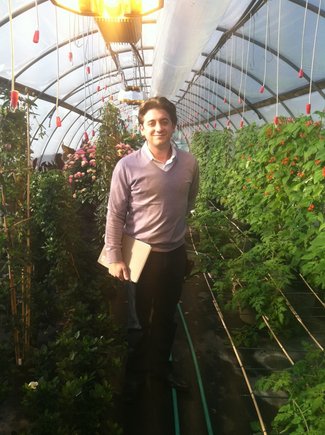 Here's Barrett Robinson, the new head guy at Meadowbrook, in one of the greenhouses that's growing vegetables and flowers for the flower show, which is coming up in March (3/4-3/12). To his right is an expanse of scarlet runner beans, slated to be part of PHS' vegetable-centric exhibit this year.
These are one of my favorite beans to grow, not so much for the beans themselves, although they are edible, but for the bright green foliage and dark tangerine-colored blossoms, which you can get a flavor for - sorry about that! - here. They're gorgeous. Barrett couldn't believe I knew what they were, but I'm six years down the road in this beat and have managed to pick up a little bit of information along the way. At least, about this bean. That's safe to say.
Virginia A. Smith

, Inquirer Staff Writer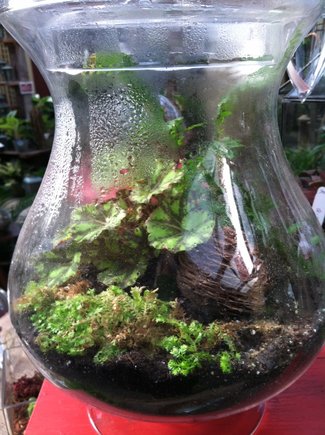 New books, workshops, inventory at garden centers and design stores - it's all about terrariums, which were also highlighted in the latest issue of Martha Stewart's magazine. Tomorrow night at 6 p.m. I'll be at Terrain at Styers (914 Baltimore Pike in Glen Mills, 610-459-2400) for a workshop ($25, includes potting materials and a glass of wine, plants and terrrariums available to buy).
But there are others coming up.
Primex Garden Center (435 W. Glenside Ave., Glenside, 215-887-7500) has one scheduled for Feb. 25, 10-11 a.m., $25, includes glass bowl, soil and 3 plants. And Meadowbrook Farm (1633 Washington Lane, Meadowbrook, 215-887-5900) plans one on Jan. 21, 1-3 p.m.; $25 members, $35 nonmembers, includes soil, moss and small plants. You can bring your own terrarium container or buy one at the workshop. (info 215-988-8869).
Virginia A. Smith

, Inquirer Staff Writer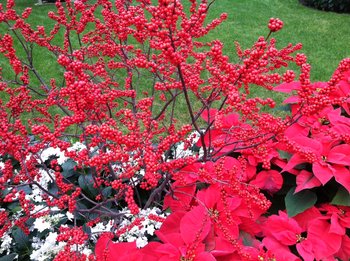 I swung by Longwood Gardens today and caught the tail end of the Christmas exhibit, which will be up till Sunday. This is the classic combo here. Can't beat it. Nor can you argue with the tropical temperatures inside the conservatory. It was 16 degrees outside! Sparse crowds inside but they included a sizeable contingent of Amish folks. Loved the contrast in cultures and colors.
Usually, on trips to Longwood, I wander around after my interview, just to see what's blooming and what's new. Not today, thank you. Inside, I hit the silver garden, saw the roses and Chinese hibiscus, the tropicals and orchids, and, of course, the Christmas stuff. I'll post more on that.
Virginia A. Smith

, Inquirer Staff Writer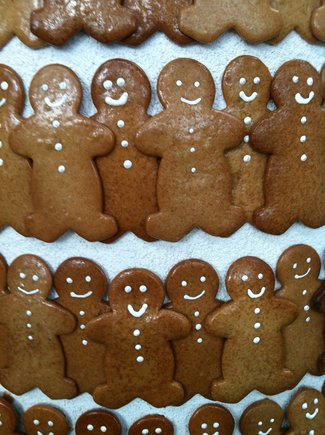 Here they are. They look ... good enough to eat!
Virginia A. Smith

, Inquirer Staff Writer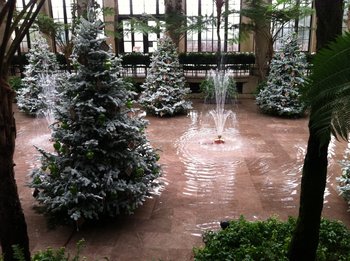 Hard to see the gingerbread ornaments here, but I especially liked this part of the Longwood Christmas display. It's more subdued than other years' efforts. Easy on the eyes. Peaceful.
Blue spruces were set in water and decorated with bright green ornaments and others made of gingerbread. Very simple. Well, this is Longwood. Nothing's that simple here! I liked it.
There were towers of gingerbread men, too, along with this - necessary, I'm sure - admonition: "These gingerbread men are fragile. Please enjoy this display with your eyes only."
Virginia A. Smith

, Inquirer Staff Writer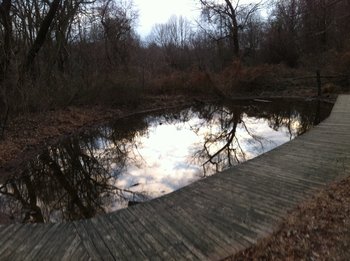 Nothing wraps up a winter vacation as nicely as a brisk hike. The scenery is gray, gold and brown, beautiful in its own (very seasonal) way. And it recalls other hikes in other seasons.
Remember the monarchs on the milkweed? The creek is really full. Let's go to the bird blind to watch the feeders. (Did that, but the only action was a white-tailed deer. No birds. The feeders were low on seed.)
Took my mind off other things, namely going back to work today. Which, actually, hasn't been too bad. Folks are in a pretty good mood. Those who stayed and worked liked the quiet. Those who had time off... well, they had time off!