Virginia A. Smith

, Inquirer Staff Writer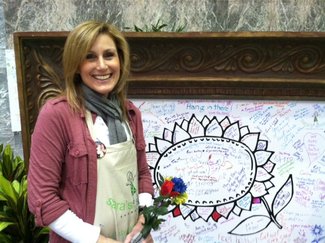 There's a back story to everything, I guess. One, at the Flower Show, involves a little girl named Sara and the parents who love her still. Sara Burke was diagnosed in 2007 with a malignant brain tumor. She went through many surgeries, chemotherapy, stem cell transplants and other procedures that left her with weakness on her left side and double vision requiring all sorts of therapies. Sara's mother, Jennifer, pictured here, lived at Children's Hospital of Philadelphia for seven months.
Sara died on May 12, 2008. She was 5, a kid like any other five-year-old. She loved arts and crafts, mac 'n cheese, her Big Wheel, her big brother and sister, her mom, and her dad, Kevin Burke, known to all who attend the Flower Show as half of Burke Brothers Landscape Contractors in Wyndmoor, one of the show's major exhibitors.
After Sara's death, Jen and Kevin founded Sara's Smiles Foundation (www.saras-smiles.org) to offer support and help to other families affected by pediatric cancer and other chronic illnesses. The foundation has a presence at the Flower Show - in the Grand Hall, down the corridor from the show and just up the escalator from Market East. You'll know it's Sara's Smiles from the large posters where anyone can write a message that inspires children with cancer and their families.
Virginia A. Smith

, Inquirer Staff Writer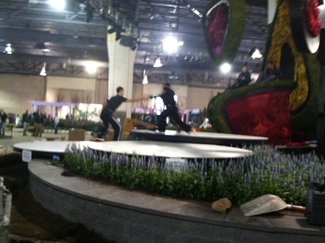 What if you went to a flower show and liked the entertainment better than anything else? Could happen. Seen here in the blur that they were, two dancers from Bandaloop, the Oakland, CA., aerial dance troupe that will be entertaining the troops at the flower show, are practicing on the main stage. These guys are used to performing on skyscrapers and mountainsides. You'd think a convention center would be, in comparison, a pretty tame (boring) venue. Actually, says Amelia Rudolph, a 1986 Swarthmore graduate and the company's founder, the flower show set is tricky. Tall buildings have flat surfaces. The show set has a lot of bumps and curves. "It's really fun to make this transition," she says, describing the entrance garden components as "built to be beautiful to show off the architectural themes, which is their main function, but they have to be structural enough for us to dance in and on."
Rudolph - 50 years old, still dancing, and she has a three-year-old back home in San Francisco - calls the challenge of dancing here "unexpected and unknown." Which suits the dancer's personality. "Because of the nature of what we do, we're always changing and adapting the choreography to the environment. People who excel at this have the ability to tolerate chaos and the unknown," she says.
Some trivia is in order. There are six dancers here, three men and three women, plus a climber who is not "on rope," meaning she is not attached to guide wires or any other supports. (She will be climbing all over the set.) Memebers of the troupe eat a lot, which you might have guessed, given the energy required to do what they do. They prefer organic. And they really like kombucha, the fermented black tea that has its fans (not me).
Virginia A. Smith

, Inquirer Staff Writer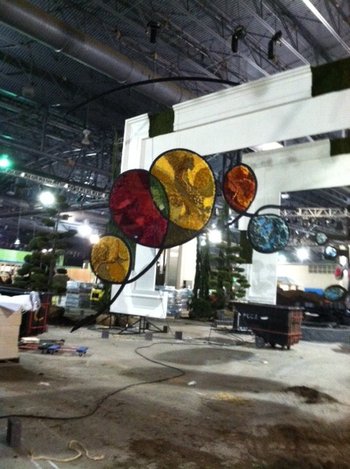 This is set-up week for the flower show, always a crazy time, and let's just say some folks in the convention center look farther along than others. It's very noisy today ... people yelling and running around, backhoes to-ing and fro-ing, cherry pickers messing around in the ceiling, all sorts of equipment beeping. The Grand Hall, which is supposed to have food vendors in it, was still almost entirely empty when I passed through a little while ago. Tomorrow's the PHS preview, right?
The job always gets done, somehow.
Been a lot of chatter about the new "entrance garden," formerly the central feature (took me awhile to figure out what that was). Talking to this captive audience every year I hear the same things - wonderful, love it, colorful, creative. As time goes on, the tune can change. I wouldn't say it's difficult to find someone who admits to actually liking last year's central feature, but more and more people are landing in the negative or nearly negative column. They always make a face - they look so GUILTY - and then they whisper, "To tell you the truth, I didn't think it was so great last year. Not that it was terrible ..."
Virginia A. Smith

, Inquirer Staff Writer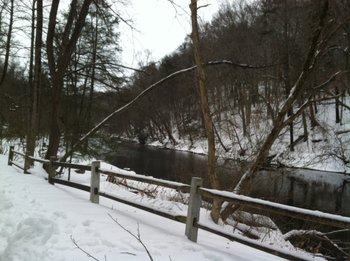 A few brave souls ventured into the Wissahickon yesterday. Couple of dog-walkers, several X-country skiers (inspired by the Olympics, perhaps - anybody see Charlotte Kalla's unbelievable finish in the women's 4x5K relay???), one intrepid bicyclist (icyclist?) and a handful of others without leash or sporting equipment. Just there to enjoy the scenery, although that became increasingly difficult as the sun went in and the temperature went down. Walking in narrow, icy ruts was challenging, too.
It was very beautiful, if cold, and it was wonderful to see so many robins, looking well-fed, rustling around whatever water was moving. Spring will come. Someday.
Virginia A. Smith

, Inquirer Staff Writer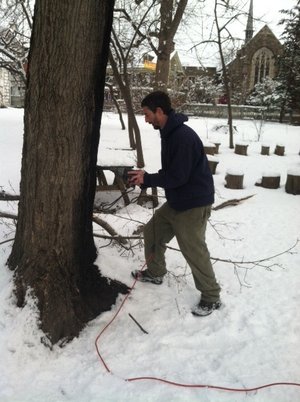 My wonderful dad, gone now for almost 17 years, was born and raised in the tiny town of Ipswich, on the beautiful North Shore of Boston. And let me tell you, he loved maple syrup. Growing up, my brothers and I and later the grandchildren were introduced by him to maple syrup on vanilla ice cream and maple syrup on grapefruit (yes!) and to this day, I love it in oatmeal, cookie dough, salad dressings, pancakes and waffles. I even put it in Indian pudding, one of my family's favorite desserts.
In short, maple syrup has always been a great pleasure and for me, part of many happy memories around the dining room table. So how fun was it one snowy morning this week to tag along with some folks at Wyck, the historic house and garden in Germantown, as they tapped two sugar maples in search of sap?
It's maple syrup season in Pennsylvania. The nights are cold, the days are ... supposed to be warm (over 40 degrees) to get the sap flowing but it's been too cold for that. So Elizabeth Belk, Wyck's horticulturist, educator Christina Moresi, and beekeeper/caretaker Jeff Eckel must wait for the weather to settle into the correct rhythm. Once the sap is collected, they will boil it - and boil it and boil it - till the water evaporates and leaves the darker, sugary, syrupy essence that, gallon for gallon, outpaces the price of crude oil. (Makes sense to me!)
Virginia A. Smith

, Inquirer Staff Writer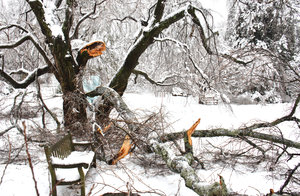 If trees could weep, this one surely would. It's actually a weeping yoshino cherry from Japan, the kind that produces the ethereal blossoms in spring that star in cherry blossom festivals all over. This week's storm roared through the region, toppling trees and dropping tree limbs everywhere. This photo by Paul Meyer, Morris Arboretum director, needs no cutline. The devastation is obvious, but Paul says the tree, one of his favorites, should recover.
Virginia A. Smith

, Inquirer Staff Writer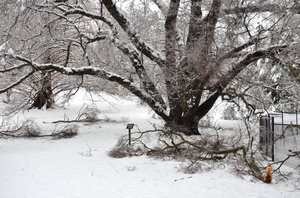 Winter's supposed to be when gardens sleep, gathering strength for spring. But it can be a risky time. Lots of tree damage in the region's public gardens from this week's heavy snow and ice storm. This photo, taken by Paul W. Meyer over at Morris Arboretum in Chestnut Hill, is a haunting example of the destruction that blew through the region. It's a Chinese elm, more than a century old, which means it's seen a good bit of bad weather and storm damage in its time. The good news: It will recover.
Virginia A. Smith

, Inquirer Staff Writer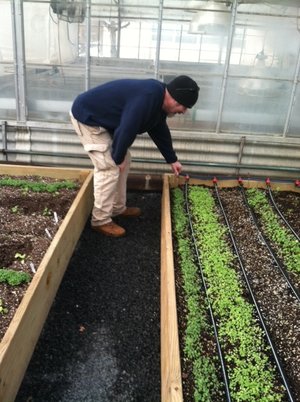 Delaware Valley College in Doylestown has teamed up with the Rodale Institute in Kutztown on the Veteran Organic Farming Program, a 3-semester, 36-credit program that combines classroom study on all aspects of organic farming and hands-on work on the land at DelVal, Rodale's 333-acre farm, and other farms in the area. I visited DelVal this week and came away with the feeling that these students - one Marine, and one each from the Marine Corps and Coast Guard - have a bright and interesting future ahead of them. (Consider that the average age of American farmers is 57 and that the organic food segment of the market is exploding.) Here, Ian Woods is checking on some seedlings growing in a DelVal greenhouse. Ian is the Coast Guard vet. He spent 23 years in emergency management, which includes oil spills and other disasters. "I needed to change careers for my sanity and my health," he says. "The culture we're in .. everything's an emergency. You can't catch a break"
Except here in the greenhouse. "This is it," he says.