Virginia A. Smith, Inquirer Staff Writer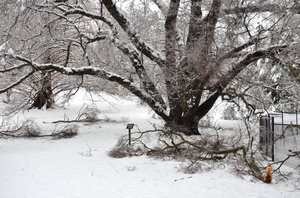 Winter's supposed to be when gardens sleep, gathering strength for spring. But it can be a risky time. Lots of tree damage in the region's public gardens from this week's heavy snow and ice storm. This photo, taken by Paul W. Meyer over at Morris Arboretum in Chestnut Hill, is a haunting example of the destruction that blew through the region. It's a Chinese elm, more than a century old, which means it's seen a good bit of bad weather and storm damage in its time. The good news: It will recover.
Virginia A. Smith, Inquirer Staff Writer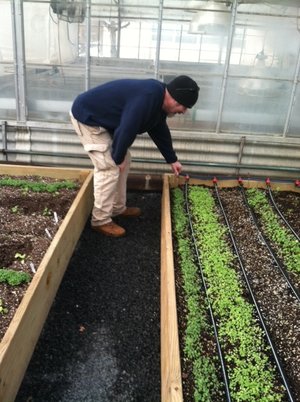 Delaware Valley College in Doylestown has teamed up with the Rodale Institute in Kutztown on the Veteran Organic Farming Program, a 3-semester, 36-credit program that combines classroom study on all aspects of organic farming and hands-on work on the land at DelVal, Rodale's 333-acre farm, and other farms in the area. I visited DelVal this week and came away with the feeling that these students - one Marine, and one each from the Marine Corps and Coast Guard - have a bright and interesting future ahead of them. (Consider that the average age of American farmers is 57 and that the organic food segment of the market is exploding.) Here, Ian Woods is checking on some seedlings growing in a DelVal greenhouse. Ian is the Coast Guard vet. He spent 23 years in emergency management, which includes oil spills and other disasters. "I needed to change careers for my sanity and my health," he says. "The culture we're in .. everything's an emergency. You can't catch a break"
Except here in the greenhouse. "This is it," he says.
Virginia A. Smith, Inquirer Staff Writer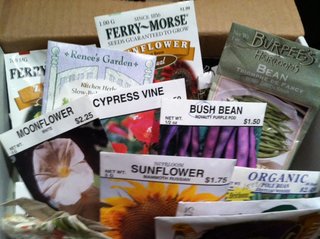 Nothing like a little time off to purge the brain of stressful thoughts and to make room for the fun stuff, as in: What should my vegetable garden look like in 2014? The catalogues are pouring in, and one day this week I actually spent a couple of hours looking at them and making a list of everything that struck my fancy.
It was a long list - 15 lettuces alone - and it will have to come down or I'll have to rent a rabbit family this spring. But it's a start. I barely looked at the ornanentals. (That comes later.) I decided to simplify things and concentrate on tomatoes, salad lettuces, greens and herbs, maybe a hot pepper plant, and buy the rest at my local farmer's market.
At the end of the 2013 season, I ripped out a bunch of roses, which frees up a new spot for tomatoes - lots of sun - and gives me a chance to start fresh. And instead of loading up on seeds from various purveyors at the flower show, I'm going to order everything from Baker Creek Heirloom Seeds this year. They collect from all over the world, and I'm excited to try some of their finds.
Virginia A. Smith, Inquirer Staff Writer
It's so cold today, I almost forgot what it was like at Jenkins last week - a balmy 63 degrees - when I took a walkabout with Steve Wright, the arboretum's horticulture director and curator of plant collections. The day couldn't have been more pleasant, and we had a great time ambling along the pathways from the parking lot (sassy red sassafrass) to the Green Ribbon Garden (maple leaf viburnum, Fothergilla), down the service road and off to the left to look at the big musclewood tree (bark really looks like a muscle-bound arm), over to Azalea Hill to see the fall-blooming Encore azaleas, around the pond (Franklinias, baldcypress), and finally, back to the Education center through Woodland Walk.
We covered some ground! It was a very pleasant interlude. Thanks, Steve!
Wednesday Walkabouts at Jenkins start at 2 p.m. Nov. 20 is the last one for the season.
Virginia A. Smith, Inquirer Staff Writer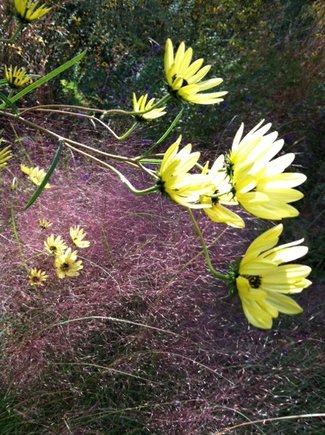 Guess I was tired when I pulled in to Mt. Cuba Center in Hockessin, Del., this morning. Been a rough couple of weeks for us folks in old media. New media, too, come to think of it. So when Dave Korbonits walked me around the meadow there, pointing out the beautiful ornamental grasses that just happened to be swooshing in the breeze... it was all I could do to refrain from lying down and dozing off in the middle of it all.
Actually, Dave says the deer do that. Instead of eating the grasses, they plop down on top of them, making a comfy little nest. Sounded awfully good to me.
What is it about a meadow that hypnotizes people? It's like watching waves on a beach. The repetition is so relaxing. It never gets old, this natural de-stressor that doesn't involve doing something stupid or spending a ton of money.
Virginia A. Smith, Inquirer Staff Writer
I mentioned this in an earlier post: Thanksgiving falls on Nov. 28 this year, which coincides with the beginning of Hanukkah. This is a fun little factoid and we'll probably be hearing more about this than anyone cares about.
What you will not hear about or see is what Cres Motzi, a floral designer from Downingtown, has made of this coincidence.
She's used the colors often attributed to Hanukkah - blue, white, silver and gold - with the fall colors and symbols of the Thanksgiving harvest - silver foliage, mini white pumpkins, fennel bulbs, wheat stalks spray-painted gold.
Virginia A. Smith, Inquirer Staff Writer
Spend a few hours with a talented floral designer and you get all sorts of ideas. This was one of five designs done by Crescentia Motzi of Downingtown, aka "Cres," who's studied with some of the European masters and some of our local stars at Longwood Gardens. (She's teaching workshops there now herself.)
The Inquirer asked Cres to come up with three holiday designs, including one that incorporates the colors of two unlikely holidays - Hanukkah and Thanksgiving - that fall on the same day this year. (It's historic!) I'll share what she created in another post, but first, this design, which wasn't one of the three. It just happened to be on the window sill of her dining room when I visited.
I loved the earthy quality of this one, and the randomness of its elements. Cres used a small log with interesting bark, sea oats, toad lilies, 'Blue Muffin' viburnum, Japanese hakone grass, thyme, 'Toffee Twist' sedge grass, and miniature lady ferns.
Virginia A. Smith, Inquirer Staff Writer
I go much of the summer without a decent tomato crop. By September, most of my plants have shut down production, leaving a few for me to think wishfully about. Now that it's almost November, they're coming in? What am I missing here? This is a 'Mortgage Lifter' and I'm glad to have it. Not as sweet as the tomatoes of summer but then, I didn't have much luck this summer. Good thing I'm not a farmer. My family would starve.