Virginia A. Smith, Inquirer Staff Writer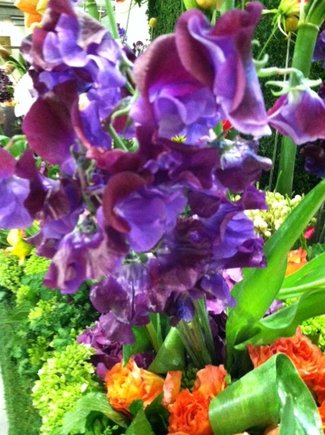 I sure do! and I'm glad he's still there in the grand court of Macy's. It was fun to visit this morning.
Burke Brothers has been doing the Macy's flower show for six years now. It's worth a visit - won't take long - because we deserve a little color, scent and design in our drab little lives, don't we? I am getting emails and texts from people with photos of their snowdrops, dwarf iris and crocuses in bloom. There's desperation out there!
So make yourself feel better. Grab your umbrella and steel-tipped boots, ice scraper and snow shovel, and come on down to Macy's to celebrate spring. You'll be excited to see roses and cyclamen, hydrangeas and cherry blossoms, tulips, rununculus, the sweetest little sweet peas and more. It all feels - and smells - really good.
Virginia A. Smith, Inquirer Staff Writer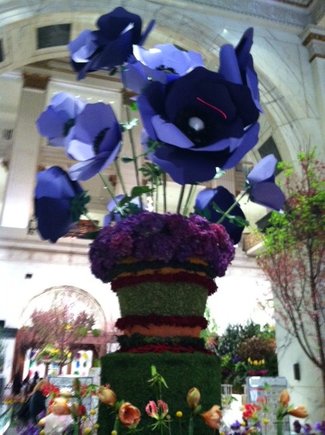 No, this isn't a recipe or something you smoke. It's a partial list of the materials that floral designer Jamie Rothstein used in her "bouquet of the day" at the Macy's Flower Show, going on now through Sunday at the Market Street store.
Jamie, who's been missing from the Philadelphia Flower Show for the past two years, created an unusual "bouquet" of blue paper poppies on tropical monstera stems, ringed by blue hydrangeas, set in a container that has dried peas (yellow and green) and pink lentils, my personal favorite in the lentil kingdom, glued to it. A beautiful mix of flowers rounds out the design - sweet peas that are oh-so-sweet, thick roses, gloriosa lilies, tiny calla lilies, hyacinths.
Looks like something you'd see... in a Jamie Rothstein exhibit ...at the Philadelphia Flower Show.
Virginia A. Smith, Inquirer Staff Writer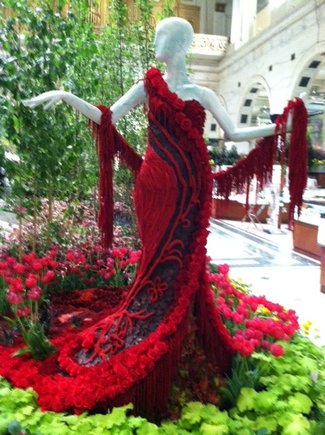 We did just do that but there are two more shows to see, smaller in scope but timed perfectly to counteract the effects of a nasty winter. Been outside today? I thought we were done with this.
Macy's show runs through Sunday, in the grand court (eagle territory - that's eagle, the landmark sculpture, not Eagles) of the flagship store on Market Street. There's a lady in red, a "bouquet of the day" interestingly arranged by Jamie Rothstein (giant blue paper poppies), and displays with color and scent. And I mean it. The hyacinths may have been wan at the Philadelphia Flower Show but they're in high gear at Macy's, which is smart enough to position the floral displays in the midst of women's shoes, jewelry and pocketbooks. (25 percent off Coach bags, ladies).
Among the visitors this afternoon were quite a few tourists, office workers on their lunch breaks, and moms and daughters shopping. I spoke with Billy McKee, from East Anglia in the UK, accompanying his wife, who is attending the annual meeting of the American Educational Research Association. He liked the show, especially the soaring ceiling height in the grand court, but what he really wanted to talk about was Philadelphia.
Virginia A. Smith, Inquirer Staff Writer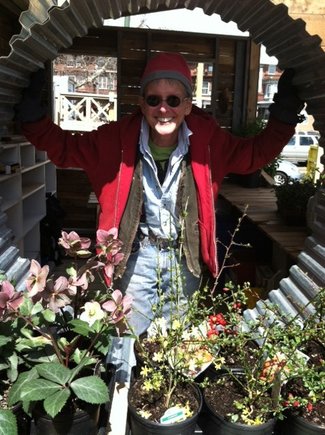 Visited Mary Seton Corboy and her pals as they prepared to open Greensgrow West this coming Thursday. (Story same day in the Inquirer's Food section). It was freezing, or so it felt. (Little did we know the weather would get worse over the weekend.) Greensgrow in Kensington has been wildly successful, and Mary says the folks in West Philly kept asking her to expand there. She's at 49th and Baltimore, site of a club that burned down in December, 2012. Greensgrow West will be on that vacant lot for two years. After that, Mary hopes to establish a permanent presence somewhere in West Philly. So if you have an acre or so to spare, give a holler! This site won't be a farm, but it'll have pretty much everything the Kensington Greensgrow has - a CSA, farm market, pots, classes, and lots of plants, both edible and ornamental.
Virginia A. Smith, Inquirer Staff Writer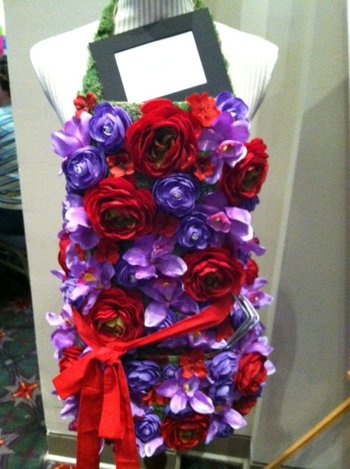 Talking about my house here, longing for my vegetable garden to come to life, but Garden to Table in the back of Hall B at the flower show is the subject here. (Grab your apron - how about this one?) These culinary demos are one of my favorite things.
Yesterday I popped in to see David Corbett, a congenial Irish chef who made what he calls Molly Malone's shellfish paella. I was struck by something Corbett said: that in Ireland, no one is ever more than two hours away from the sea, so all the fish is very, very fresh. (I'll think of that next time I'm in my local Super Fresh. Do not stop at the seafood counter!)
Corbett's recipe called for clams and mussels, shallots, garlic and red ppper ("Spanish holy trinity"), tomatoes, stock and herbs. It smelled wonderful, and gave me an idea for a special dinner this weekend to celebrate my retirement from the 2014 flower show.
Virginia A. Smith, Inquirer Staff Writer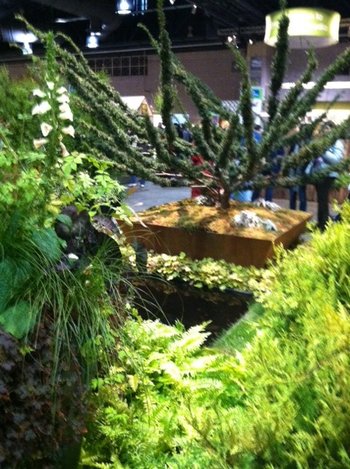 That's the name of a small, little-noticed exhibit at the flower show that bears checking out. Michael Petrie has designed a dandy scene for Einstein Healthcare Network, a show sponsor, in spot #30 that's dedicated to horticulture as therapy. After a winter like this? Are you kidding? Can't count the number of references to the winter of 2014 I've overheard at the show. Whew.
Michael has installed a small reflecting pool surrounded by geometic containers and a moss garden. (Lots of moss at the show this year.) You'll see bonsai and evergreens and elephant ears with plenty of interesting textures and shapes. It's a sweet spot.
This morning I caught up with George Ford - "call me Wally" - and his wife Louise, from Roanoke, Va., at the Einstein exhibit. This is their fourth flower show. They shared their secret for avoiding crowds - come in the door and go left. Most people go right. Or come at night.
Virginia A. Smith, Inquirer Staff Writer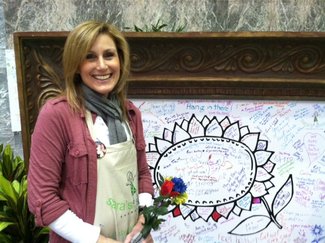 There's a back story to everything, I guess. One, at the Flower Show, involves a little girl named Sara and the parents who love her still. Sara Burke was diagnosed in 2007 with a malignant brain tumor. She went through many surgeries, chemotherapy, stem cell transplants and other procedures that left her with weakness on her left side and double vision requiring all sorts of therapies. Sara's mother, Jennifer, pictured here, lived at Children's Hospital of Philadelphia for seven months.
Sara died on May 12, 2008. She was 5, a kid like any other five-year-old. She loved arts and crafts, mac 'n cheese, her Big Wheel, her big brother and sister, her mom, and her dad, Kevin Burke, known to all who attend the Flower Show as half of Burke Brothers Landscape Contractors in Wyndmoor, one of the show's major exhibitors.
After Sara's death, Jen and Kevin founded Sara's Smiles Foundation (www.saras-smiles.org) to offer support and help to other families affected by pediatric cancer and other chronic illnesses. The foundation has a presence at the Flower Show - in the Grand Hall, down the corridor from the show and just up the escalator from Market East. You'll know it's Sara's Smiles from the large posters where anyone can write a message that inspires children with cancer and their families.
Virginia A. Smith, Inquirer Staff Writer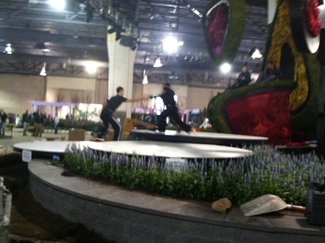 What if you went to a flower show and liked the entertainment better than anything else? Could happen. Seen here in the blur that they were, two dancers from Bandaloop, the Oakland, CA., aerial dance troupe that will be entertaining the troops at the flower show, are practicing on the main stage. These guys are used to performing on skyscrapers and mountainsides. You'd think a convention center would be, in comparison, a pretty tame (boring) venue. Actually, says Amelia Rudolph, a 1986 Swarthmore graduate and the company's founder, the flower show set is tricky. Tall buildings have flat surfaces. The show set has a lot of bumps and curves. "It's really fun to make this transition," she says, describing the entrance garden components as "built to be beautiful to show off the architectural themes, which is their main function, but they have to be structural enough for us to dance in and on."
Rudolph - 50 years old, still dancing, and she has a three-year-old back home in San Francisco - calls the challenge of dancing here "unexpected and unknown." Which suits the dancer's personality. "Because of the nature of what we do, we're always changing and adapting the choreography to the environment. People who excel at this have the ability to tolerate chaos and the unknown," she says.
Some trivia is in order. There are six dancers here, three men and three women, plus a climber who is not "on rope," meaning she is not attached to guide wires or any other supports. (She will be climbing all over the set.) Memebers of the troupe eat a lot, which you might have guessed, given the energy required to do what they do. They prefer organic. And they really like kombucha, the fermented black tea that has its fans (not me).