Rhapsody in green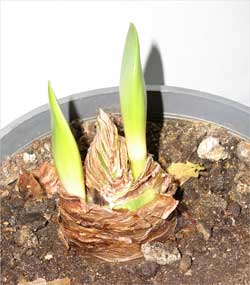 Patience helps
Rhapsody in green
I was almost too embarrassed to contact Walt Fisher, known as "the Botticelli of bulbs," to ask about my amaryllis. He and I had a lovely chat about a month ago for a story on how easy it is to get amaryllis and paperwhite bulbs to bloom by Christmastime. Anybody can do it, Walt said. Anybody can do it, I wrote in my story. The paperwhites - 'Ziva' - performed admirably and have long been sent to the compost pile. But the amaryllis - I have four - just sat and sat in my drafty window sills, refusing to budge. I was ready to toss them, but Walt advised against. "Be patient," he said. I was and am and sure enough, two weeks ago one started sprouting. Last week, the one in this photo began to stir. A third is beginning to poke up. The fourth is stubborn. It may wait till Memorial Day.
Patience, stubbornness and many other gardeners' qualities are remarked upon in a new book by Timber Press called Rhapsody in Green: The Garden Wit and Wisdom of Beverley Nichols, by Roy C. Dicks (Timber Press). Now many of you more experienced hands out there probably already know of Beverley-with-an-e. He was news to me. He was a he, British, and a very popular author who wrote not just gardening books but these are what Dicks is fondest of. In the dead of winter, it's especially easy to see why. Here are just a few samples:
"Gradually my impatient desire for immediate results, which is the besetting sin of all beginners, died down. I began to take a joy in the work for its own sake. Until you actually own a garden, you cannot know this joy."
'It is always 'next year' when you have a garden."
"One of the many reasons why gardens are increasingly precious to us in this day and age is that they help us to escape from the tyranny of speed. Our skies are streaked with jets, our roads have turned to race-tracks, and in the cities the crowds rush to and fro as though the devil were at their heels. But as soon as we open the garden gate, Time seems almost to stand still, slowing down to the gentle ticking of the Clock of the Universe."
Nice, don't you think?