'Cardinal Candy' is a sweet one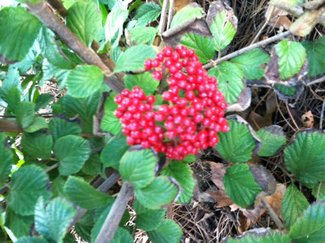 We all know viburnums are veritable soldiers in the garden, tough, easy care and - sometime - beautiful. I'm not a huge fan of some varieties, but this one - Viburnum dilatatum 'Cardinal Candy' - has signed me up as a fan. It was planted in spring to take the place of the biggest yew I've ever seen. My contractor, who thought it might be 60 years old or even older, recommended its removal because the roots were undermining a porch and some steps. It took an entire day for a very stron young man to dig it out - by hand. (Ah, youth!)
'Cardinal Candy' is a sweet one

We all know viburnums are veritable soldiers in the garden, tough, easy care and - sometime - beautiful. I'm not a huge fan of some varieties, but this one - Viburnum dilatatum 'Cardinal Candy' - has signed me up as a fan. It was planted in spring to take the place of the biggest yew I've ever seen. My contractor, who thought it might be 60 years old or even older, recommended its removal because the roots were undermining a porch and some steps. It took an entire day for a very stron young man to dig it out - by hand. (Ah, youth!)
'Cardinal Candy' gets white blossoms in spring followed by these great clumps of red berries. It does not need a pollinator in the area, which to me is a benefit. (How many hollies have gone fruitless in your yard for that reason?) The birds haven't yet attacked these berries but that will come later. Too much other good stuff to feed on in my habitat garden, I guess.
'CC' tops out at 6 feet or so, is said to be unappealing to deer (yes, but ...) and extremely tough in cold weather. Which will come in handy if we ever get a robust winter again. Not that I'm wishing for one ...
Mostly, I like 'CC' for show, and I look forward to the day when it reaches its full height - so I can eyeball those beautiful red berries before they're demo'd by the birds.