Archive: September, 2010
Virginia A. Smith, Inquirer Staff Writer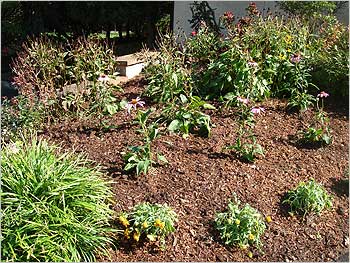 So here's Sandy's new perennial bed, after four hours of weeding, planting and mulching. The weeds were tough on the back and knees, mulching at the end tougher still. The fun part came in the middle. We put the lower-growing Gaillardia in the front, a stand of coneflowers in the middle, and three Knock Out roses in the back. Sandy, I hope, will benefit from all of my stupid mistakes over the last few years: Unlike me in the early days, we paid attention to the plants' needs for light and their eventual shape and height. We mulched generously. And we planted in odd numbers, like the experts advise. Writing this now makes the process sound so simple. Actually, it was. The difference between this project and so many we all embark on is that Sandy and I did some talking, thinking and planning to save ourselves pain and heartache later on. (If only the rest of life were so uncomplicated!) We felt great when we were done. We sat in the shade, drank huge glasses of cold orange juice - no beer ever tasted better - and admired our handiwork. Aren't we clever!? Sandy never complained. She asked great questions. She wasn't even sore on Monday. (How'd she manage that?) I can't wait to see how her garden grows. And I can't help feeling good that she's had a solid start down this long and fun-filled road, especially now. Happy day - it's raining.
Virginia A. Smith, Inquirer Staff Writer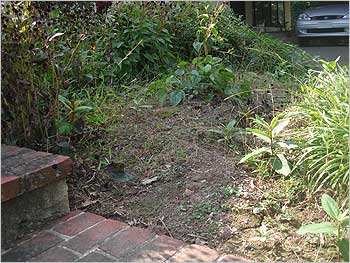 Last year, my friend Sandy and her family moved to a lovely house in Wyncote with quite a bit of property. All of her attention since then has been on projects inside the house. Recently she wondered: Could I help her plant a perennial bed in front of the house, bordering the circular driveway, just to the left of the front door? And so, this past Saturday morning, we went to work. First, we measured. (See photo of the "before" garden.) The bed was 5 feet wide, 14 feet long, with thick weeds and a couple of mystery plants in there. Then we talked about what Sandy was looking for here: COLOR. She wanted something bright and cheery to be seen from the road and up close by visitors, some plants to perk up the entrance to her house. Then we figured out how many to buy, which is always tricky, but we knew they had to be sun-loving because this bed is in direct sun. And we thought about what heights they'd be when mature, something I've learned the hard way must be considered. Then we drove to Home Depot to see what was available at this late date. Answer: not much, at least not much that we could use. We didn't want boxwood hedges or the dreaded fall mums, but HD had a fresh display of Gaillardia or blanket flower, a beautiful, daisy-like native, a good selection of native purple coneflowers, and a handful of easy-care Knock Out roses. Perfect. We - Sandy - bought them all, and some mulch, for a total of $167. "It's an investment," she said. What a mature perspective! This lady definitely has gardener potential.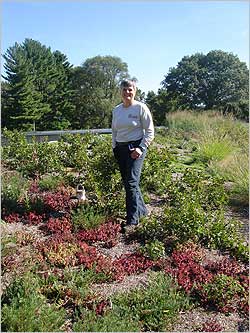 This is Louise Clarke, who takes care of all things green at Bloomfield Farm, part of Morris Arboretum (across from the public garden) and site of the just-completed, $13-million Horticulture Center complex that includes this green roof. Isn't it cool? I mean that in every sense of the world; it keeps everything under it nice and cool in this heat. Louise thinks nothing of galloping up the narrow ladder to the top. Me, I went quite a bit slower and felt my knees start to weaken as I ascended. Wasn't even that high, but it was high enough for a novice. Once up there, however, I loved tiptoeing around the new plants. Despite the drought, most of them have survived with a little watering that in future won't be needed. Thus, no permanent irrigation system up there. The plants include sedums, of course, a lot of ornamental grasses, Russian sage, monarda, butterfly weed, lavender and other heat-loving plants set in eight inches of planting medium. There's another green roof in the new complex, all sedums, in a four-inch base. The complex is highly energy-efficient, with water cisterns and photovoltaic panels, solar hot water heaters and a ground-source heat pump. The actual hort center is airy and light; each section leader gets a spacious work station with a window view. There are lockers and a wonderful dining area, 2 conference rooms, a kitchen and break room, mechanic and arborists shop and plentiful storage for trucks, garden carts, lawn mowers and other large garden equipment. These are facilities - amenities - that most working folks take for granted and that the Morris staff have never had. To a person, the people seen yesterday in the new building seemed to have a lighter step. Dedication is Oct. 5, and while the complex won't be open to the public, there are already and will be more education programs offered here. And tours can be arranged. All details in a story planned for Oct. 1.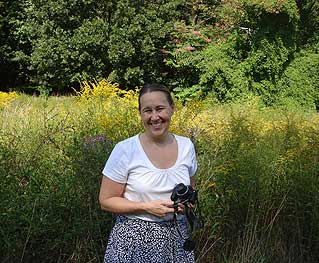 Welcome Karen Anderson to her new job as executive director of Awbury Arboretum, one of the quieter public gardens in the Philadelphia region and one of my favorites. It's an unlikely oasis in the middle of Germantown - 55 acres surrounding the historic Francis Cope house. This morning Karen and I walked the grounds, which, like everything else in our corner of the world, is pretty parched. We visited the Victorian house garden; ambled by the Secret Garden and the 50-plot community garden (whose oldest participant is 96!); saw the site of old "McNabbtown," an erstwhile enclave of Irish laborers whose homes were demolished in the early 20th century to improve the views of the "houses on the hill"; and examined the work-in-progress meadow and pond, which is dried up because of the drought and other factors. Awbury's "Ag Village," which hosts Weavers Way organic farm and other agricultural efforts, is thriving - and will be one of Karen's primary focuses in the years ahead. There are many others, related to money, maintenance, public access, programming and collaboration with other gardens and organizations, and the arboretum's future as both a public garden and an institution historically dedicated to the "quiet enjoyment of nature." Karen comes to the job from a varied background that includes library science, historic preservation, nonprofit management and organic farming, which sets her up quite nicely for this job. She definitely has her work cut out for her, but as she says, "Can you think of better work than this?" Story to come on Oct. 8.