Archive: September, 2008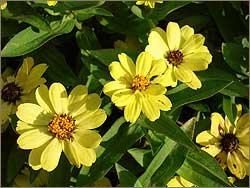 Plant-sellers are just as prone to hyperbole as anyone else in the marketplace. They know what suckers we are for those claims of bright blooms on long-lasting plants. So it was a pleasant surprise to try a new plant this year and discover that it was all true. Zinnia Highlight Hybrid jumped off the Burpee website at me last April, selling itself on looks alone. The yellow of this zinnia, the ad said, is "the exact shade of a highlighting pen." (Hence, the name.) And so it is. I should say, it still is. A large mound of these neon yellow zinnias are still blooming in my garden, looking all the brighter for the limp and faded detritus around it that comprised my vegetable garden this year. Great plant. I can't say the same for the packing containers Burpee uses. They were strange, infuriating plastic contraptions that came with an entire sheet of directions that did not prevent me from cutting my fingers and dumping all the plants out before I could free them. I swore I'd never order anything in the mail again, a vow I've broken already - but not with Burpee. If you can get past this, try these zinnias next year. Better yet, beat the packing problem and buy seeds.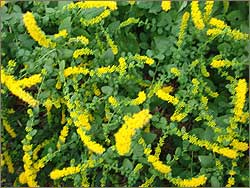 Growing up in my house, I heard a lot of sneezing during allergy season. Almost everyone but me, it seems, had hay fever and had it bad. I always thought this was due to two culprits - ragweed and goldenrod, which appeared at roughly the same time of year. Now. Turns out goldenrod was guilty by association; ragweed's the bad guy. And turns out, goldenrod, like so many things considered "weeds," is abolutely gorgeous. You'll see this bright yellow perennial - genus Solidago - popping up in gardens more and more, as landscapers, garden designers and gardeners realize its variety, beauty and utility. I love it, and have several kinds blooming right now. One is tall and feathery, poking its wands through a fence at the sidewalk below. The other sprawls under a sweet bay magnolia, which has a vase shape, leaving space on the ground for something to draw the eye. Several states have adopted goldenrod as their state flower and you'll be surprised - I was - to learn that Thomas Edison experimented with it during World War II to produce rubber, which it naturally contains. Like so many other plants, goldenrod has also been used medicinally, often for kidney problems. Me? I use it 'cause it lives up to two of my plant requirements. It's tough - and beautiful.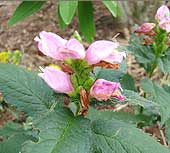 No, that's not an insult. It's the name of a lovely late summer/early fall wildflower that's blooming now in a partially shady corner of my garden: Chelone. It has handsome, deep green leaves with two-lipped, pinkish-lavender flowers that look like a turtle's hooded head. (Chelone means tortoise in Greek.) This is its second season in this spot and while it's taller this year, it hasn't spread much. It should at some point get about three feet tall. Patience. It's touted as a good source of nectar for butterflies and insects, as well as a host plant for certain butterflies, but I haven't seen much action there, either. For now, it's just fun to look at. And though I'd like to take credit for thinking of a late-summer bloom time when I bought this plant, I can't. It just appealed to me as something that would fill in a semi-shady spot and have an attractive flower. But this is what the experts mean when they talk about "all-season interest," selecting plants not just based on appearance but on when they'll come into their own. The idea is to have more than just a spring explosion. To have color and interesting texture all year long. Maybe by the time I'm 90, I'll have this down pat!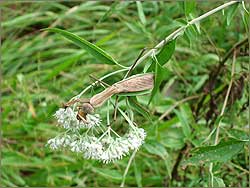 It was too late for prayers for this poor beetle, who was being consumed during praying mantis happy hour yesterday at the Schuylkill Center. The mantis didn't mind us getting right up close. Too busy preying.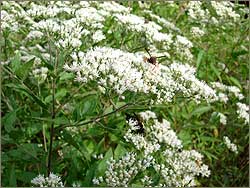 Late summer isn't usually touted as a great gardening time. But it has its own kind of beauty. This was on my mind yesterday as we hiked the meadows and woods of the Schuylkill Center in upper Roxborough. Not a soul was around, and no wonder, given the humidity. A human soul, that is. The place was literally abuzz with critters. If you stood still amidst the sea of Eupatorium serotinum or late boneset, you could see and hear bees, wasps, flies, beetles, moths, butterflies and birds drawing nectar, collecting pollen, eating seeds from the big heads of these natives. Often, several of each of those things would be on the same stand of flowers. It was an amazing sight. If you look closely at this photo, you'll see a bee. Not just a bee ... we saw honey bees and bumble bees and all sizes of wasp. And if you need any convincing that native plants draw and sustain wildlife, please. Visit www.schuylkillcenter.org/. and hightail it over there. Try a Sunday afternoon when the place is deserted. See you there.
I think my garden's making a comeback. Not that it ever really amounted to much this dry summer, but after all the rain recently, some things are actually looking great out there. Here, for example, is the aptly named Helianthus giganteus, giant sunflower, a native plant I bought last spring at Bowman's Hill Wildflower Preserve in New Hope. The tag said it could get up to 8 feet tall. No kidding! This thing is a monster. It's towering over everything like an enormous exclamation point in an otherwise flat sentence. Goldfinches love its bright yellow flowers. I need to crane my neck to see them, but they've brought color and life to my brownfield. To be fair, other stuff is looking good, too. Some roses and clematis are blooming again. The asters are sputtering to wakefulness. I still have cosmos and zinnias, even a pink, ever-blooming hydrangea. So I need to lose the long face that comes on every year at this time. We might have another six weeks of good weather, after which my giant sunflower will be stooped over and ready to plow under. In the meantime, I'll enjoy the show.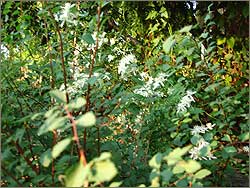 You can tell fall is on the way. Leaves are starting to fall. It's getting dark earlier. And Clematis terniflora, otherwise known as sweet autumn clematis, has begun to sprout. This rambunctious clematis is sure to spark a discussion among gardeners, who seem to be of two minds. Yes, this is a beautiful, starry-blossomed vine that literally pops up when many other things in the garden are winding down or flat-out dead. But wow. It emerges not inch by inch but like a fountain, spewing itself all over the ground, trees and fences. Here, you can see what it does to a spirea bush. It's wrapping its long, skinny arms around the spirea and, without intervention, will squeeze till it can't squeeze no more.
We're told to prune in fall or early spring. Heck, I just pull this stuff out whenever I feel like it. Hasn't slowed it up one bit. As I do that, I notice that it smells nice and has a free-falling, snowflake-like look that's kinda nice. But I can't help wondering. Is this clematis in my garden the new trumpet vine?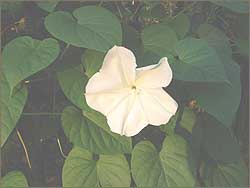 I've tried to grow moonflower for three years now and never had a single bloom. But this twining vine with the pure white blossoms is worth trying again and again. Here's the payoff. I was walking along the sidewalk the other night checking on fallen branches from the weekend's storm when a strong, startlingly sweet scent stopped me in my tracks. I looked over, and there on the fence was this incredible flower. It was about five inches wide, a soft, alabaster white, with large, heart-shaped leaves. If you haven't experienced moonflower, you're missing something wonderful.
Moonflowers are annuals in this neck of the woods. They're night-blooming, pollinated by moths and bees and with a flower like this and the name Ipomoea alba, you know they're related to morning glories. Moonflowers have a mystique about them. They open in about one minute as it's getting dark, making them a favorite of photographers, and disappear with the morning sun. It's always advised to plant them in full or partial sun, near a place where people will be sitting or walking - a doorway or patio or, in my case, along a fence where neighbors will be passing by.
Hope they're enjoying my moonflower, which seems as potent a symbol as any for the fleeting nature of summer. Think I'll take an evening stroll tonight.