Archive: August, 2010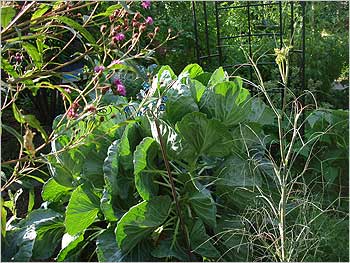 Me and my 100 percent organic garden. Ha! So much for that. Over the past year, my garden's been attacked by killer trumpet vine, flea beetles on the leaves of my Brussels sprouts (though the sprouts look OK, so far), scale on the climbing hydrangea, something as-yet unidentified in last year's tomato patch but believed to be wilt (which isn't late blight, but seems just as destructive), swarms of tiny black insects all over certain perennials, a mysterious lack of grapes on the grapevine ... pest, pestilence and mystery. Just another year in the garden. Early on, I decided to go the all-organic route. Then the trumpet vine romped over the land, and I was advised that nothing short of a nuclear arsenal - targeted Roundup PLUS - would kill it. So I went with that, and am still at it months later. Now my seven-year-old climbing hydrangeas have been almost totally denuded by cottony hydrangea scale. I'm advised that if I don't spray with insecticide and horticultural oil, I will lose not only the hydrangea, but several other types of plants, as well. Climbing hydrangea take years to bloom. One five-year-old specimen bloomed this summer for the first time; the seven-year-olds have yet to pop a blossom. I guess this is what the pros mean when they talk about integrated pest management: Start with the least environmentally intrusive and damaging control method and if that doesn't work, move on. The greater lesson here is obvious, even to believers in the organic way. You can't count on anything in a garden, and the same unpredictability that produces surprises and delights brings us bad news and intractable problems. We soldier on, armed this time - just in case.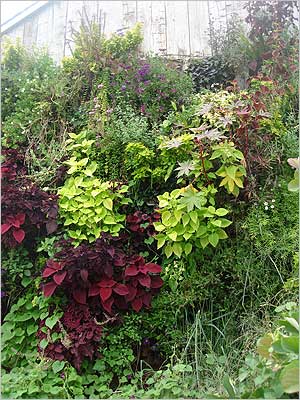 Here's an interesting "green wall" - found it at Terrain at Styer's along Baltimore Pike in Glen Mills. Popped in there yesterday on my way back from Longwood Gardens, and was stopped in my tracks by this wonderful wall. It's packed with coleus and flowering tobacco, distinctive castor bean and other plants, with some morning glory creeping up from the ground. (Looks like my garden!) Really fun and well-timed, given that the trip to Longwood was to see progress on the new green wall that will be an essential feature of the gardens' $12-million East Conservatory project. The project is humming along. Construction is supposed to be finished in early October for the official public opening on Oct. 9.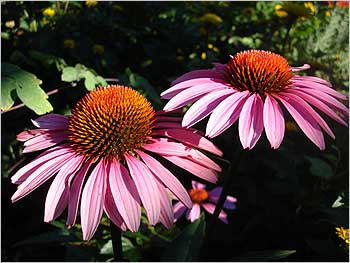 You may remember my story from June 21 about John Feliciani, horticulture director at Winterthur, retiring at the end of that month. John was the fourth generation of his family to work at Winterthur and the third to spend his career in the garden. This morning I received word from Wendy Bellew, John's niece, that Albert Feliciani, 90, the family patriarch and former supervisor of the estate's famous cut-flower garden, died yesterday morning. He was Wendy's grandfather and John's dad, and he'd worked at Winterthur for 43 years, some of it side-by-side with his son. During our interview in June, John recalled his father's many stories about "Mr. duPont," as they called Henry Francis, who lived at Winterthur, passing out Christmas presents to staff and their families. And so much more. Wendy wrote in an email about her grandfather: "He touched many people over the years, both through Winterthur and through his personal life, and will be greatly missed." We send condolences to the Feliciani family, who represent, as the story says, the kind of loyalty and longevity in the workplace that we don't often see anymore.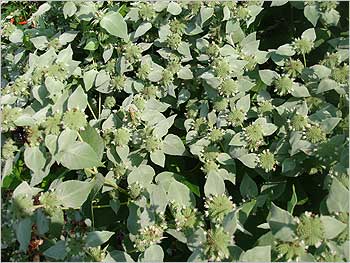 Say "mint" to most gardeners, and they run for the exit sign. Personally, I like mint. I pull it regularly! Mountain mint, or Virginia mountain mint, as pictured here, is an American native that is truly one of the more unusual plants I've come across lately. This clump was growing in Frank Victor's garden - story coming Friday - in Hainesport, N.J. Love the color, that minty blue, and the flowers are very cool. They're tiny, white, sometimes purple-spotted, arranged in clusters that don't all bloom at once - in fact, they start blooming on the outside, working their way in - but cover the tops of the plants. The plants grow about three feet tall and like sun. Frank says his mountain mint is tough and very popular with bees and butterflies. I second the motion.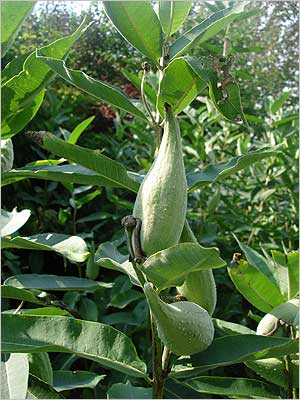 We've all seen milkweed growing by the side of the road in summer and wondered about those big brown seed pods in fall. But not many people realize these plants are critical to butterflies, especially monarchs. Rose Franklin of Rose Franklin's Perennials in Spring Mills, Pa., not far from State College, grew up on a dairy farm not far from where she lives now, and she remembers colonies of Asclepias growing among the crops, along the fences and in the cow pasture. These days, Rose the grower of hummingbird and butterfly plants looks at milkweed differently. It's not just beautiful. As her top seller, it's a livelihood. With the growing interest in habitat gardening, Rose says her business is doubling every year. Not too many companies can say that in 2010! This is a good sign. The milkweed pod in this photo is in Frank Victor's butterfly garden in Hainesport, N.J. Come fall, it will turn brown and hard, crack open and disperse seeds bearing tufts of long, silk hairs that will carry the seed great distances. And contrary to what you might think, milkweed can be a beautiful flower, one that nonhabitat gardeners would enjoy. Butterflyl weed is a shortie, maybe 2 feet high, producing clusters of bright orange flowers. Swamp milkweed is a bit taller; it has pink flowers. Tropical milkweed, an annual, puts on quite a show with its orange-red and orange-yellow, star-shaped blooms. In fact, Rose recommends this variety for growing in pots. It's the monarch butterfly's favorite milkweed, and it's easy to collect seeds and grow. Rose's website is http://www.butterflybushes.com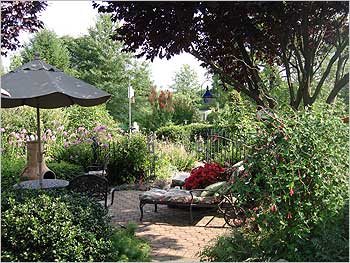 Frank Victor is a champion milkweed grower. This Hainesport, N.J., master gardener has created quite a butterfly habitat using several varieties of Asclepias - common, swamp, tropical and butterfly weed - in his slightly under half-acre garden. Frank is a retired computer manager who lives with his wife Marie in an upscale development right off Route 38, not far from the Moorestown Mall. (It always surprises me, in a good way, to find gardeners creating extensive wildlife habitats so close to civilization, though why "civilization" has to preclude habitat is a mystery we've yet to solve.) Frank's garden draws many types of butterflies, especially monarchs, along with bees and birds, including hummers. Visiting him last week on yet another of our miserable August mornings made me forget (temporarily) about the rough summer we've had. His garden is toughing it out. He does water with hoses, but he's got a lot of established plants and many natives that are doing OK. Another interesting aspect to Frank's garden has to do with the variety of "rooms" he's created. Now I have to admit. I'm a skeptic about this "garden room" trend, mainly because it seems like an old idea that marketers have tried to make new again, usually by selling us furniture and grills and other stuff for our gardens. But Frank has taken this idea to heart. His "rooms" all have different functions. This "room" is where he and Marie like to eat on warm spring and summer evenings or bundle up around the fire on cool nights in fall. Nice.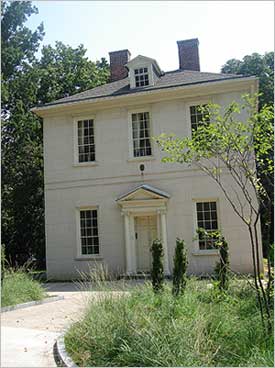 Me, I love solitude. I love being alone, especially in my house or garden. Never had a problem entertaining myself, rarely feel lonely and truly enjoy the quiet. But this is The Solitude, which is different. This is a beautiful, 18th century home - the only original Penn family home left to us - built by John Penn, William's grandson, on the grounds of what is now the Philadelphia Zoo. A lot of fine folks are in the process of raising money to restore it. Much has been done; much remains to do. In the meantime, I was lucky enough to get a tour this morning. We started on the outside with Robin Potter, a garden designer from Haddonfield who's volunteered her time to renovate the garden around the house. We then went inside, with Friends of The Solitude board members and sisters, Joyce and Arleen Dascola, who walked me through the small but lovely rooms. The Solitude is a perfect cube (well, except for the roof). It was built as an elegant country villa, which is a bit difficult to imagine as you look out at the bearded pigs across the walk and the zoo's Small Mammal House out the front door. But it's a dandy place, and Robin's done an interesting job of "historical referencing" of what was there before. For example, the gravel walk isn't practical anymore, what with elderly visitors and women in high heels, so Robin found a concrete material with tiny stones in it that refers back to the gravel. She's put in native plants, trees and grasses. The look is meant to be naturalistic, the "interest" year-long. This has been a brutal summer and everything needs time to grow and thrive. Me, I like The Solitude. I like its unpretentious spareness. It'll be open for group tours starting in September. Watch for my story in the Sunday Inquirer.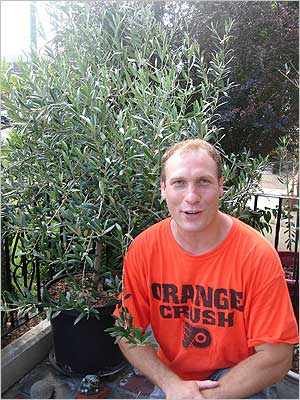 This is Jeremy Rafferty sitting in front of some of the 16 olive trees growing on his 10x10-foot patio. Jeremy lives in a rowhouse in Mayfair! Who knew. He's largely self-taught, though he's taken bonsai instruction, and says he's always had a thing about unusual plants. Besides the olives, he grows Meyer lemon trees, stevia, tobacco and blood orange. The sun's pretty hot in Mayfair, I guess. In winter, he stores them all in his garage out back, where he's replaced four panels of particle board with Plexiglass to let the winter light in. Still, last winter, his first, Jeremy says most of the leaves fell off his olive trees. They're looking mighty fine these days, with help from frequent watering. Some have olives growing and someday Jeremy says he might get into brining his own. (For now, he buys cerignolas at Wegman's.) Just sitting on his patio, listening to the barely-there breeze riffle through the silvery green leaves of his olive trees is enough to transport me to the Mediterranean. (Doesn't take much these days!) I think I need a vacation. Jeremy's story, and yummy photos of his olive trees, will be in the Home & Design section of the paper on Friday.