Archive: August, 2009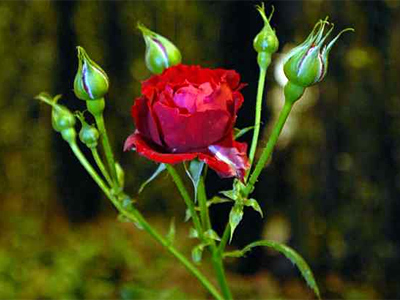 I'm headed out on vacation. Whew! It's about time. Yes, it is - time to attack that stack of books on the bedside table, including "The Omnivore's Dilemma" by Michael Pollan, which I've been inching through for months, and "The Brother Gardeners," Andrea Wulf's excellent tale of 18th century naturalists, and two others culled from a large pile on my desk: "A Culinary Traveller in Tuscany" by Beth Elon (no explanation needed) and "The Gardener's Bedside Reader," a compendium of essays on my favorite subject. I'll also, of course, be out in the garden, which to judge from this picture is looking mighty fine. Don't be fooled. As I talk to other gardeners, I realize that I've been hit especially hard this year by rain-related funguses and wilts. A friend is dropping off fall-crop seedlings this weekend, which I'll put in the ground immediately, in hopes that I can somehow redeem this disastrous season. It is fun to see this hardy hibiscus rebound from a terrible fungus attack earlier in the summer. May it be an omen of what the last couple of weeks will be. Back in two weeks - with energy and ideas. Reading the paper you won't know I'm gone 'cause I've been working extra hard. Makes vacation even more essential and desirable.
That's the plan. Happy end of summer!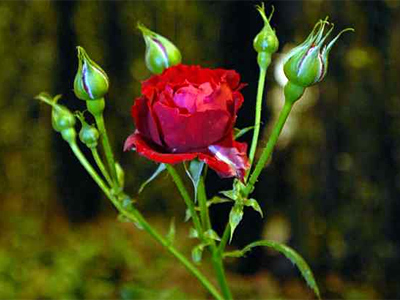 Say hey to Morgan Perlman, a 12-year-old from Bala Cynwyd about to enter the seventh grade. He and his parents had a vegetable garden this summer for the first time, but Morgan was the chief planter, tender and harvester for four raised beds measuring a neat four feet by four feet each. I visited Morgan and his mother Rachel yesterday to see how everything went. I'm here to report that it went spectacularly well! Morgan is quite the researcher, looking things up on the internet and consulting a very valuable book by Barbara Damrosch called "The Garden Primer." (Barbara and her husband Eliot Coleman have an organic farm in Maine.) I'm always talking about how much work goes into a vegetable garden because seed-sellers and others seem to go overboard in the other direction, implying that simply tossing seeds in the ground guarantees a bountiful harvest. The Perlmans didn't exactly toss seeds into the ground. They had Morgan to carefully plot the rows and insert the seeds and seedlings. The family ate fresh zucchini and squash, bush beans, eggplant, along with a lovely variety of herbs, all summer. Rachel is a wonderful cook and found many uses for all those squashes, including ratatouille and egg frittata. And while Morgan was a little reticent around a stranger, Rachel talked about how much she loved having company, serving food from the garden and telling her guests that it was homegrown. That's something we all love. Story to come - on Morgan and other first-time gardeners - in a couple of weeks.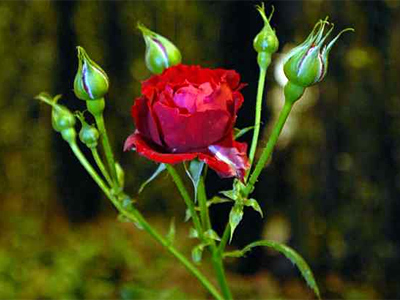 This week I trucked down to South Jersey to visit the Maurice River Botanical Gardens and Reserve in Heislerville, Cumberland County. It's pronounced Morris River, and don't scratch your head. If you haven't heard of it, you're not alone. This is an eight-acre garden cultivated for the last 17 years by John DiOrio, whose fulltime job is corrections officer but whose longtime hobby and passion is plants, especially rare, unusual, endangered or tropical ones. John has a crazy collection of cactuses in this garden, and many other beds filled with wonderful stuff. He opens once a year to the public for a hummingbird festival. This year it's Aug. 29 and 30. (John and his gardens will be featured in a story on Aug. 28.) His reserve isn't Longwood Gardens by any stretch, though it's interesting to me that he's been there many times and loves it. His garden is informal, spread out and, except for the cactus area and a few other specialized spots, is pretty randomly planted. But - and this is no hyperbole - he knows every single plant in his collection ... where it came from, its proper name, its status and habits. He also plants to attract butterflies and hummingbirds. I know I wrote this week about the scarcity of butterflies this summer, but John obviously has had no such problem. The day I visited, they were fluttering about in clouds!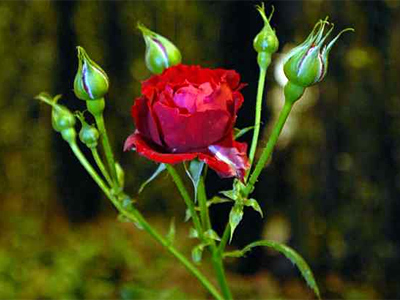 The English garden: Who hasn't had the fantasy? Whether visiting Hampton Court outside London or tootling along a country road, what traveling gardener hasn't had the fantasy of living in a place with a classic English garden? Of course, I run the risk here that I did around the time of the Flower Show, when I ran around asking professional garden designers and horticultural scholars to tell me about the "classic Italian garden." Dumb me. There is no such thing in Italy, just as there's no such thing in Britain. But there are certain ideas and designs that we associate with those places. That's good enough for me. This garden isn't in England; it's in West Mount Airy, designed and carried out by Linda Fahy Newman, who was born and raised in central England and didn't discover her inner gardener till she and her husband bought this house 25 years ago. Here you can see her beautiful mixed border, done mostly in reds and purples with white accents. It's flowery and full and very pleasant - and you can read all about it and see lots more pictures in Friday's Home & Garden section. No wonder the Newmans often sit outside on a patio near this garden, one of many "outdoor rooms" Linda created on their one-acre parcel, and watch silently as clouds of bees and hummingbirds enjoy these plants. Can't think of a better way to pass a summer evening, no matter where your garden is.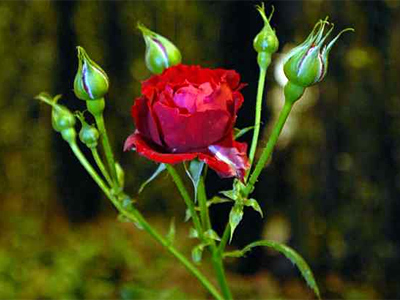 I could play a mean game of "Clue." My weapon's the castor bean, my crime site the garden. Easy enough: This member of the Euphorbia clan, which can get 15 feet tall, is about as toxic as a plant can be. Every part is poisonous, but especially the seed. When you hear the cliche that every plant has a story, you'd never imagine it could really involve murder. But in 1978, it did. Bulgarian dissident Georgi Markov was killed by a poison dart filled with ricin, the main toxin found in the castor bean, that was fired from an umbrella. Markov, a Communist defector working for the BBC, had just left his office and walked across Waterloo Bridge to start his journey home. He was waiting at a bus stop, felt a sharp stab in his thigh and saw a man picking up an umbrella, according to CNN. He developed a high fever and was dead four days later. The assassin has never been found but the KGB is suspected. Wow! Who knew. A friend gave me this castor bean plant which bears a striking resemblance to marijuana, though of course you'd have to look that up because you wouldn't know what THAT looks like. For all its toxicity, which recommends it to terrorists and other seekers of potent biological weapons, this is a truly beautiful plant. It lives, temporarily, in a giant space left by the removal of some steroidal ornamental grasses that should never have gone in there. (I'm sworn off Miscanthus forever.) So it won't last the winter. I do hope the various critters that skulk around back there stay away. I'd hate to have to bury the evidence.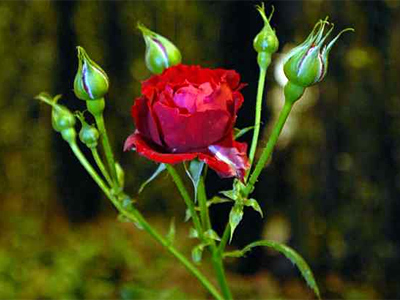 Over the last week I picked a bowlful of cherries - cherry tomatoes, that is, saving them for Sunday night's dinner. Here's how it went: Bake the garden's only eggplant to date, scoop out the innards. Sautee a load of garlic and onion, add all the tomatoes, let them crack, squish them, let their sweetness flow. Add the softened eggplant, a scoop or two of pasta water and finally, a large handful of fresh basil. Serve on penne. Wow! Dinner tasted like a mouthful of garden. Meanwhile, bad news for my tomato patch. A knowledgeable friend has diagnosed verticillium wilt, a soil-borne fungus that attacks more than 200 different plant species, including - unfortunately for me - tomatoes. (Some others - eggplant, beets, cucumber, peppers, watermelon.) My tomato leaves have been turning yellow, not just at the bottom, which usually happens when the weather turns hot and dry in August. This year, they're yellowing all over the plant. So far, the tomatoes are fine, but eventually, the fungus (which enters the plant through the roots) blocks water and nutrients and the tomatoes starve to death. I've already lost one plant and several others look sickly. The fungus behind all this (or below, as it were) loves excessive moisture such as we've been having and stays in the soil a long time. The only way to combat it, my friend and other sources say, is to surrender: Plant tomatoes elsewhere for 4-6 years and buy verticillium-tolerant varieties. You can find a list online ('Celebrity' is one) or check the plant tag; it'll say VF for verticillium and fusarium, another wilt. And be sure not to compost your infected plants. So there you have it: the sublime (last night's dinner) and the ridiculous, coming to a garden near you. As if we haven't have enough bad tomato news this season!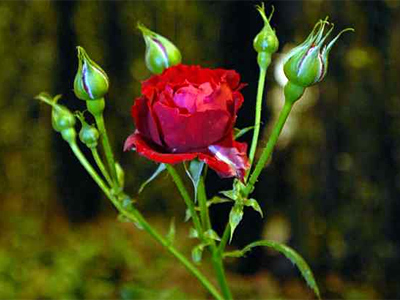 Oh nooooooo! Look at this supermarket display. What's next - scarecrows and pumpkins?! Please. It's barely August and the mums are back. These are a popular, if boring, plant for fall. According to the U.S. Department of Agriculture, mums are the third best-selling cut flower, after roses and carnations, and third in potted-plant sales, after poinsettias and orchids. Guess I'm missing something. I like roses, carnations, poinsettias and orchids, and I love the truly hardy crysanthemums, which won't be blooming for another month but are always a treat in late summer and early fall. These short-lived imposters are another story. They're the fast food of the Mum World, produced, in effect, by assembly line without variation (except for a limited array of so-called "fall colors") and about as interesting as that sounds. And you know the mums' return means the end of summer. Time to go back to school, time to put the garden away, time to head inside and hibernate. It's too soon for that! The tomatoes have just begun to ripen. My entire neighborhood, blessedly, is at the Shore. The windows can stay open. The curtains are blowing in the warm breeze. It's easy to get into restaurants. Traffic's light. In other words, IT'S STILL SUMMERTIME!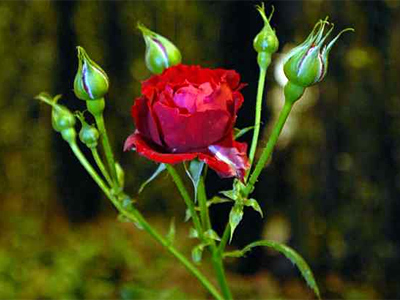 This is the "queen" tree, one of two white oaks at Springton Manor Farm that we visited yesterday. She's a big girl, isn't she? Very healthy, still growing. Scott estimated both trees at between 250 and 275 years of age. They're growing near a pond, so there's plenty of groundwater to keep them nourished, and being out in a field, they have no competition, so they're growing - especially sideways - at a good clip. But even here, he noticed practices that likely will eventually hurt the tree. There was a drainage ditch dug nearby, through the trees' root zone. There was a paved pathway alongside, which will prevent air and rainwater from percolating down into that zone. Yet here we were, in the most bucolic of settings. Imagine quality of life for trees stuck in those disastrous shopping center parking lots in the burbs or cemented in on all sides on a city sidewalk. Dave Johnson, regional forester for the New Jersey Forest Service, says many people today feel no connection to or particular affection for trees, nearly paving them over or cutting them down (or not replacing trees that die or fall down) in developed areas because they drop leaves and make a mess. "Trees don't have to worry about getting their roots cut for a new sidewalk in the forest," he said. Thankfully, there are also people out there like Dave and Scott - Tree Tenders come to mind - who are passionate about trees, grateful to have them and eager to plant more. In the city, where careless trucks, haphazard code enforcement and even thoughtless dog owners can render a tree's life (to say nothing of residents') a nightmare, you are reminded every day - especially during hot spells like this one - that trees are excellent citizens. Welcome on my block any day.