Archive: August, 2008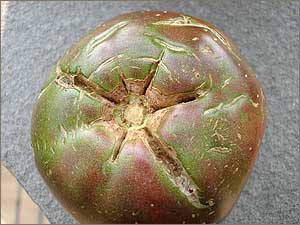 This is a 'Black Krim' heirloom tomato from my garden, and I have to admit, when I first saw it growing I was disappointed. How come it was green on top and brownish-red on the bottom? I now know that's how it's supposed to look, and you do eat the green.
The 'Krim' is Ukranian for Crimea. It's often described as "mahogany-colored," and while it's a little strange looking, it is utterly delicious. It also has a thin skin that's easy to slice if your knife is dull!
I've served it to a lot of company this summer and it's always a hit, but people often ask why it's called an "heirloom"? Good question.
Some folks like me define it as a tomato that's been grown in traditional ways, including open pollination, by ordinary gardeners or farmers for a century, whose seeds are "true" and passed down from generation to generation. That's pretty pure, isn't it? Some think heirlooms pre-date all the hybrids that popped onto the scene in the 1950's.
Whatever definition you use, try some if you haven't already. These guys are delicious, fun to grow and interesting to learn about.
The pinkish 'Brandywine' is a popular one, though like some other heirlooms, it's prone to cracking on top. In future, I hope to try 'Mortgage Lifter' and 'Cherokee Purple,' 'cause I like the names. 'Green Zebra" is also on the to-do list, even though it's not actually an heirloom.
But who cares? With its yellow and green striped flesh, 'Green Zebra' is welcome in my heirloom patch - or on my table - any day.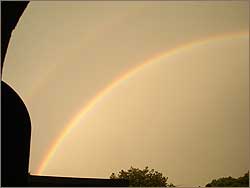 At my house, this has been a summer all about weather. Until Sunday, July 27, we'd had practically no rain since spring. That day, it finally rained - not a great deal, but enough to wet the surface of the garden and a little bit beyond that. I've listened in amazement to friends and family talk about how much rain they've had. It has skipped my part of the world, believe me. Nothing sadder than working yourself to exhaustion in the spring to get everything planted, mulched and looking great, only to watch what you did dry up and turn to cement.
So when it clouded up and started to rain that Sunday, I rejoiced. Then lightning struck the third floor of our house. It was a horrible white light accompanied by a zap so loud I screamed. More than two weeks later, we're still dealing with the aftermath -- burned-out, blown-up telephones, computers, CD players, ceiling fans and modems. At some point, we'll have to fix the baseball-sized hole in the wall the bolt caused when it shot through the telephone wire up there.
This is why your mother said, "Don't ever talk on the phone when there's lightning," especially when you live in an old house in Philadelphia with antiquated wiring on your third floor. That will soon be remedied. Get out the checkbook!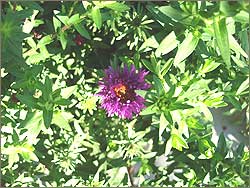 As if anyone needs more proof that all those unripened tomatoes in the back yard that the weather this summer is all messed up...the asters are already starting to bloom! This New England aster (Aster novae-angliae) is usually the last thing to pop before the weather gets too cold to play in the garden. Remember New York Mayor Michael Bloomberg's eulogy to Brooke Astor? In comparing her to the plant, he said that asters were the last to bloom but among the most beautiful flowers in the garden.
So how come this 'Purple Dome' has some blossoms already? First we had a soggy, cool spring. Since then we've had Dust Bowl meets Jungle Heat. Now, what the heck. Already the nights have a September feel, and the cicadas, which always remind me of the end of summer vacation, are buzzing. The seasons seem all mixed up.
It's not September. Summer isn't ending. And stop the presses (and the asters). I haven't had a vacation yet!
Get a load of these tomatoes. Here it is Aug. 1 and my garden is full of them. This time last year I was giving ripe red ones away by the bagful. What's the deal? Turns out what we've all been saying is true. May was cool and wet. June and July were beastly hot and dry. Together, that spells D-E-L-A-Y for our tomatoes. I'll be doing a story about this in the paper next week. Guaranteed to make you feel better.
I began to wonder if it was just me ... after a colleague brought in a bunch of red ones from her garden. Turns out she planted in April. Can you believe it? Most years, that'd end badly but this year, April was warmer than May and her plants managed to get nicely established when the cooler temperatures came in May. Those of us who played by the rules and planted in mid-May ended up getting nailed.
Just goes to show ... though it's often said that by growing our own in the back yard, we have control over at least this part of our lives ...we really don't. We're peons in the garden, too. Shucks.