Archive: July, 2008
These are tough days in the garden. It's too dry out there and much of the first couple of waves of blooms are finished.The monarda has powdery mildew. The coneflowers are beginning to die off. The second clematis flowering is pretty much over. The roses are too hot.
How nice, then, to find the hardy hibiscus beginning to take off. 'Plum crazy' greeted me on my rounds this morning, with the promise of many more blooms to come. I pay tribute, too, to the deep blue morning glories. They're out, as well, only in the morning, of course, but they put on quite a show. They're also covering up an eyesore I haven't yet figured out how to handle - three tree peonies that, in their season, are arresting. Out of season, as in NOW, they're a brown heap on the ground, very unsightly. Now they're covered in morning glory vines. Just as well, and the vines have big heart-shaped leaves. Not bad.
The reliable cleomes have seeded themselves again this year and I say thank goodness. They've popped up in a troublesome blank spot that I'm struggling to fill with the proper perennials. So far, all I've managed is to put some too-short coneflowers in there.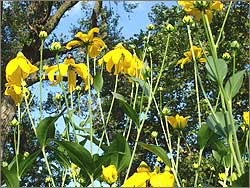 My butterfly weed/flower fiasco comes on the heels of yet another mix-up, one that's been going on for several years. Two years ago I bought a native perennial at Primex, the garden center in Glenside where I could spend my whole paycheck in an hour. It was about two feet high and the tag said Coreopsis tripteris or tall tickseed. It's a very tough plant, full sun, blooms from July through fall and could get 6 feet tall or so. Sounded like just the thing for the back of my vegetable garden. It'll come at a good time, I thought, when the veggies are looking tired, and the picture showed a beautiful yellow, daisy-like flower. Perfect.
That first summer it zoomed to about eight feet and was so rambunctious, I could barely contain it. The flowers were simple and pretty. Nice plant. I transplanted it to the middle of the flower garden in late fall, where it would have more room, and this spring, as part of my reform efforts ... to have a neater garden ... I put three stakes around it and some green garden twine to guide its ascent. It's been so incredibly cooperative. Now about eight feet tall, it's just starting to bloom.
Occasionally when I'd see this plant in someone else's garden, I'd be puzzled to hear them say it wasn't a coreopsis at all, that it was a rudbeckia or black-eyed Susan. But, I'd protest, the eyes aren't black and mine came with a plant tag that said coreopsis. No way! they'd say. The friendly debate has gone on for two years. This spring, at a native plant sale up at Bowman's Hill Wildflower Preserve, I found Coreopsis tripteris for sale. I've not seen it since I bought it at Primex. I was thrilled. I bought two, planted them and then noticed that their leaves were different from the one I had. The mystery continued.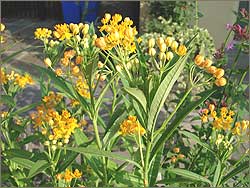 The other night I stopped by Laurel Hill Gardens in Chestnut Hill and to my delight, discovered several pots of what I thought was Asclepias tuberosa, the native butterfly weed I've been looking for. I know, I'm supposed to be "done" buying for the season. I can't believe I ever said that word - "done" - in the same sentence as "garden." Silly me.
So my self-righteous self got in the car to head home and all of a sudden I'm thinking, hmmm. That's an unusual color for butterfly weed. It's normally bright orange. This thing was a neon gold, outstanding, but definitely not orange. Oh well. Got home and did what I should've done at the garden center. I looked at the plant tag, and discovered that I hadn't bought the perennial butterfly weed at all. I now had six pots of Asclepias curassavica, or butterfly flower or Mexican butterfly weed, a variety called 'Silky Gold." Obviously related to what I'd wanted, but ... the tag said "hardy in zones 7-10."
Now we're talking tender perennial and non-native. I've been trying to buy mostly hardy perennials and more natives, given the expense and work of annuals and this dry summer we're having. So I flunked on both counts. I like this plant anyway. And in my protected garden, walled in and facing south, it just might make it through a mild winter. This butterfly flower - though not the "weed" I thought - will draw butterflies just the same. Monarchs, especially.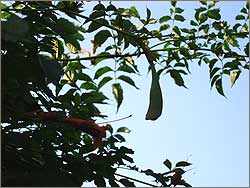 Trumpet vine, trumpet creeper, is a beautiful thing. In two or three years this vigorous woody vine can cover almost any pergola or trellis - or building - completely. You can whack it back in winter and it returns full and ripe the next spring. I've been whacking it all summer to keep it in line and more than once cursing it. Its seedlings are everywhere this year, its third season - in open spaces, curled inside my clethra bushes, entwined with the hardy hibiscus, spurting up the hydrangeas and climbing walls where it's not invited.
It's a pretty vine, to be sure. Pointed leaves and tubular, trumpet shaped, orange and yellow flowers whose nectar hummingbirds enjoy. I see other birds in and on the vines. It's something of a launching pad.
But Campsis radicans, though native to this area, is so aggressive, its rootlets or "holdfasts" ruthlessly grabbing on to anything vertical, that I'd never plant it again. Far better to do a native vine like trumpet honeysuckle - Lonicera sermpervirens. I have quite a few of them and, like the children you never had, they are always both beautiful and well-behaved.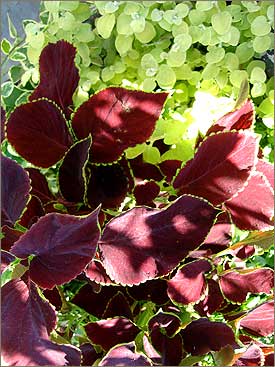 Dare I say it? My work in the garden is done. Well, not all of it. But the hard part is over. The mulching and planting is finished. You think that's a little deal? Noooo. After lugging 110 bags of mulch from one corner of my garden to the other, I say it's time to enjoy. There'll be some deadheading and a little weeding - I hope no more watering - but for the most part, I'm ready to stroll the path and drink in the beauty and serenity. The strawberries, grapes and figs are coming along. The herbs are bushy. The tomatoes and peppers are on schedule - picked the first jalapeno yesterday. The roses have returned after a heat-filled hiatus. The new succulent walk is filling in nicely and all else is simply a treat.
This photo is of a container planted with 'Chocolate mint' coleus and a pale lime green licorice plant, which - in addition to its luscious color - has a chunky constitution and a nice trailing habit. There's one more plant in this mix - name escapes me - but it's got small apricot-colored blossoms that are a surprising and interesting contrast to the other two plants. I'm getting braver in my containers, which is just another way of saying I'm realizing that designing containers is really fun - once you relax.
Speaking of which ... I'm ready!