Archive: June, 2008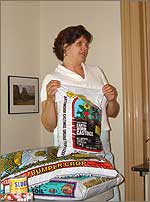 The organic gardening workshop at Awbury Arboretum in Germantown on Saturday was terrific. Presenter Eva Monheim, who teaches at Temple Ambler, reminded us all that truth in advertising is as much a problem with "natural" and "organic" products as it is in any other area of American consumer life. Despite the hype, many of these products remain quite toxic, requiring that you wear goggles and gloves and keep pets and children away.
She also recommended compost as a good way to keep soil healthy. Lots of townships, and the city of Philadelphia, provide free compost (and wood chips) to residents. I think this is a wonderful idea. Gardeners have told me they load up every spring - one woman puts a tarp down in the back of her car and shovels the compost in.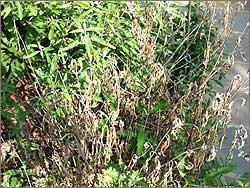 Are you having an out-of-body experience lately with the weather forecasts? Almost every day we're told showers and thunderstorms are likely in the area. Friday night we got about 22 drops. Yesterday afternoon, maybe 15.
My colleague here at the paper, Tony Wood, is a learned student of weather. Despite my whining, he tells me June has not been an exceptionally dry month. It's been "slightly on the dry side," he says, with Philadelphia getting just 2.62 inches of rain in June, down .07 from the norm. May, on the other hand, was slightly damper than normal - 4.55 inches, a .66 increase.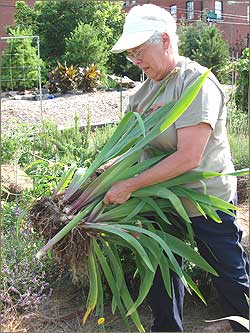 I should say PITCHFORK job ...
When Louise Mockaitis is wielding her pitchfork, stand back! I visited her this morning in the Spring Gardens community garden to watch her divide a clump of iris. Now I know this sounds terribly exciting but guess what. It was. Now I know how to do it. As they say on TV, priceless.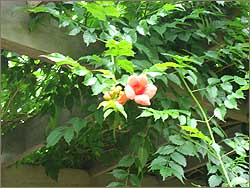 A reader called to ask about hummingbirds. What are the best things to plant to draw them to your garden? Anyone who's been blessed with a visit from these exquisite creatures knows that this is one of the most special things about having a diverse garden. It's quite easy to lure them and I'm happy to oblige.
Hummingbirds are constantly on the go but you won't find them hanging out much. They dash from flower to flower with unnerving energy and speed, much faster and flightier than the butterflies you also want to visit. Hummingbirds, believe it or not, can fly not just the normal way, but sideways and even backwards! And they've been called "glittering garments of the rainbow" for their irridiscent and colorful beauty.
Is it me, or are the squirrels this summer especially nasty? Every day they're digging in the flower beds, making holes the size of a fist and tossing mulch everywhere. If I didn't know better, I'd think the garden was home to prairie dogs.
The other day two birds were communing in the bird bath and a squirrel began stalking them. He looked like a cat about to pounce. When did this behavior show up in the DNA of a squirrel?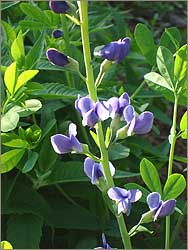 The free stuff here is KNOWLEDGE, and good for Awbury Arboretum for offering a free workshop about organic gardening. This is a topic that's very hot right now, and may I also add, one that's more nuanced than you might think. When all is said and done, I strongly believe organic is the way to go. But this is something we all need help with.
I plan to go to this workshop - on Saturday (6/28) from 10-11 a.m. at the arboretum, which is in Germantown. I first visited Awbury in very early spring and found it delightful. There is a sense of playfulness here that's really fun, a creative use of tree stumps and a hidden, walled garden that begged to be explored. So after the workshop, be sure to take a tour.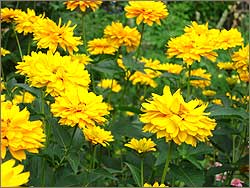 Even in the garden, where I believe we are at our most authentic, we can be just as unconscious as we are elsewhere. This year in my garden, I suddenly realized, I've been gravitating toward yellow, a color I've always loved but until now has taken a back seat to purples and pinks. This is not by design exactly. It's a classic case of we like what we like and eventually it comes out.
I was struck this morning by the many patches of yellow that have already bloomed or are in full bloom right now: the bumpy - spectacular - spires of false lupine, the hardy yellow pansies, the new bits of yellow yarrow, the mound of evening primrose (known as sundrops) a neighbor shared last spring, the ever-taller sunflower cousins, and the 'Angelina' sedums blooming up and down the walkway.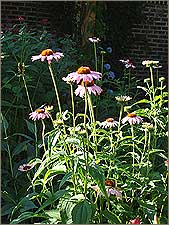 As we start the summer of 2008, here's a photo to remind us of the incredible beauty of this season in the garden. It may not look like this in a few weeks, but this morning was one of the most beautiful yet. (Could be 'cause I've been watering every night.)
Now if we could just get some rain ... and I mean, real rain, not the wimpy washouts we've had over the last few weeks. Thunder, lightning and then nothing. No fair! We'd like a good soaking. Sunday's forecast looked promising. Forecasters were talking thunderstorms. We had not one drop.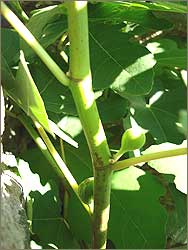 A few weeks ago I thought it was Poppy Awareness Week. Everywhere I went I saw poppies. Now it's little green things. First, I pulled the last of the pea vines out of my vegetable patch. They're done, fried, crisp as a potato chip. I squeezed open the last few green pods and popped those sweet little peas into my mouth raw. None of my meager pea crop made it to dinner. Or I should say made it into the main dish.
I put them on homemade pizza. I put them in salads. Mostly I put them in my mouth. So that's one little green thing.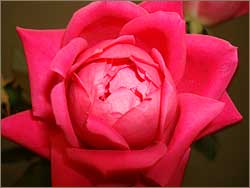 Friends are emailing photos of their roses, all in spectacular bloom right now. Mine, too, and this NATURALLY has fueled a desire to buy even more. My current favorites run the gamut from groundcover roses like 'Good and Plenty' - the color of those scrumptious pink and white candies - and 'Happy Chappy' - a pink-gold-apricot - that are blooming up a nice, compact storm in the garden ... to several fragrant climbers that are doing their thing on the fence out front.
After reading a lot about roses, and talking to gardeners who grow them, I looked for climbers that are repeat bloomers, very disease resistant and fragrant. There is so much hype out there about plants - and roses are no exception. To read the blurbs, you'd think every single rose possesses all of the qualities I seek. So I jumped into the garden forums and flipped through some rose books and made my choices.