Archive: May, 2010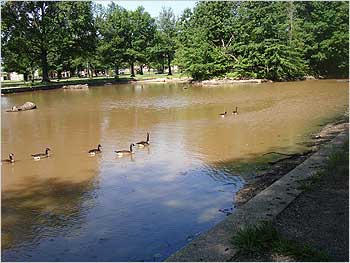 Behold Concourse Lake. Ever heard of it? Probably not, but you soon will. This 7.5-acre lake is in West Fairmount Park, along Avenue of the Republic, equidistant from the Mann Center for the Performing Arts and the Please Touch Museum. Local garden club members, part of the Garden Club of America network, have adopted the lake and plan to raise $750,000 to restore it, to commemorate GCA's centennial in 2013. (They'll be meeting that year in Philadelphia, where GCA was founded in 1913.) Two visits to Concourse Lake in the past week (for a story in tomorrow's paper) were pretty interesting. There were virtually no visitors, unless you count the legions of Canada geese, who've really adopted this place. Today, however, there was a crowd of walkers on an ovarian cancer walk. Most of them went right by the lake and didn't know it. Not a mystery; it's hidden behind an embankment. This place used to be such fun - people swam, fished, ice skated and picnicked on the shores. But starting in the 1960s, the lake entered a phase of neglect it has yet to emerge from. You can see the potential. Walkers, runners, bicyclists, visitors to the Mann and Please Touch, and the zoo, which is only 1.4 miles away, as well as West Parkside residents and school children, are all potential visitors. The lake's already been dredged, thanks to the Fairmount Park Conservancy, and now that the garden-club volunteers have raised $238,000, they're ready to start building a new pathway that will wind around the lake and lawns. Then comes the planting - 139 native trees, 513 native shrubs - plus signs, picnic and play areas, even a small amphitheater. Welcome news in this depressing recession! This is actually a historic spot, part of a huge master plan the Conservancy has committed to. Machinery Hall was on this site during the nation's Centennial Exhibition in 1876. That magnificent building, like almost all the others that entertained and enlightened 10 million visitors, was torn down and a storm-water reservoir put in place. This later became Concourse Lake. So let's hear it for the volunteers from Philadelphia-area garden clubs, and the GCA, for taking on this worthwhile project and hope that soon the lake will rise again.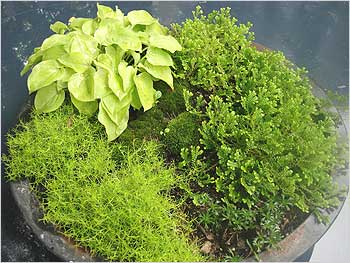 Mini-hostas are a hot ticket these days. 'Blue Mouse Ears' have been around for awhile, but in the last five or six years, the public's appetite for more and more miniature varieties has been growing furiously. Since 2008, the American Hosta Society has defined a mini this way: Leaf area can be no greater than about four square inches and length no more than about 4 1/2 inches. Pretty tiny, but if you've ever seen these plants in a container or scattered about in a garden - on the rocks, along a path - they're pretty sensational. This old metal container has been transformed into something interesting by Ann Stookey, the Chestnut Hill gardener who'll be featured in our Home & Design section tomorrow. Ann's got a beautiful "green" garden that emphasizes the different shades of green and foliage, rather than flowers. I wrote about her weeks ago when I first visited her garden. I returned this week to see how things have filled out, and discovered this little treasure on a table on her back terrace. A similar photo will accompany the story; unfortunately, it's in black and white, so you can't appreciate the colors and textures very well. So here it is - a collection of different-textured mosses and one tiny hosta that makes a nifty centerpiece. Minis - check out 'Bitsy Gold,' 'Daisy Doolittle,' 'Green Eyes' and curly-leaf 'Dragon Tails' - are the perfect scale for city gardens, in a patio space or berm, in ceramic bowls, troughs, wooden boxes or beds. Easy to see why they're seducing all kinds of gardeners nowadays. And imagine the ease of division. My neighbor comes to mind. He's a strong fellow, a creative and experienced gardener who earlier this spring decided it was time to divide his overgrown hostas. He dug them out (with difficulty), hauled them to the driveway, and went at it with a shovel. He got them divided, all right, but broke his spade in the process. Yikes! Pass the minis!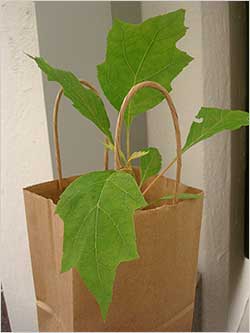 I find it amusing that gardeners use the term "editing" to describe what happens when your garden's been growing awhile and needs nipping and tucking. Yes, it's like editing a newspaper story or a film clip, except that any experienced journalist - and I suppose, gardener - knows that the process is far more complicated than taking things away or rearranging things. If only it were that simple. The good news is that "editing" a garden has a wonderful byproduct - plants to share with friends. For the first few years of a garden, I think we add and add and obsess over what we have and what we need and how many empty spaces we have. Then, it's almost like growing up - reaching middle age. We slowly relax. And we find joy in sharing what has given us so much pleasure. As you can probably tell, I've been "editing" up a storm in my garden. This photo is of an oakleaf hydrangea seedling, one of several that have popped up around my six-foot-tall 'Snow Queen.' I brought it in for a coworker who bought her first house last year and is building a brand new garden. I've enjoyed her stories and her enthusiasm, and I admire the care and restraint she and her husband are showing. They're doing research before buying. They're considering exposure, light, soil, all the things we're supposed to think about before making a purchase. And so far - we shall see, of course - they're resisting the urge to add, add, add wherever they see a space. This last point is important. It's impossible to do anything but laugh, because had I not added and filled so many spaces in my garden, I'd never have what I have to share right now. In that nice way that gardens have of bringing peace of mind to all who enter within, it all works out in the end.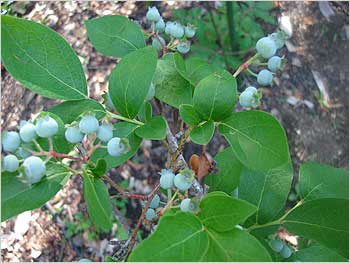 Behold superfood - highbush blueberries, which are high in antioxidants, versatile and delicious, easy to freeze and beautiful to look at in the garden, both when their tiny white blossoms unfold and when the berries emerge. But behold quickly, no procrastinating, because pretty soon birds will pick these bushes clean. Blueberry experts in my world have had the same experience I, a certified amateur, have had - even netting won't deter them. I figure birds have to eat, too, but I wish I had a way to save some for my own use. The berries go from green to bluish/purple pretty quickly, but not all of them ripen at once, so it's best to pick over your bushes a few times before abandoning hope. Fruit growers extol the virtues of blueberries - they're pretty easy-going, attract few pests (unless you consider birds in that category) and require only an acidic soil and the proverbial good drainage to thrive. So far, my young bushes haven't needed pruning; at some point, the dead branches will need to come out. These guys are slow to spurt, but are reputed to have a long life span, maybe 20 years or more. Alan Buckingham, author of Grow Fruit, a book published just last month by DK Publishing ($22.95), suggests buying either bare-root or container-grown plants that are certified disease-free and two or three years old. (Container varieties will grow faster than bare-root plants.) He also suggests planting more than one - ideally, three different varieties or more - so they can cross-pollinate each other, although blueberries are supposed to be self-fertile, meaning they can pollinate themselves. Neat trick! Spring and fall are the best planting times. As for the acid soil requirement, fear not. Buckingham says that if you're doing well with rhodies, azaleas, camelias and other acid-lovers, you should be OK to plant blueberries. Go blue!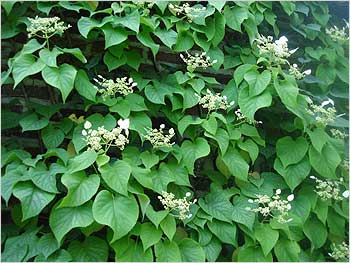 Big news in the Back 40: For the first time in five years, there are blooms on the vine! Although this looks like climbing hydrangea, it's actually Schizophragma hydrangeoides 'Moonlight,' which is close enough in appearance and care requirements to be easily confused with the former. Both like shade, which is a wonder. Both are slowwww-growing and cling to the death. Both are thick and leafy. My true climbing hydrangeas (Hydrangea anomala petiolaris) are inching up the brick wall on either side of this one but are expressing only a longterm goal of flowering. Just look at 'Moonlight.' Its has creamy white lacecap blooms on heart-shaped leaves that in the right light look silvery. They can light up the night. Now that all three vines have progressed up the wall, I'm beginning to worry about how far they'll go - over the roof, maybe? Getting there. I have even more of these climbers along a stone wall and in five years, they've gone up the wall, over the top and into the garden, weasling themselves around hostas, ground covers and even stone steps. They can reach 30 feet or so, which would take them right through my front door. Gotta watch these guys.
Or gals. Michael Dirr, author of Hydrangeas for American Gardens (Timber Press, $29.99), calls climbing hydrangea "queen of the twining world." He writes: "Somewhat shy and unassuming in youth, developing rather slowly, she then rockets skyward, never looking back as she climbs and clambers over, along, and next to the structure by which she was placed. This, in a nutshell, is the garden life of climbing hydrangea."
He suggests planting the queen along rock walls, fences, arbors and even at the base of trees. (I fear the latter would create a structure resembling Cousin Itt.) He ascribes a honey fragrance to it. (Have to check that out.) He says the flowers (or rather, the "inflorescences" - please) "stare at the passerby, establishing eye contact." Clearly, I need to work on my relationship with this plant.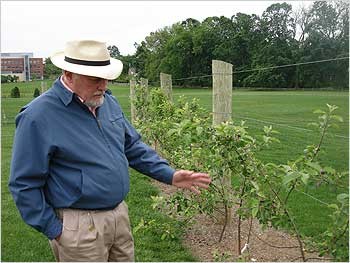 What do you think of when Penn State is mentioned? Football? Me, too. That's fine, but PSU is a lot more interesting and it just got interesting-er. This is Kim Steiner, a professor of forest biology and the director of the new Arboretum at Penn State, a 370-acre expanse across from Central Campus and a hop and a skip down Park Avenue from Beaver Stadium. Until I drove up there this week, I'd never seen the stadium. I nearly drove off the road. It's considerably larger than the Linc and dominates the scenery like a gargantuan space ship. But you turn off Park onto Bigler (I missed this turn first time around) and you'll see the new arboretum. It's taking shape on a former parking lot for football games and you know that that means - tailgating! The arboretum's first phase officially debuted in April as the H.O.Smith Botanic Gardens, a five-acre parcel that includes a simple but attractive Overlook Pavilion with a tented area for events, demonstration gardens, an oasis garden, rose and fragrance garden, a pollinators' garden, lotus pool and other features. Much more is planned, such as a 10,000-square-foot conservatory and a one-acre children's garden, but a lot of money remains to be raised. This first phase came about because of $3.2 million from PSU and $10 million from Skip Smith, an alum from State College who wanted to honor his dad, H.O., also an alum, for whom the new gardens are named. This is the first public garden in central Pennsylvania, and there's considerable enthusiasm for its possibilities. I think it's destined to become a popular wedding spot, as well as a much-sought-after venue for business and social events. In this photo, Steiner is showing me some apple trees that are espaliered against a fence. The day was cloudy and rainy, and the tulip and daffodil display, so perfect for the April dedication, is gone now, but there's plenty of color and lots of interesting perennials and trees to see. And, of course, there's the view - not the law school next door or the campus across the street, but the woods forever and in the distance, the mountains. It's a garden with quite a view. Story coming soon. Meanwhile, the gardens are open from dawn to dusk, every day of the year. For free.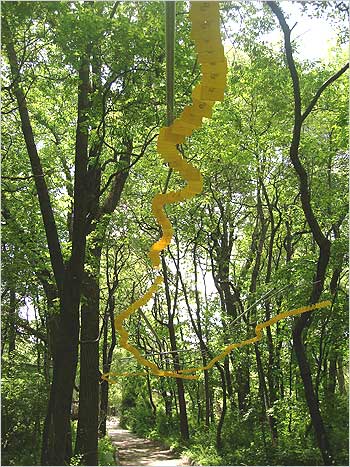 This is "Yellow Zinger," Tim Prentice's submission to an outdoor exhibit at the Schuylkill Center for Environmental Education called Elemental Energy: Art Powered by Nature. Six artists or artist teams from around the country have installed creations that showcase some natural element - wind, water, sun - to create a dynamic or kinetic artwork. Each piece, the SCEE website tells us, "creates sound, movement, or both, using only the energy they harness from nature." This one, which we discovered on Sunday out on the trails was rippling in the breeze like a coordinated caterpillar. It was fun to walk under, to watch, to experience on a beautiful sunny day that also produced sightings of tiny turtles in the pond and frogs so well camouflaged, it took awhile to distinguish them from the brown water and green stems they were resting among. As for the wonderfully imagined kinetic sculptures in the exhibit, we also enjoyed "Solar Thumpers" by Jason Krugman and Christian Cerrito, solar-powered, tree-mounted boxes that truly did thump in a weird sun-driven rhythm. It provided an eerie but enjoyable backdrop reminiscent of Native American drumming. "Rain Machine" by Joe Chirchirillo was also fun. And there are more. The exhibit will be there till Sept. 26 but the official opening reception is Saturday, June 5 at 6 p.m. Worth stopping by anytime - the center's at 8480 Hagy's Mill Road in Philadelphia, http://www.schuylkillcenter.org/departments/art/exhibitions.html - and worth reinforcing the idea that art and nature are a perfect pairing. It's one we'd love to see more of.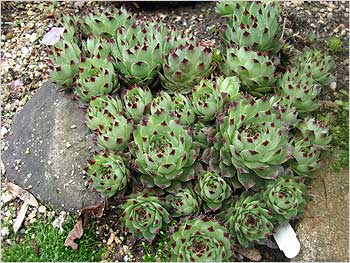 This was taken at Valentine Gardens in Coatesville a few weeks ago, for a story on rock gardens that'll be in tomorrow's Inquirer (Home & Design section). Pat Valentine owns this specialty nursery with his partner Patricia Schrieber, a familiar face at the Pennsylvania Horticultural Society. Patricia and I were chatting at the flower show this year and she mentioned Pat's demonstration rock garden. So I had to see it. It's a figure-8, out in the yard, about 22 feet long and 12 feet wide with a pitcher's mound in the middle. We spent a long and pleasurable morning inching our way around, Pat explaining his travails with critters - he's got 'em all - and the special plants he chose to show his customers. Of special interest, this being a rock garden, were the rocks, hardly any of them bought. Pat gets most of his rocks from the yard or from clients or contractors who're tossing them, recycling them artistically in his display. Rock gardens, Pat says, are a natural for people with small spaces. The plants - thymes and sedums, dwarf conifers and moss phlox - look great in containers, too. They're small in scale, often with brightly colored flowers, and they're what I can only describe as architectural - angular, physical. Pat says, "They're not garish. They're not big and bold," putting them at odds with the taste of some gardeners. They're more subtle, the kind of plant you'll be leaning over to examine closely. Even without a pitcher's mound in the back yard.