Archive: April, 2011
Virginia A. Smith, Inquirer Staff Writer
Here's a short video of Michael Petrie and one of his roadside objets trouves finds:
It's a whirligig made by a disabled Vietnam vet Michael came upon on a road trip to Saratoga Springs about 10 years ago. The artist was a welder.
Virginia A. Smith, Inquirer Staff Writer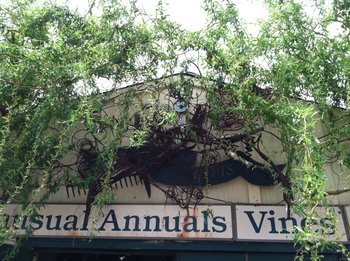 Michael Petrie is wellknown in elite garden circles in this town. Flower show fans seek out exhibits he's designed and he's a reliable source of pungent quotes.
In 2008, when his longtime employer, J. Franklin Styers nursery, was sold (to become Terrain), Michael took the leap. He opened his own nursery, Handmade Gardens, in Downingtown.
Virginia A. Smith, Inquirer Staff Writer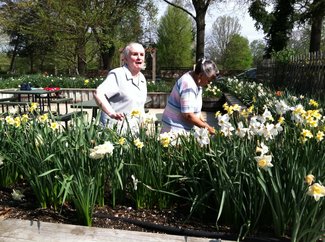 What a glorious day to visit a new garden! Peggy Garrett, left, and Lavena Diggins, right, invited me to the Hands-On Garden behind the Horticulture Center in West Fairmount Park. This garden's different - it's planted and maintained by visually impaired gardeners. Story to come on Friday.
Peggy is a real chatterbox, and recounts the many visitors who are amazed that a blind person can do so much in the garden. "It's not about the disability," she says, and you'd better believe it.
Virginia A. Smith, Inquirer Staff Writer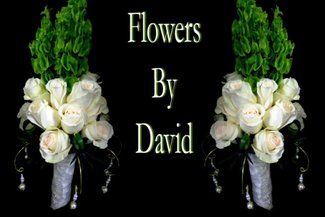 Is it me or is everybody going nuts about the royal wedding? Two friends in Colorado were written up in their local newspaper for plans to host a mid-night royal wedding party on the big day - April 29.
Not to be outdone, the Pennsylvania Horticultural Society is sponsoring a royal wedding bouquet challenge. Pick your favorite bridal bouquet here: http://flowerblog.polldaddy.com/s/royal-wedding-bouquet-challenge
Virginia A. Smith, Inquirer Staff Writer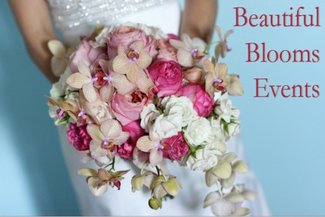 This is an elegant cascading bouquet with phalenopsis orchids, spray roses and garden roses.
Wonderfully simple.
Virginia A. Smith, Inquirer Staff Writer
This one's my favorite - but only if Kate goes for the bold.
Here we have purple orchids, orange calla lilies, pink garden roses and trailing green amaranthus. Delicious.
Virginia A. Smith, Inquirer Staff Writer
This one combines pink sweetheart roses with lily-of-the valley, antique lace, heirloom tulips, white lilies, and blue grape hyacinths framed with a ruffle of white lilac blossoms.
Hey, I have grape hyacinths in my front yard! and a few tulips, though I don't think they're very heirloom-y. I can rustle up some lace somewhere, and no doubt my neighbor with the out-of-control lily of the valley will happily donate.
Virginia A. Smith, Inquirer Staff Writer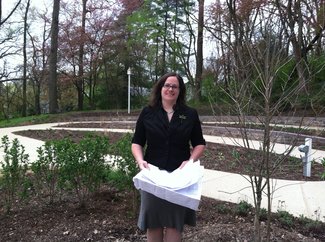 All gardens are sensory experiences, but some are designed to be especially so. This is the Sensory Garden in Wynnewood Valley Park in Lower Merion, which I visited this morning with Patty Thompson, conservation director for the Lower Merion Conservancy, which maintains the garden.
It's not a new garden. This is the old Garden for the Blind and Children, established by the Ardmore Rotary in the 1970s and just recently restored by them. I like the new name - Sensory Garden - infinitely better than the old; both are reflections of their times, and how people with visual impairments have been categorized.
Virginia A. Smith, Inquirer Staff Writer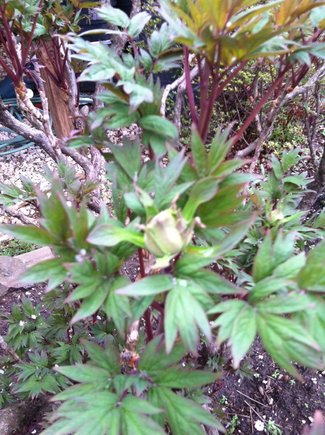 It may not look like it here, but this is a tree peony, just emerging from its winter sleep. Soon, it will be a drama queen in the Foo garden in Bryn Mawr. E-Ni Foo says his many plants change by the day this time of year, which sounds to me like a great reason to spend the entire season outdoors.
In bloom, some have petals as thin as paper, almost like tissue. Some of the pinks are nearly luminescent. Each flower is different, blessed with a fragrance he can only describe as "very strong, very strong." You know exactly what he's talking about if you've ever smelled one.
Virginia A. Smith, Inquirer Staff Writer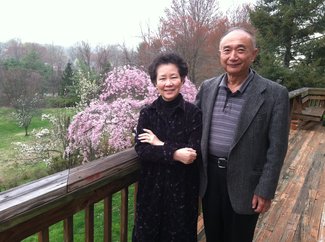 The ancient tree peony is revered in China. Also in Bryn Mawr, where E-Ni and Betty Foo, owners of Hunan restaurant in Ardmore, cultivate dozens of these outstanding beauties. In early spring, the leaves are fluffing out and the buds emerging, but the blossoms won't explode - what other word is there - for a couple more weeks.
Still, these plants are riveting in their youth. The new-growth stems are a pale green tinged with pink blush, the buds so full, you expect them to pop in your hands. E-Ni and Betty garden on 3/4 of an acre, "the slope," they call it. They can stand on the deck and smell the elegant fragrance of pink, red, yellow, white, purple - and all colors in between - of their tree peonies planted in a swath below.