Archive: March, 2011
Virginia A. Smith, Inquirer Staff Writer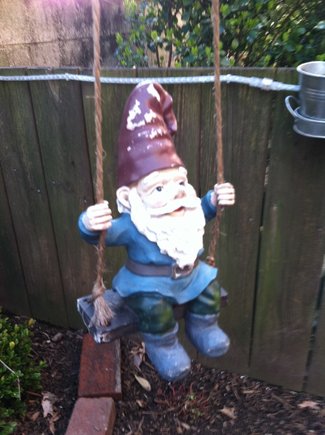 Who knew? According to Gnomes, the best-selling book about these little creatures ( more than 1 million copies since it was first published 35 years ago), gnomes are more than 2,000 years old. The males wear peaked red caps and have full beards. They wear brown-green pants and wooden clogs or shoes made of birch bark.
And thanks a lot: The females are quite portly, and wear gray or khaki clothing, high shoes or slippers, ankle-length skirts and white blouses. They both live hundreds of years and don't marry till they're around, oh, 100.
Gnomes, - the book - has just been reissued in a "deluxe collectors' edition" that sells for $29.95. The author, Wil Huygen, and the illustrator, Rien Poortvliet, are both dead, but I've interviewed the author of the introduction, Brian Froud, who is a trip unto himself. He's a wellknown expert on fairies and other fantasy creatures and he finds "deep meaning" in them.
Virginia A. Smith, Inquirer Staff Writer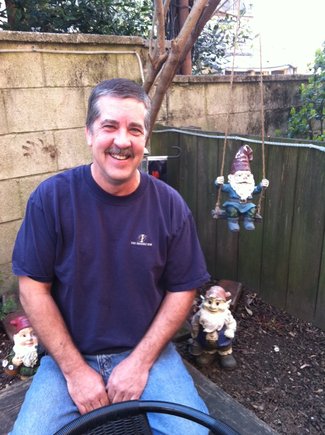 Scott Kollins hasn't seen the new movie "Gnomeo and Juliet" yet, but he knows plenty about gnomes. His interest in them goes back a dozen years. Today he has these well-loved "little people" all over his garden in Fairmount. They're hanging from trees, hauling water, carrying flowers, smiling from their observation posts between small evergreens.
Kollins says he hasn't gone off the deep end about gnomes, as some have (trust me), but he gets a lot of laughs from his collection. Neighbors tease him about it. Kids come over to count and play with them. And while his girlfriend forbids him to display them in front of the house, that's OK. They'd probably get stolen out there anyway.
I've been reading about gnomes lately. I know, I know, I have the best job!! They actually have an interesting history, been around for centuries, and like fairies, trolls and sprites, figure in the folklore of many nations.
Virginia A. Smith, Inquirer Staff Writer
Meet Kaylah Fitzgerald, 22, a guide at the Macy's flower show in Center City. No, Kaylah's not a gardener. Oh no! She laughs at the thought. She's an actress and "promotional model" by trade and training. Still, she's enjoying her stint as tour guide of this mini-show and she has done her homework well. I pointed to several plants and asked her what they were. Bingo! She was right on the money. Okame cherry (14 feet tall), hellebore, hydrangea ('Nikko blue'), salvia ('Cathedral blue'), Lobelia ('Techno blue'), and pink Knockout roses.
Kaylah chats with shoppers and visitors who come for the show. She says about half wander into the Grand Court and find her by accident and half come to see the show. It took three days to set up.
Virginia A. Smith, Inquirer Staff Writer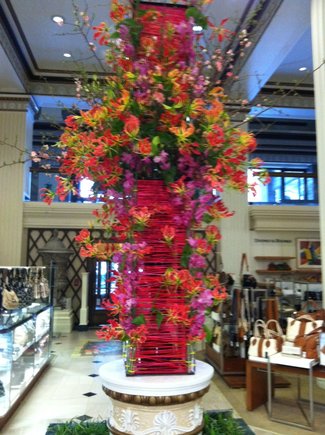 Here's probably the coolest element of the Macy's flower show - Bouquet of the Day, by the store's Juniper Street entrance. Seven of the region's best known floral designers are signed up to do these centerpieces.
First up is this one, by MODA Botanica, which will be there today and tomorrow. MODA is a recent but already popular arrival on the Philadelphia flower show scene; this year its exhibit - "La Vie en Rose" - was composed of 10,000 roses viewed through rose-colored "glass" panels. (Remember my blog item about two show visitors falling into the exhibit two different times??)
Michael Bruce, whose business is in Collingswood, will create the bouquet on Wednesday and Thursday. Michael did the "Urban Graffiti Shadow Art" exhibit at the big show that was such a hit with the crowds. Barb King of Valley Forge Flowers, will design the bouquet for Friday and Saturday. Barb did the memorable topiary animals at the convention center show.
Virginia A. Smith, Inquirer Staff Writer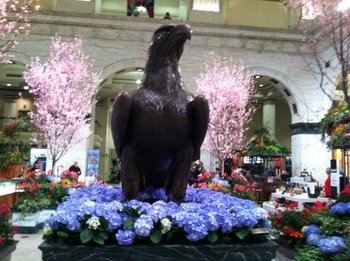 Yes, there's another flower show in town - at Macy's in Center City. It started yesterday at the elegant old store at 1300 Market St., runs through April 10. Here's my thought: If you work in town, or are otherwise looking for something fun over the breakfast, lunch or dinner hour, head on down. If you're thinking of coming to Center City for something, include this in your day. Is it worth a special trip downtown? Not sure. I guess you could build your day around it, but it won't take you hours to get through.
But here's the bonus ... This flower show is plunked down in the middle of some departments that, well, make a woman's heart sing just as much as those first spring blooms. Shoes. Jewelry. Pocketbooks. You catch my drift, ladies?
Let's just say I had a very enjoyable lunch break today.
Virginia A. Smith, Inquirer Staff Writer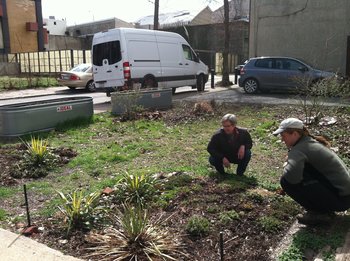 Here garden coach Grace Wicks (right) is conferring with Wendy Woloson (left) about a perennial bed in Woloson's lot in Northern Liberties. Wendy and her partner David Mitchell bought a midblock row house 11 years ago that came with these two vacant lots. Wendy thinks a dry cleaner was on the site, which is now used for parking and ... dog walking by neighbors. Wendy wanted to change things around. A pocket park would be nice. So would a vegetable, fruit, herb and flower garden.
So Grace and Wendy are working side by side (Grace charges $75 an hour) to convert this rubble-filled space into something Wendy can enjoy and also share with neighbors. This particular bed is planted with thymes and yucca plants, the latter being helpful in keeping dogs away. So is a wire fence Wendy's created and adorned with trinkets.
By the way, that's Grace's snazzy new truck in the background. It has floor to ceiling shelves packed with seeds, seedlings, compost and tools. It's a garden on wheels!
Virginia A. Smith, Inquirer Staff Writer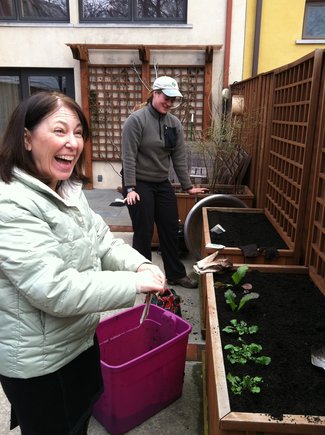 We are a nation of self-helpers, hiring coaches for fitness, life, relationships and careers. Why not gardening? I recently spent some time with Grace Wicks, a Center City garden designer and coach, as she visited clients in Northern Liberties and Fairmount. For $75 an hour, she teaches, demonstrates and gardens side-by-side, part of an emerging national trend that makes a lot of sense in 2011. People are busier than ever, and hiring a coach to get your raised beds in order for spring is a great way to maximize efficiency and minimize mistakes and wasted money/time.
Here Grace (back) is working with Kate Stockton (front), who owns a row house with typically tiny back yard in Fairmount. During our visit, they discussed how and when to plant peas, greens, beets, chard and other spring vegetables. I admired the cedar raised beds and containers that are now part of Kate's urban garden, and Kate said that if/when she moves, she can just take them all with her.
Kate grew up in Chester County, used to a sprawling suburban garden, just the kind of planting scheme that holds little interest for Grace. She's intrigued by urban spaces. They're typically small, more vertical (she does rooftops, too), and more challenging.
Virginia A. Smith, Inquirer Staff Writer
One of the rituals of a Philadelphia spring is snow. Anyone out walking in the garden this morning? It was rough. Snowflakes and biting wind, mud, zillions of sticks, trash blown up from the street, and weeds.
The hated Star of Bethlehem is back after a winter apparently spent propagating like mad. Not that I would use one, but I've read that this horrible import is impervious to herbicides. Good luck, then, removing it. The only effective way, as with almost all other weeds, is to hand pull, but Star of Bethlehem snaps off in your hand. To get at the small white bulbs, you have to dig way down, which of course disturbs the soil, which stirs up weed seeds, which arguably leaves you in an even worse position.
I know gardeners who get obsessed. They fill wheel barrow after wheel barrow with the Star bulbs. They practically go mad doing it and wow, the backache ...