Archive: February, 2011
Virginia A. Smith, Inquirer Staff Writer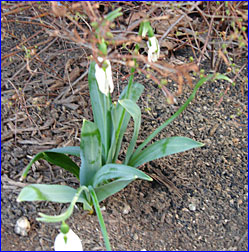 Here's a sight: Snowdrops poking through the mud and rain. A cheery sight in a fatigue-inducing winter. But listen to this bit of news, sure to either make you laugh or depress you. A single snowdrop bulb sold recently on eBay for 357 pounds, or $576! Really. It's the Brits. They're totally nuts about snowdrops. The bulb in question - Galanthus plicatus 'E.A. Bowles' is named for the famous snowdrop collector and writer who supposedly coined the term Galanthophile, to describe the frenzied collectors and admirers of these enchanting flowers. Part of their charm is timing; they're among the first flowers to bloom, usually between January and April in our climate. I only saw this one after the snow melted, and I kind of enjoy thinking about it poking up through all that, only to open in rising temperatures and rain. This is the cheap, common snowdrop known as Galanthus nivali. Nobody'd pay almost $600 on eBay for this guy. But it brings joy on a dark February morning. As they say, priceless.
Virginia A. Smith, Inquirer Staff Writer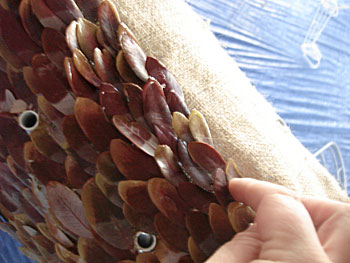 The pace of flower show preparations is picking up. (Show starts March 6) I know this by the number of emails flooding my in-box from promotional-minded vendors. (Boy, would I hate to do that for a living.) I also know this because I visited Barb King's Valley Forge Flowers out in Wayne, where we were shooting a video of Sam Lemheney, the show's designer, to be shown on www.philly.com as soon as my colleague Sarah Glover, an experienced videographer, gets the thing edited. Barb has a crew of folks building animal topiaries, and this is a closeup of the metal-frame dragonfly getting its body parts stuck on. The leaves (integrifolia, I was told) are pasted on with hot glue one at a time. Limonium or statice will form the wings and giant green thistle, the coolest stuff, will make the eyes. It's a slow process, especially when you consider all the animals being done - besides the dragonfly, there are ostrich, snail, butterfly, rabbit, peacock, dolphin and lion. They'll be on the show stage and in the area between the show entrance and the Eiffel Tower. (Theme is Parisian this year). After the show, some of the topiary figures will be placed in the enormous containers outside the Kimmel Center for the Philadelphia International Festival of the Arts (April 7-May 1), then - maybe - in Logan Square, but you didn't hear that from me. Recycling is a bigger part of the show this year, which will put more than a few minds at ease. In some cases, that means mulch, soil, plants and trees. In this case, it means a dried- and fresh-flower menagerie, one with arresting green thistle eyes. Speaking of arrests, these outsized features have never been my thing at the show, but I like the idea of them popping up around the city. On the other hand ... they're gonna need a security detail. All it takes is one yahoo, if you know what I mean.
Virginia A. Smith, Inquirer Staff Writer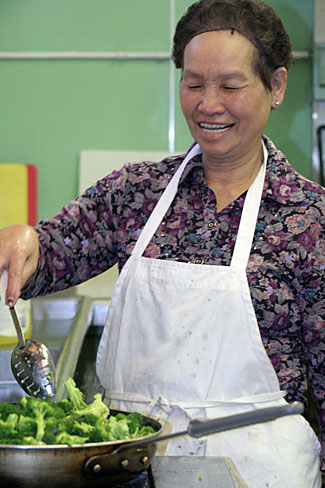 This is Seng Hay, a Cambodian refugee who arrived in this part of the world in 2001. Last summer she was the cook at the senior center in Logan that I visited this week. Every morning, she told me, she'd go to the seniors' garden at Our Lady of Hope church, about 10 blocks away, peruse the garden for the freshest and best stuff, and plan her lunch menus accordingly. What could be better? Here she's making her famous spicy Cambodian stew with green vegetables. Seng has health issues now, and won't be cooking for her friends at the center this summer, but she'll be remembered as the cook who ushered in the garden's first season with delicious meals. As Tara Schwartzendruber-Landis says, "We always talk about food at the senior center and the reality was, we were feeding people highly processed foods. Our fruits and vegetables were frozen or canned. If we really want to feed our seniors better, we figured we had to have a space to grow." Tara is the program director at the center. Although most of the seniors she works with there were farmers back home in Vietnam or Cambodia, they had no place to grow anything in Philadelphia. So the garden at Our Lady of Hope answered many needs. You can read about all this, and much more, in Friday's Home & Design section. (Photos from the Philadelphia Corporation for Aging)
Virginia A. Smith, Inquirer Staff Writer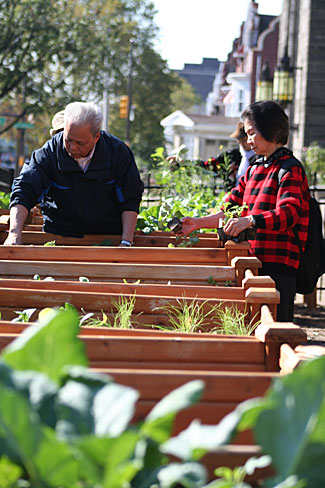 I spent a delightful morning this week at a senior center in Logan that's run by the Nationalities Service Center. It's held in the landlocked basement of Holy Trinity Bethlehem Presbyterian Church but the seniors have a community garden about 10 blocks away on the lawn at Our Lady of Hope Church on North Broad Street. (The pastor, a Filipino, is a gardener himself.) Long story short, the gardeners here, with some exceptions, are refugees and immigrants from Southeast Asia. Last summer, they bought raised beds, mulch and soil with money from a state nutrition grant, and collected seeds they either brought with them to this country or were given. They're already planning their second season. They entertained me with stories of the different vegetables and herbs they like to grow and cook with, and it was wonderful to see and hear, not just because their story is so inspiring, but because they'll be putting their first seedlings in the ground in early March, just a few weeks away. These so-called refugee gardens offer all the usual benefits of community gardens - camaraderie, fresh air and exercise, delicious vegetables. They also give these folks a chance to feel proud of their national identities and to show off the knowledge they have about foods most of us wouldn't know a thing about. (Bitter melon, for example.) As Tara Schwartzendruber-Landis, senior center program director and driver of the garden, points out, most of these seniors were farmers, agricultural workers or gardeners living off the land in their home countries. They know how to do this, and it must feel great to be doing it again after, in some cases, years spent holed up in a row house in North Philly. Think I'll stop by again in a couple of months ...
Virginia A. Smith, Inquirer Staff Writer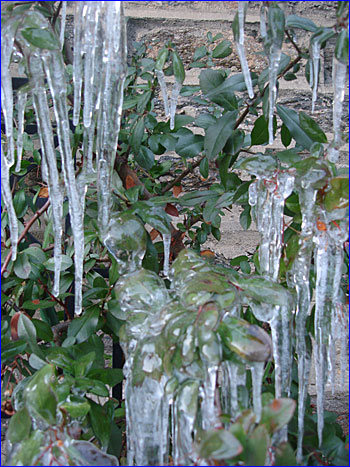 My yard is a mess. The laurels are splayed open, ice daggers in their midsections. The espaliered firethorn is ripped from the stones it's been climbing for almost eight years, toppled over in the driveway and frozen-stuck to the snowpiles. The holly tree out front snapped in half, its top now hanging pathetically by a thread. I'm tired of winter's destruction, the flip side of the fertility and plenty of the year's other seasons. They will come soon enough. Not soon enough.