Archive: December, 2011
Virginia A. Smith

, Inquirer Staff Writer
Now here's a coffee table book good for at least a mug or two ... Paul Meyer, director of the Morris Arboretum, is the author - or should I say author/photographer - of a new book showcasing his images of this beautiful place.
Paul is a talented photographer. His book is available now at the arboretum gift shop for $39.95. It'll also be in the Penn bookstore in a month or so.
Paul's lovely images are familiar to friends of the arboretum; they're featured in the all the newsletters, reports and other communications. Nice having in-house talent!
Virginia A. Smith

, Inquirer Staff Writer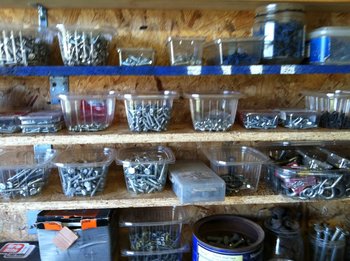 Yeah, right! Have you ever seen such organization? I have a brother whose garage looks like this but I didn't get that gene.
Farmer Mark Risso insists that he and his crew just finished cleaning up the barn at Longview Center for Agriculture in Collegeville before I arrived. I kinda wish I'd seen the before picture. The after is pretty impressive.
This should be inspiration, though, a gentle kick in the pants to clean up the season's tools and put everything in order. Nothing worse than being excited about the beginning of spring and having to root around for a shovel or some gloves before you can plant.
Virginia A. Smith

, Inquirer Staff Writer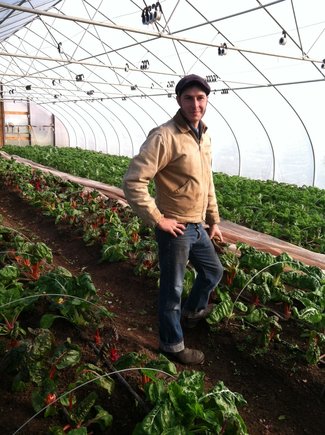 Meet Farmer Mark Risso from the Longview Center for Agriculture in Collegeville. He's standing in one of the farm's five hoop houses. Note the rows of gorgeous Swiss chard and kale behind him. Soon they'll be harvested and sold in the farm store, where I dropped a good bit of change after our interview.
Mark's been working here since April 2010, and I consulted him about planning the 2012 vegetable garden because that's one of many topics he'll be giving workshops on in the new year. It seems impossible that we'll soon be ready to plant peas and spinach again. The catalogues are already arriving.
Mark buys a lot of heirloom seeds and he gardens/farms organically. While we chatted in this 75-degree "house," he grabbed a few leaves of chard and chowed down. When I suggested he must be a great cook, as so many serious gardeners are, he laughed. He and wife Meghan McCracken had a baby (girl - Penelope) only 11 weeks ago, so Mark's response was: "I usually just grab a few leaves and eat." You know how that goes.
Virginia A. Smith

, Inquirer Staff Writer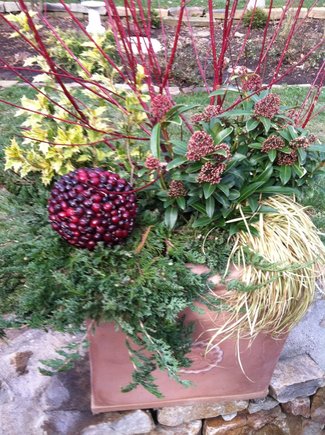 "Concentrate on texture," Susan Whiteley says. She's an expert on ornamental container design, which should be obvious from this one. It sits on a low wall on her back patio. Has a lot of elements, but one thing they have in common is unusual texture.
Susan has combined red twig dogwood, one of her favorite "anchor plants" for its color and verticality and something she grows in her yard, with skimmia, which has shiny green leaves and gorgeous copper-color flowers; osmanthus, which has yellow and green foliage with small fragrant flowers; a trailing juniper, and carex ('Ever Gold').
And note the cranberry ball, something Susan just whipped up to give the arrangement a rounded shape and yet another texture. She bought a Styrofoam ball at a craft shop and attached fresh cranberries with floral pins. "It's something original to put in a container," she says.
Virginia A. Smith

, Inquirer Staff Writer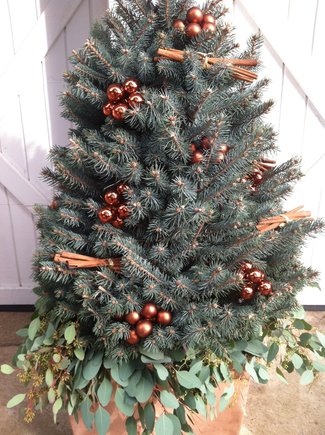 Susan Whiteley says, "It's just a mini-garden," when asked to explain how she thinks of designing her seasonal containers. Just, just. How come mine never look like hers? How much time do you have?
Susan, a member of the Four Counties Garden Club for the last decade and owner of Garden Views, a garden design and installation business in Newtown Square, created a slew of holiday containers for our interview today. They were really interesting.
One of my favorites looked quite simple - except I just never think of designs like that, which is why I get paid to write about people who do rather than do what they do! This one starts with a plastic pot from Home Depot. Now I know plastic has a certain je-ne-sais-quoi reputation, and I don't mean that in a good way, but these pots are fabulous.
Virginia A. Smith

, Inquirer Staff Writer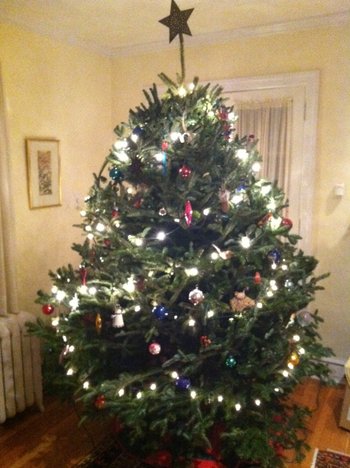 So I wasn't going to get a Christmas tree this year. Just didn't feel like it. But I was overruled and voila! This was a 9-foot tree bought at the tail end of a fundraiser for $30! Magnificent. And I have to say, it improved my mood almost instantly. Highly advise Christmas tree therapy for the blues.
With all the talk of eating-shopping-buying local, I got to thinking about the provenance of this tree, which its sellers say is home grown Pennsylvania. The Nature Conservancy actually thinks about these things, and has some advice for buying a tree.
Cut your own, if possible. You can see with your own eyes where it came from. Don't buy from those fly-by-night, pop-up tree sellers that are all over the place. Be sure to recycle the tree curbside for your city or suburb tree-recycling program. Don't put it on your home compost or brush pile - it could contain weed seeds or foreign bugs that can infest the trees around your house.
Virginia A. Smith

, Inquirer Staff Writer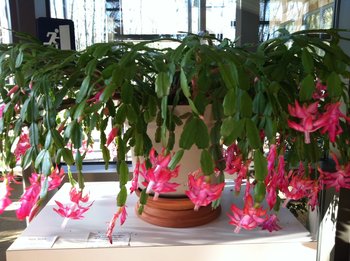 On the one hand ... Christmas cactus is said to be capable of living a very long life. It's easily propagated and good grief, what a bloomer!
But oh dear. Just when I decide I must have one, I read about it ... and the bloom is off very quickly. This things sounds ridiculously fussy! Of course - it's a tropical plant trying to adapt to a cold winter up North.
It needs just the right light and a regular watering schedule, but the schedule's different in fall and winter. Good luck with that if you have anything remotely like a typical existence in 2011. And it needs just the right humidity.
Virginia A. Smith

, Inquirer Staff Writer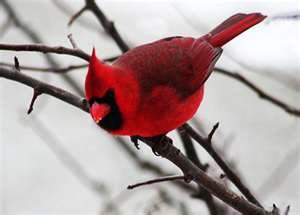 Gardeners are often enthusiastic birders and vice versa, each having a vested interest in the interest of the other. Now, in the off-season, we're more tuned in to birds than ever.
Which is why I didn't hesitate to open an email the other day from George Fore, owner of the Wild Birds Unlimited store in Cherry Hill. He mentions that bird seed prices have gone up lately and had some suggestions for things we can do to economize without scrimping.
Instead of straight bird seed, he says, try suet, seed cylinders, meal worms and different flavors of Bark Butter. Together, they appeal to more birds than seed by itself does. And they usually cost less.