Archive: December, 2010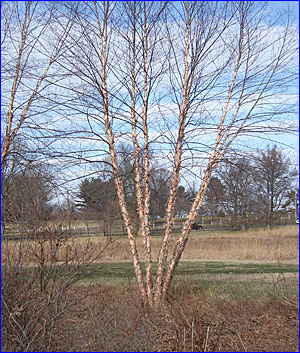 Yesterday I was over at Morris Arboretum, where the chilled air made me think I was inside a refrigerator. OK, maybe I was thinking refrigerator after cleaning mine out the other night. It was so cold I passed up the chance to amble around, which was a first, but I did stop to photograph this scene. I think this is a river birch, a beautiful, multi-stemmed native-to-North-America tree that thrives in moist areas, which this is - near the entrance to the arboretum. You might argue this long-lived, fast-growing tree looks even better in winter than it does in summer. A neighbor has one and I admire it every day, though I wonder how it will fare in our city neighborhood if it gets to 90 feet! Which it might. As I was standing near this one yesterday, three huge formations of loudly honking Canada geese passed overhead. All we missed for this seasonal scene was snow. Forget I said that.
P.S. to Elfie, who emailed wanting to know how to I.D. a tree or plant online, there are identification websites out there that can help. Or you can Google your plant's characteristics. Or search for tree identification. Then check out the academic (noncommercial) sites that end in .edu or .org. Some .coms - large mail-order plant nurseries, for ex. - have descriptions and images that are very helpful, too.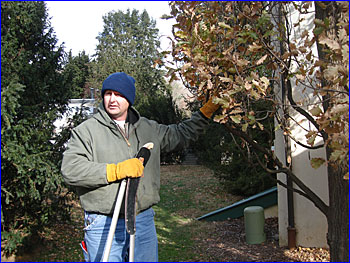 Few tasks in the garden are as daunting as pruning, which many gardeners do with abandon - and not much else. Feels good to get out there and whack away, and sometimes no harm's done. Other times we've made a terrible mess. Yesterday I visited Mike Karkowski, horticulture director at Tyler Arboretum in Media, for a quick primer on pruning. I think I need after-school help. It sounds so - relatively - simple when Mike talks about it, yet when I make a mental catalogue of everything in my garden, it feels overwhelming. So, like many folks, I do nothing, which can be just as bad as uninformed pruning. Mike started our tutorial with this simple advice: Know what your plant is. If you've lost the tag, inherited a no-name tree or shrub, go online and try and make an I.D. That's half the battle. Then figure out what the plant's natural shape is and why you want or think you need to prune. Is it for the plant's health? Is it for aesthetics? Is it a safety issue? Do you have dead or crossing branches? I'll be learning a lot more on this topic in the coming week, but meanwhile, here's Mike standing next to an upright English oak. Doesn't look like the traditional spreading oaks we see all over our region and that was Mike's point. An upright "habit" is natural for this oak, something to keep in mind when your trigger finger's itching to have a go at it. Were he to prune off even a side branch, the tree would essentially be mangled, the effect ruined. Darn it, Mike. Are you telling me we have to stop and think before we act?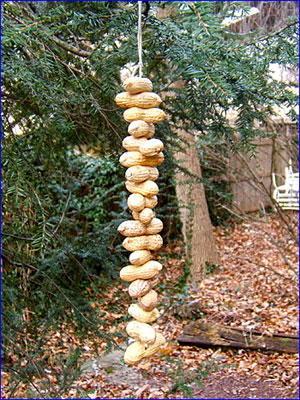 This is a peanut "icicle" made by Molly Sahner of New Hope and her daughter Katie at Bowman Hill Wildflower Preserve (also in New Hope) at a Trim a Tree for Wildlife workshop last Friday. It's an idea you can use on any tree in the yard but it works especially well on live Christmas trees that are ready to go out. I'll be doing a story about this later in the month, but wanted to share Molly's photo. Workshop participants gathered pine cones in the woods at the preserve, dipped them in melted suet and decorated them with black oil sunflower seeds. They also filled the cones with cranberries and peanut butter mixed with corn meal, made tiny wreaths out of cranberries, and put together "icicles" with dried cranberries, raisins, grapes and peanuts. Everything was strung with organic twine or cotton string. (To make the job easier, especially for kids, you can buy a big plastic sewing needle at crafts stores.) It takes birds and squirrels, and sometimes other critters like opossums or raccoons, a couple of days to find the free food, but Molly reports that this morning a cranberry wreath and one peanut "icicle" were already demolished.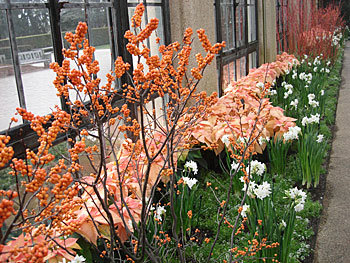 If I tried this, you know it'd end up looking more Halloween than Christmas. But at Longwood, it's gorgeous - 'Snow Crystals,' a pure white, fragrant, sweet alyssum; paperwhites; 'Cardinal' red osier dogwood; 'Winter Gold' winterberry holly; and a stunning, salmon-hued poinsettia called 'Cinnamon Star' that's advertised as being "cinnamon pink" and having "pink freckles." The combination is so unusual, and shows that now all non-red poinsettias look faded (cream, pale pink) or gaudy (blue and turquoise!) with little in between. You can see quite a bit of 'Winter Gold' at Morris Arboretum, at Mt. Cuba - and it's always striking in the winter landscape. Outside. I kind of like it inside.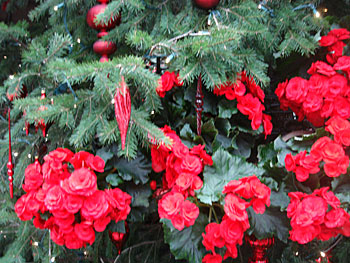 In my previous post, you see a photo of one of Longwood's Christmas trees. It's a 28-foot Douglas fir, and Longwood historian (and jack-of-all-trades) Colvin Randall says it's the garden's biggest tree this year. It's decorated with what look like red roses, but are actually live red begonia plants. The trick to prevent them from dying off is a system of "spaghetti tubes" that keep them watered. Sue Esposito was visiting today from Reading, and said the "real flowers in the tree" were one of her favorite sights in the display. "Makes you really appreciate the time that went into this," she says. Another tree, a 25-foot Douglas fir, was decorated with preserved hydrangea and glass ornaments. Very striking, especially with the 'White Star' poinsettias and potted ivy placed around the base.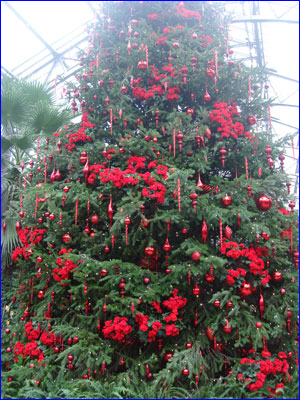 Christmas at Longwood is always a treat, but usually I'm racing around interviewing people with no time to spare. Today was different. Today I talked with Colvin Randall, who's written Longwood Gardens Christmas, a 350-page book that he estimates weighs between 4 and 5 pounds! Not for the faint of heart. But it is a fascinating look at Pierre and Alice duPont's legacy here, especially the Christmas parties they had for their employees' children in the 1920's, 30s and 40s, a custom that continues today but is in no way comparable to the blowouts they used to have. The children would get invitations in the mail addressed to them. They'd dress up, go through a receiving line to shake hands with the duPonts, and make a mad dash for the Christmas tree, which had presents attached to the bottom branches. And there was entertainment. It all sounds so quaint now - the jugglers and Punch and Judy shows, contortionists, animal circuses and ventriloquists. A simpler time, certainly. I've interviewed two of the "children," both elderly, and they have only the warmest of memories. Story to come on Dec. 24, and it's going to be a treat. We have archival photos and other memorabilia, in addition to pictures (and video) of the 2010 Christmas display. This photo is but one of the Christmas trees. Pretty spectacular.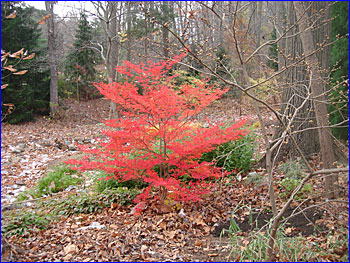 That was the gist of the headline on my story on Friday. A little corny, but true enough. Don't know about you, but I'm looking for all the friends I can find in the garden, any way to lessen the strain and improve the ratio of free time to work time. This photo is of the oustanding Enkianthus perulatus at Chanticleer, the public garden in Wayne where I went to learn about shrubs from Bill Thomas. I haven't deleted this picture from my digital camera yet. Guess I wanted to see it one more time. Set apart, and against a brown backdrop, this shrub's incredible red leaves made me stop and stare. I now undersand why Bill says he loves this time of year. The colors and light in the garden are so different. Without visitors around, you can work at your own pace and schedule. And you get to enjoy the show all by yourself.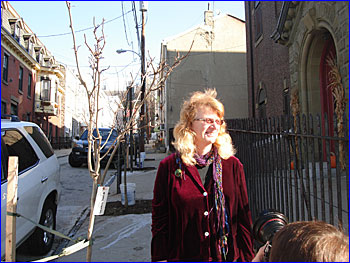 This is Mindy Maslin, founder of Tree Tenders, a 17-year-old program of the Pennsylvania Horticultural Society whose volunteers now number 3,600 in Philadelphia alone and are responsible for planting 20,000 street trees in the area, most in the city. In the last few years, the program has spread to the Philadelphia suburbs and other metro areas around the state and nation. Mindy will be profiled in the paper on Friday, so be sure to pick up a copy. She has an interesting story. Grew up in Montgomery County, travelled the country and the world, working as a community organizer, political and environmental activist, before getting her degree in social work from Temple. This is one gal who's consistently on message. When I visited her at home in Blue Bell Hill, a little known city neighborhood, I wasn't at all surprised to learn that she's also planted trees on her street and in her own back yard. In this photo, Mindy is showing off the eight trees recently planted on Conorroe Street in Manayunk. The kids from The Academy in Manayunk, which is on this block and is where her son Sam goes, helped with the planting. They put in redbuds and dogwoods, one named after Mrs. McGuth, one of their teachers. Now the kids check on their trees, as does Joe Lamont, who grew up around here, lives three blocks away and is in charge of maintenance at St. Mary of the Assumption church, across from the school. "Trees really make a difference on this street," Joe says. "Trees add life."