Archive: December, 2008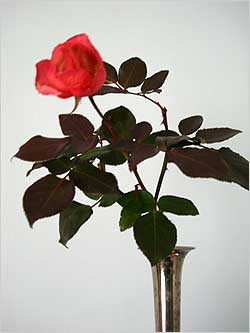 The bloom is off the rose - literally. For all the talk of this or that being the last thing to bloom in the garden, how about this (really) last rose? I think this is "Compassion," a climber with a sweet fragrance. I drove by the house the other night as snow was falling and saw a spot of orange on the fence. Not much else going on in the garden, but isn't the rain wonderful? My new blue spruce is thriving. The Christmas tree is up in the living room, trying hard to spread cheer in a gloomy season. I debated whether to even get one this year. But I happened upon a guy selling nice Fraser firs that he said were cut around Thanksgiving in Bloomsburg, Pa. Tried to crumble the needles and they held on. Nice and fresh. Seems that there are plenty of reasonably priced - under $50 - fresh trees this year.
A friend is chopping down a spruce tree he planted with the idea that he'd supply his own Christmas trees for a few years, which emphasizes a point we're hearing a lot about this season - that we should scavenge our gardens for materials to use for centerpieces and wreaths. This is a great idea. Maybe you have a holly tree out back or an evergreen, even something as counterintuitive as azalea or dogwood branches. They all look terrific. I've already unpacked several bags of pine cones from last year. They're as fresh as ever, and added quite a Martha Stewart touch to the greens on my mantle. I picked them out of a pile at the Christmas tree lot.
As for my orange rose, it keeps me company in the kitchen, right next to the lighted Santa.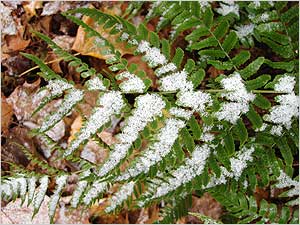 This photo of a snow-covered fern was the scene last week. Suddenly, yesterday, it was spring again - 60 degrees, with a light rain falling. I'd been lamenting the fact that I still had a box of bulbs in the garage. Life has been way too hectic - and the air way too cold - lately. So yesterday's break in the action was a gift and yes, I was out there at 8 o'clock last night with my trusty trowel ripping open mesh bags of nut-like bulbs, trying to figure out which end was which before plopping them in the ground. The garden lights, so charming in summer, weren't much help. It'll be interesting to see what comes up. Really. I'd long ago forgotten what some of these bulbs are, how high they'll grow or what color they'll be. So there you have it: I did everything I advise against in print - you know, right plant, right place. I just tossed 'em in there. I got soaked and muddy from my Wellies to my hair, I probably did it all wrong, but the bulbs r in!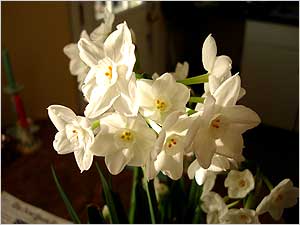 The scent of paperwhites is definitely up the nose of the beholder. My Narcissus tazetta 'Zivas' are blooming beautifully in the kitchen but oh, the stink. My husband does not consider this a stink. It's a fragrance, and he likes it. But that first blast when you come home from work is a shocker. Whew! Is it ... burnt wires? Musk? Where's the litter box? But there's a reason Zivas are so popular. They sprout in no time. About a month, in my case, and once they start, they shoot up quickly. (This means you can pot some up and be assured of a great Christmas gift -- there's still time!) They're a classic, pure white. They're soo easy. You don't even need to "plant" them, at least not in the traditional way. Stick 'em in a shallow pot with potting soil or pebbles; just make sure the roots are covered and kept moist. And look how pretty. Worth toughing it out, I'd say, even if you have to hold your nose.