Archive: November, 2011
Virginia A. Smith, Inquirer Staff Writer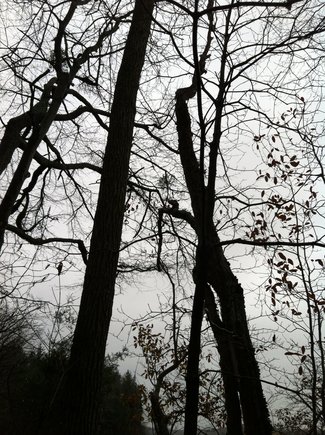 This picture - at Malaga Lake in Franklin Township, N.J. - looks a little spooky, which is not at all a reflection of the mood of our merry band of mistletoe hunters this morning. Can you see the mistletoe? It's way up in this native black gum tree, sorta looks like a sparkler, and because it's in a public park in New Jersey, it's protected. In other words, nobody can literally hunt it and shoot it out of the tree, as they did in the old days.
I got curious about mistletoe growing in Jersey the other day so I called Joe Arsenault, an environmental consultant in Franklinville and founder in 2004 of the Flora of New Jersey Project. In simple terms, it's an effort by field botanists to update the state's plant manual, last put together in 1983. A lot has changed since then - plant names, descriptions, locations.
About 20 volunteers have signed up. Four are active. Two do the work. "Sound familiar?" asked Joe, who estimates his group has about 1 percent of its work done.
That's where mistletoe comes in.
Virginia A. Smith, Inquirer Staff Writer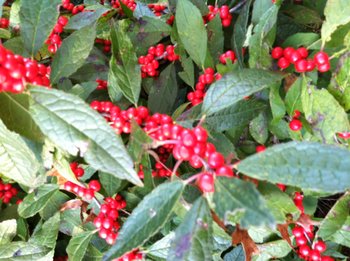 So it's winterberry season already! Saw this at Tyler Arboretum the other day. I've had no luck with winterberry - I think because the male and female need to be within about 40 feet of each other and I've inadvertently kept mine in solitary.
But what a gorgeous plant. Useful, too. It feeds almost 50 different bird species in winter and apparently in fall, too.
It's poisonous to humans, which I doubt is much of an issue. I don't know too many people out there foraging for winterberries, but when the sky falls, who knows.
Virginia A. Smith, Inquirer Staff Writer
No, not talking about my garden here. Talking about a small exhibit of succulents on display through Dec. 2 at PHS' McLean library, 20th and Arch. I was down there doing a little research and took a look.
About 40 agaves, aloes, jades and other succulents are on display. They inaugurate a new series of mini-plant shows whose goal, PHS' publications director Pete Prown tells me, is to elevate the visibility and accessibility of the library. The shows are free, as are the programs that run in tandem.
Next one is tonight - Winter Care for Tropicals, 6-7 p.m. - along with a plant clinic for succulents on Wednesday at noon and a Nov. 28 program (6-7 p.m.) on how to make holiday wreaths from succulents. Sounds good to me.
Virginia A. Smith, Inquirer Staff Writer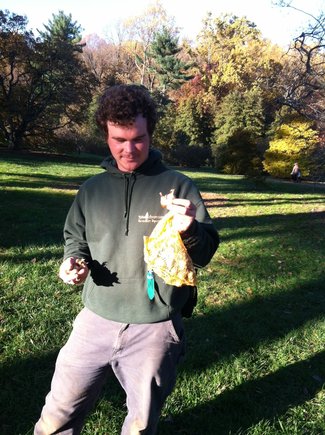 It's bulb time, everybody! If you have the energy after this weather-wild year. The young man holding the bag here - a bag of bulbs, of course - is Sam Keitch, the newest gardener at Tyler Arboretum in Media.
Sam is a West Chester native and Temple Ambler grad, a horticulturist with an extreme interest in landscape design, and we had a long chat yesterday in the waning hours of the afternoon. You can see the long shadows in this photo, which was taken just before Sam hopped on his bulb planter and got a few of these narcissi in the ground.
I've had several calls recently from readers discouraged over the critters that eat the bulbs they carefully plant each fall. I know firsthand about this, having put about 100 tulip bulbs in the ground the first fall in my new house almost a decade ago, only to watch the squirrels unearth them one by one like so many cocktail peanuts.
Virginia A. Smith, Inquirer Staff Writer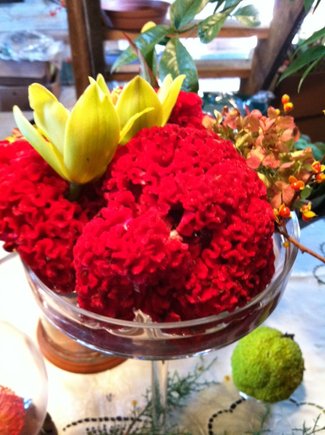 Celosia is one flower I've never cared for. Astilbe is another. And shame on me, day lilies and most dahlias. People are going to throw rocks at me next time I appear in public. Truly, there aren't many. Please put your rocks away.
Celosia's other name is cockscomb, and I know there are people who love its primary color and velvety feel. I don't know. I call that cockscomb something more like turkey neck, a condition I hope to avoid for a few more years. Now that I write that, maybe my dislike is a primal thing that I should seek therapy for.
Meanwhile, Helen Pettengill, the floral designer I've been blogging about this week, knocked me out with this arrangement. Who can explain ...? It's just celosia with yellow magnolia and bittersweet in a long-stemmed shallow glass. But how cool.
Virginia A. Smith, Inquirer Staff Writer
This is the fruit of the osage orange tree, and as you might guess, it's a floral designer's dream. A friend had a bowl of these bumpy chartreuse baseballs on her Halloween table, where we gathered for wine and lasagne after the tricks and treats were done. We passed the bowl around so everyone could smell the light citrusy scent and do the tactile thing.
I've seen them piled at the base of trees, eccentric art installations, at Jenkins Arboretum. And now I've seen them in Helen Pettengill's interesting flower arrangements. This uses three, interpersed with drying hydrangea heads, inside what I think is a grape vine wreath. It's so simple. Can you see it on your Thanksgiving table?
Maclura pomifera isn't a tree I grew up with, but I do recall gathering these seed balls from a city street awhile back and opening one up. Big disappointmen! Not an orange in there at all, more a pithy core with lots of small seeds (which squirrels supposedly like but, I ask you, what don't they?!) and some slime and other unappealing stuff. Definitely best viewed and used intact. Don't know too many humans who'd bother to deslime the seeds. I've read that they're edible, but so is okra.
Virginia A. Smith, Inquirer Staff Writer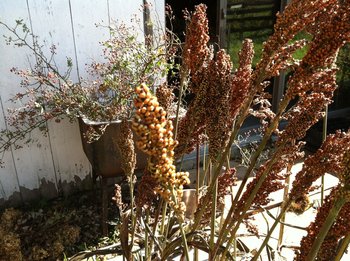 Here's that millet I told you about in a recent post. Besides being a popular ingredient in bird seed, this ancient grain is supposed to be a great source of protein. It's a fine hot cereal on its own, and tasty combined with oats and other porridges. In my house, the recipe can get quite crowded!
Millet is also a favorite of floral designer Helen Pettengill, and you can see why. It's got great color, as well as height and texture.
I'd love to have a workshop like Helen's, which is in an old goat barn. She's got room to store her sprigs of bittersweet and stalks of millet behind the barn - with room to spare. Which is great, considering all the oddball stuff she collects to use in her arrangements - sorghum, yarrow, grapevine (collected along the highway), oak, maple and fig leaves, all sorts of sedums, celosia, blue-green cedar and holly branches, nandina, pine cones, solidago ...
Virginia A. Smith, Inquirer Staff Writer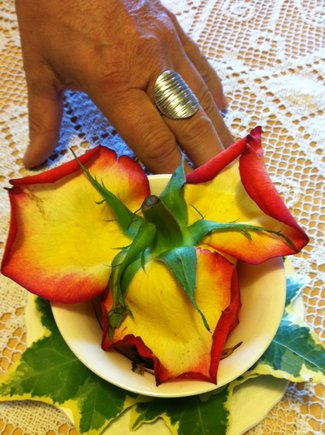 Don't know about you, but these days I'm almost as interested in my table's centerpiece as I am in the food being served. So what a treat it was to visit Helen Pettengill at her Bridgeton, N.J., "farmlet" last week.
Helen is a fan of "living centerpieces" designed around family heirlooms and found objects. This was one of the first things she showed me - a bicolored rose inverted in a teacup with variegated ivy leaves splayed around the base, all displayed beautifully on an old lace tablecloth. Very simple.
Helen has been known to leave notes for farmers, asking if she can forage on their property or gather stalks of millet or wheat growing in the fields. She uses ornamentals, too, especially hydrangea. The heads, and individual blossoms, are quite theatrical when dried.