Archive: October, 2010
Virginia A. Smith

, Inquirer Staff Writer
A reader wants to know where to buy plumbago ground cover - Classy Groundcovers at www.classygroundcovers.com, for one. (But look around at local garden centers. If you can buy it locally, everybody benefits.) This same reader reminds me that now's the time to plant garlic. That means ... it's time to pull out the classic on this topic: Growing Great Garlic: The Definitive Guide for Organic Gardeners and Small Farmers by Ron L. Engeland, published in 1991 by Filaree Productions in Washington state. (I bought it from Amazon.com) It's the one everyone recommends. And though you might think garlic would freeze up over the winter, turns out it actually likes the cold, is rarely hurt by freezing temperatures, and is nicely insulated by snow. (Gee, I wish I could be like garlic!) I thank this reader for the reminder. Last year, I was so late getting my cloves in the ground, I ended up outside in the dark with an umbrella, planting in a driving rain 'cause time was really running out. And for all that, my "harvest" was pretty puny. Not the number of garlic blossoms that grew, but the size of the cloves. Hope to do better this year. Besides garlic, this is a great time to plant bulbs, perennials, shrubs and trees. I'm in the business of downsizing in my garden, but many a year I was out there buying and planting late in the year. (And if I were in the buying frame of mind, I might pick up another of these Home Run shrub roses. See photo - this is pink Home Run. Isn't it sweet? Bloomed all season, did fine in the drought, and not a speck of blackspot on it.) About seven or eight years ago, in fact, we planted two sugar maples on Dec. 8. I remember the date. Thought it was crazy to be planting then. But my sapling-supplying neighbor was right. Even as the air feels frigid, the soil can still be warm. The proof is this: Those maples are thriving today.
Virginia A. Smith

, Inquirer Staff Writer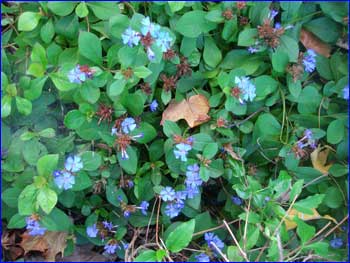 Here's a wide swath of dwarf plumbago (Ceratostigma) or leadwort from my front yard/garden. The stuff is bulletproof! Also beautiful, and unlike a lot of other ground covers in fall, it is now in my favorite stage. A few weeks ago the bright blue/purple flowers started blooming - soon, the leaves will turn red and copper-colored - providing an unexpected color bonus at a time when so much else is brown. Some consider plumbago a nuisance, and it does spread extremely fast. For my money, I'll live with that. Five years down the road, these plants are still running apace, filling in bare spots and ruffling up the landscape. They do crowd out other plants - in my case, some native heucheras - but they pull out easily. And I can always move the heucheras, right? Plumbago works in full sun and partial sun and frankly, just about anywhere I've put it, even a very shady spot on a slope. Been doing a lot of research on ground covers, which sounds like such a boring subject. Actually, like most topics I write about, there's much more there than you might think. Plumbago, for one. It's an interesting and attractive alternative to the Big Three - English ivy, pachysandra and vinca. Here, here.
Virginia A. Smith

, Inquirer Staff Writer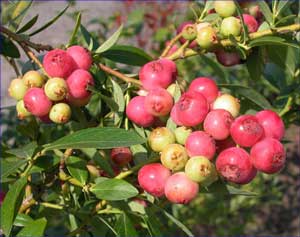 You read that right - pink blueberries! They're real. I saw them, I tasted them and I hope, soon, to grow them. They're called 'Pink Lemonade,' and they were introduced to the market by Briggs Nursery last year. They're the first pink blueberries, highbush variety, a novelty item with a mild taste, but the consistency and overall flavor is pretty much the same as the original blues. I had the pleasure at the recent symposium for garden writers in Dallas. We were told that 'Pink Lemonade' has pinkish-white, bell-shaped blossoms in spring and orange-red foliage in fall. Of course, the whole idea of pink blueberries brings up an obvious question. Do we call these pinkberries? Whatever you call them, you have to search a bit to find them. They aren't in many garden centers just yet. But you can find them online at Michigan Bulb, Gardener's Supply, Direct Gardening and Amazon.com.
Virginia A. Smith

, Inquirer Staff Writer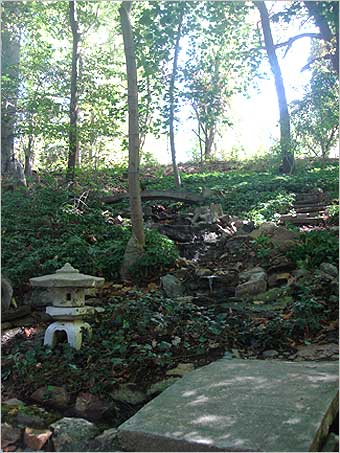 This is Charles Dagit's garden in Gladwyne. It's very green, designed in Japanese style, and it's been an ongoing project for this modernist architect who was transformed by a trip to Japan almost two decades ago. Working from the experiences he had there at traditional temples, shrines and gardens, and studying books on Japanese garden design he bought at a Kyoto gift shop, Charles has slowly created what you see here - 3/4 of an acre, with paths, lanterns, statuary, rock settings (using rocks from the property), stone bridges and concrete water basins he cast himself, ponds and waterfalls and lots of green plants. One exception: Seven Japanese maples dot the hillside above his house. We're waiting for the maples to change color and provide pops of red that we can photograph for my story. Nature will not be rushed! So we probably have another week or two to go. Meanwhile, Charles is enjoying fall in this contemplative garden, which he shared with me last week. We rambled along the stone and pebble paths, zigging and zagging around the hill, listened to the soft ripples of the ponds and waterfalls that he designed and dug out along a natural swale, and observed the changing light through the trees. He's made this a place of meditation, working with the contour and character of his land. Japanese? Yes. But gardeners everywhere know this language.
Virginia A. Smith

, Inquirer Staff Writer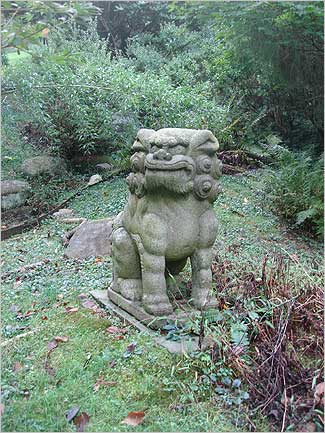 Swiss Pines is a strange name for a place that calls itself a Japanese garden, but here you go - 19 planted acres (out of 200) along Charlestown Road in Malvern, just down the street from the Great Valley corporate wonderland.
It was built by the late Arnold Bartschi, who was of Swiss ancestry and owned five factories in Pennsylvania that made children's orthopaedic shoes. When he bought the former Llewellyn estate in 1957, it came with an English-style garden, four Asian pieces that caught his fancy - one sculpted Chinese lion, 2 Korean dogs and a bench - and 40 Swiss stone pines.
So, according to Carl Shindle, who's taken care of the garden since 1962, Bartschi named the property Swiss Pines, studied up on Japanese design (and at one time hired a Japanese designer), and created this unusual garden. Although purists consider Swiss Pines less a traditional Japanese garden and more a garden with Japanese features, there are enough of those to make this an interesting destination.
Virginia A. Smith

, Inquirer Staff Writer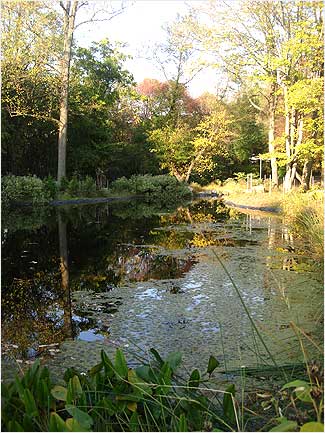 Couldn't help sharing this photo, taken Sunday in late afternoon at the Schuylkill Center for Environmental Education in Upper Roxborough, where we go on weekends to walk. It was a perfect fall day. The light was golden, the scene calm by the pond. We sat on a rock like two middle-aged kids on a lazy adventure. We watched the dragonflies hover and dart across the water, the birds swooping overhead and, once our eyes adjusted, two tiny frogs, who silently poked their heads above water and stared at us for some time. Although any number of things can keep me awake these days, or wake me up at inappropriate times and battle with me when I try to slip back to sleep, I think I could've taken a nap right there on the rock. Thinking of heading back there soon ...
Virginia A. Smith

, Inquirer Staff Writer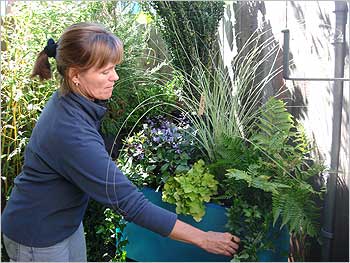 I know what I'm doing this weekend: fall containers. I spent the morning with Mary Costello, co-owner of City Planter on Fourth Street in the hoppin' neighborhood of Northern Liberties. She was showing me ideas for fall containers. I think gardeners have a lot of pent-up energy, after such a horrible summer, so what better way to make up for at least a little lost time than to switch out those summer containers for fall. Here, Mary's filling a spun polyester pot made in Vietnam, which is typical of a lot of the newer "faux" pots. They're light and colorful and although they're more expensive than traditional pots, they last forever and are so easy to work with. After filling them, Mary's able to carry them herself, which you simply can't say about concrete or terra cotta, especially the larger ones. Another thing: Mary's a believer in the basic container formula, which she calls thriller, filler, spiller ... thriller being the tall, dramatic element, filler being the mounding element, and spiller being the vine that hangs down. But she has few rules after that. Use the colors you like. Go for the asymmetrical look, rather than equal numbers or same type of plants on either side of the tall plant. And don't hesitate to use perennials in containers. You can plant them in the ground when you're done or ... toss 'em! Mary calls these "action pots." She filled this one with miscanthus, plectranthus, autumn fern, heuchera ('Citronella'), and ivy. The day is glorious, the plants were beautiful, and it felt awfully good, even at this late date, to be thinking and acting like a gardener again.
Virginia A. Smith

, Inquirer Staff Writer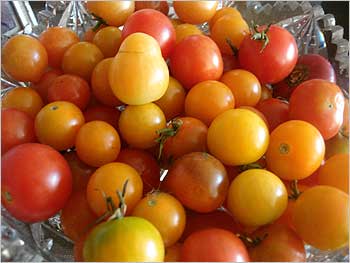 You just can't beat cherry tomatoes. They're first to ripen in summer and last to shut down in fall. I still have a bowlful in the kitchen filled with yellow pear, some red varieties and a lot of 'Sun Gold,' the popular cherry with the great orange color and very sweet taste. They get tossed into salads and stir-fry. (A friend even sautes them with onions and garlic till they crack open and serves the ensemble as a vegetable dish at dinner.) One of my 'Sun Golds' grew up into a tree, so a couple weekends ago I trimmed it and popped the branches into the open leaf/compost pile. This past weekend I noticed color over there. Despite being whacked and tossed, the tomatoes had ripened in the pile. I dove in to retrieve them. Turns out, 'Sun Gold' isn't just sweet. It's tough, too.