Archive: October, 2008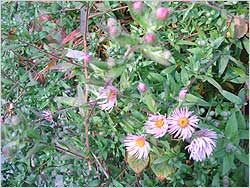 Here's a late bloomer for you: Aster carolinianis or walking aster, and it's just beginning to bloom in my garden. This plant has the typical aster blossom - about an inch across, purple with yellow center - but its "habit" looks almost nothing like the other asters we see in fall. Mine is two years old. It did nothing last year. This year it branched out in a wild sort of way, no straight stems, more like wands sprawling every which way, out and up about six feet. No wonder the "experts" sometimes call it "unorthodox." It's a climber, but not like a typical vine. It doesn't twine, it has no suckers or aerials. Its long, arching stems sort of scramble through whatever's nearby. My climbing aster is on the end of a wide, but narrow raised bed that originally had herbs in it. Over the last two seasons, I've added climbing and shrub roses, a grape vine, a passion flower vine and an odd assortment of blue fescue, santolina and butterfly flower. A friend with lots more gardening experience recognized my climbing aster immediately and said it was placed in a perfect spot. But it's a rather unruly tenant, and being on the edge of the raised bed, it sometimes reaches into the hair of dinner guests on the patio. Nothing like a little horticultural outreach! Supposedly the walking aster, which likes sun to part shade and is in full sun chez moi, can get up to 12 feet tall. Talk to you next year.
I have to say, even if it takes over the patio, it's kind of an interesting plant, and so far it holds the record for "last thing to bloom in the garden." It's also a looker. But what now? There are still hundreds of buds on this bush. Wonder if we'll get to see them all.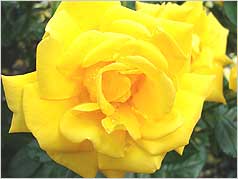 The forecast calls for frost tonight and my email inbox is lighting up with friends' lamentations. Time to pull out the elephant ears! Quick. We need to pick the last of what's bloming. I'm always a little sad when frost arrives. This year, especially so because my garden is still very colorful. The roses have been reblooming for a few weeks now and it's been such a pleasure strolling around to look at them, even if I'm bundled up in a sweatshirt and scarf to ward off the chilly wind. This extraordinary sulphur yellow one isn't mine, alas. It was in the Portland test garden, one of 8,000 that I swear were all blooming the day I was there. If you look carefully, you'll see raindrops on the petals. But that will soon be behind us. I picked a huge vase of pink, salmon and red roses last week, thinking that was the end, but the bushes bloomed on. Tonight may really be the end, so I need to go scavenging after work. Frost (and Phillies!) to come ...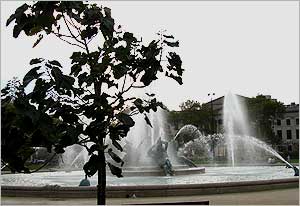 Two years ago, a dozen baby Paulownia tomentosas - also known as empress or princess trees - were planted in Logan Square around the fountain, replacing ones that were much loved but, in several cases, diseased. The decision was made to take them all out, rather than suffer through the asymmetry that would result if there were some 70 years old and 70 feet tall and the rest young pipsqueaks barely out of burlap.
Passing through the square today, skies threatening rain, I visited with the toddler trees. They looked about 20 feet tall, but don't quote me. They're growing, to be sure, and are looking more at home by the month. If you're a tree in the city, this must be a swell assignment. The grass is nicely tended, not too much trash. You could actually feel spray from the fountain on this slightly windy day, and all around are people who appreciate this space.
Someone dressed in office clothes - with a knotted tie, no less - was sprawled on the grass, arms and legs akimbo. Kids were running around. Adults were reading or sitting. I was just passing through. But how wonderful to have an oasis like this in the middle of all the buildings and cars - and bad news.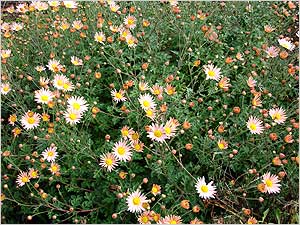 This time of year is so predictable, from a floral point of view. It's pot-mum madness, which comes before poinsettia madness, which precedes ... you get the picture. I've been taking a pass on mums for this reason. Same colors, same size, same everything, year after year, until my friend Louise shared her Sheffield daisy mums with me last spring. She gave me three small clumps and for quite a while they looked doomed. I consulted with Louise. What am I doing wrong? Keep watering, she said. So I did, and those three small clumps got their acts together and formed one huge mound that a few weeks ago began producing hundreds of buds.
The New England asters are blooming big right now, and this being their fourth season in the garden, they're absolutely gorgeous. Now I have a large mound of peach-colored mums to offset their bright purple and I must say, the effect is stunning, especially since it's late October.
My point here is that the mum world is bigger than the pots you find at the supermarket. In fact, as I'm discovering while reporting on a story about this, the world of mums is enormous, far larger than I ever anticipated. Besides the pot mums, which are also called cushion mums, you'll find anemone, daisy, pompon, spider and several other shapes. And there are a heck of a lot more colors available than the pots' maroon, gold, yellow and orange. Nothing wrong with them - I'm told customers want these fall colors and they're warm and pretty. But I have to wonder which came first - limited choices or customer desire?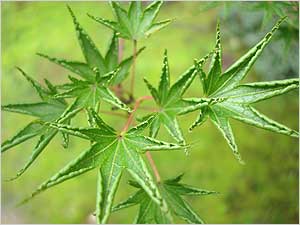 I love this photo. It's just a cluster of leaves from one of many Japanese maple trees in Portland's Japanese Garden. This is such an inspirational place. Talk about a design that emphasizes simplicity, using water, stone and wood. Everything was a work of art, from the meticulously shaped trees and raked gravel to the gracefully placed rocks and musing koi. The garden paths were filled with visitors but they were very quiet, respectful.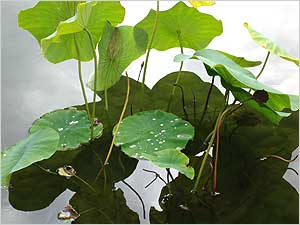 I was waiting for a cloudy day to post this photo, because I shot it after a brief rain shower at the Classical Chinese Garden in Portland. This garden is one square block in the middle of the city, but it's in authetic, 13th century, Ming Dynasty-style. Inside its walls is a recreation of a miniature landscape of mountains, waterfalls, tons of rock, lakes, trees and bridges. You feel as if you're in another era, surrounded by contemplative spaces and thoughtfully designed plantings. Bamboo, water plants (like this incredible array of lotuses), magnolia, tree peonies, orchids, tree rhododendrons with paddle-sized leaves .. though my visit was short, I was captivated by the quiet, the space and the forms of both plants and structures. I began to notice patterns of stone and wood, the guided shapes of trees, the columns and balconies. Everything was part of a single design, but if I ever tried to replicate this concept at home, I'm sure I'd be perplexed. Chaos is easy. Simplicity is the test.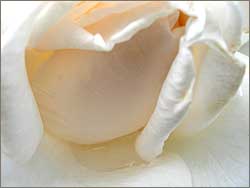 I'm a word person, not much of a photographer. But visiting the giant rose garden in Portland - 8,000 roses are on display here! - got me thinking about differences in light and how they affect photos. It had just rained and the sun was hidden, which meant that the roses looked especially bright and dewy without being harsh. Full sun, or midday sun, is not the best time for snapping pictures; everything looks washed out. But early morning or late afternoon - the best. When it's cloudy, that works, too.
So here's a shot on that kind of day - overcast and gray. This white rose was so luscious, and in this photo, you can sense the softness, the lingering raindrops and even the fragrance. I also decided rather than take a typical head-on shot of a blooming rose, I'd put my camera right in there to capture the crevices and shadows.
When I first saw this photo on my computer screen, I just stared at it, remembering the moment in Portland when I came upon this magnificent flower. Perhaps it will have that effect on you. You're there, too.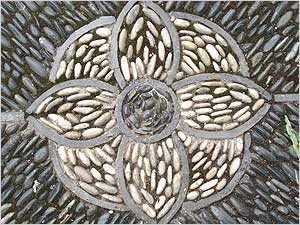 A writer for the New York Times once described Portland's Chinese Garden as one that "relies on pattern, structure and metaphor instead of the floral can-can of typical American gardens." His description made me laugh, and I think he's being unduly harsh, but he does have a point. How many of us see a successful design as being so filled with plants that there are no empty spaces? I plead guilty, but my - and your - mitigating circumstances are practical in nature. With fewer bare spots come fewer weeds able to get the light and rain they need to wreak havoc on us. Still, being in this inspirational place in downtown Portland, which has so much architecture giving it proportion and definition, I can't help but think that if I only had a team of artisans to do all the imagining and an army of gardeners for the dirty work, I, too, could create a simple space. Light would flow through my garden unobstructed. Rain droplets would sit ever so austerely and elegantly on the leaves of my carefully placed plantings. Weeds would be invisible. All would pull together to create a poem of greenery and color. Symmetry. Rich patterns. A framed view in every direction. My masterpiece.
Instead, I fear my urban garden is more of a floral can-can, and instead of elegant raindrops making my leaves glisten, I'm more likely to have hard soil and dusty paths. Instead of great artisanship, I have some birdhouses and sculptures from the Flower Show. But I'm not ashamed of my garden. It may be more Moulin Rouge than Suzhou, China. And I like it. (Though I wouldn't mind some help with the dirty work.)