Archive: January, 2012
Virginia A. Smith

, Inquirer Staff Writer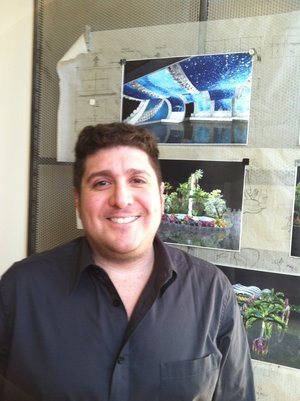 This will be the sixth flower show for which Gary Radin has done the set design for the central feature. Last year it was the Eiffel Tower. This year, with a Hawaiian theme, visitors will walk through a giant orchid wave with video images projected onto it - sea turtles, surfers, fish. Thousands of white orchids and anthuriums will cover the trussed "spines" of the wave and there'll be sound effects of rippling water and crashing waves with music. Now that sounds like an antidote to winter! Even the winter we've had.
The wave will be 40 feet wide and 50 feet deep, the width of all six of those doors that you walk through at the convention center to get into the show. And instead of heading straight in, as we did last year with the tower and have pretty much done every year, we'll be guided to the right. This should alleviate some of the scrum that typically forms by the entrance but it's also intended to change things up for the sake of change - to make "the visitor experience," as they say, more interesting. The layout of the show hasn't changed since it moved from the old civic center in West Philly to the convention center at 12th and Market in 1996.
There's much more to the central feature, and the showcase gardens, but it's the wave that will get most of the attention for both its size and novelty. You can see the rendering behind Gary, who has a design studio in Fishtown. His other projects include design and art direction for TV and live events, commercials.
Virginia A. Smith

, Inquirer Staff Writer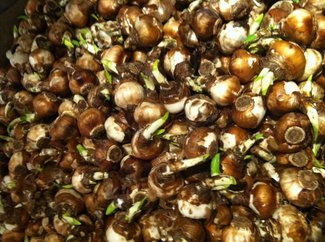 If you saw my story yesterday (http://articles.philly.com/2012-01-29/news/30676220_1_zones-warm-winters-winter-aconite) you may have felt relief that you aren't the only one experiencing a springlike winter in the garden. Bulbs are popping 4-6 weeks early all over the Philadelphia region, along with forsythia, hellebores, azaleas and other plants.
This means our spring - which, believe it or not, doesn't begin till March 20 this year - may be a little less colorful. Which is too bad. Don't know about you, but I'm not ready for spring just yet. It's a little too chilly out there to be in spring mode.
I took a stroll around the garden yesterday. Just to see what's what. What a mess. We may not have had snow this winter, but we've had a lot of wind. It's "Pick Up Sticks" time again in my back yard.
Virginia A. Smith

, Inquirer Staff Writer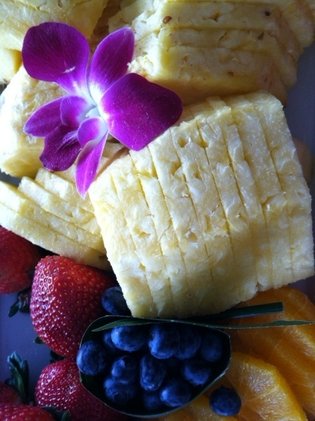 You can see the hula dancers in my video and photos taken by staff photographer Michael Wirtz with my story on philly.com, but the only photos I got at this morning's kickoff for the 2012 flower show were like this one - fruit. There's one of banana bread, too, but I doubt you care to see that.
The event was colorful, though the light wasn't so great for shooting the dancers, on the top (33d) floor of Loews Hotel at 12th and Market, a stone's throw from the convention center, where the show opens to the public on March 4 and runs through March 11.
It sounds like a fun time, with motion graphic waves and 25-foot waterfalls and fire raining down on Pele's garden, dancers and musicians from Hawaii, and a host of changes. The layout's different. The Marketplace is redesigned and realigned. There's a 100-seat restaurant in the middle of the floor, new sponsors, a "man cave" sponsored by SugarHouse casino (more on that later!), food in the Marketplace (I like that idea) and a lot more info about vegetables. Techno stuff, too, including a new (free) flower show app that will give you the show layout, alerts for demonstrations and lectures, information about exhibits and other stuff.
Virginia A. Smith

, Inquirer Staff Writer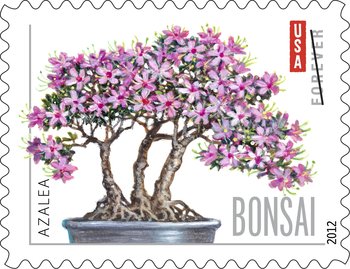 I don't know about you, but going to my local post office these days is an ordeal on many levels. So I buy my stamps online and only venture into the neighborhood post office when there's no other choice.
Yesterday was one of those days. I had to mail a package. But bonus! Some new bonsai forever stamps debuted that very morning and I figured I could pick some up in person. But no, they didn't have the new stamps. Half the time they don't have 1-cent stamps either, which is a real pain when you've got a desk full of 44-cent stamps and postage goes up a penny - as it just did.
But I digress. Bonsai stamps: I'm not a huge fan of this ancient art but the stamps are surprisingly lovely, and a welcome diversion from the bland American flag forevers. Sue me for saying so, but I think flags and liberty bells make the worst stamps. Give us color. Give us a character or a story. Give us something fun to put on the precious few things we actually mail anymore.
Virginia A. Smith

, Inquirer Staff Writer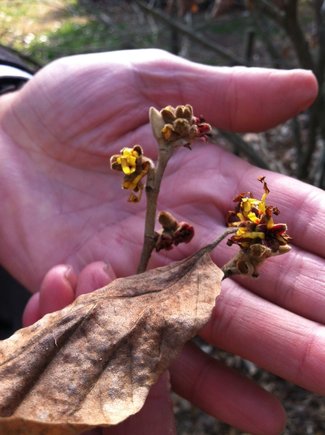 What a winter! Just spoke with someone in Chadds Ford who has a bouquet of homegrown daffodils on her kitchen table. And someone at Longwood who reports that it isn't just the witch hazels in bloom right now. They have fully out wintersweet. The snowdrops have been blooming for awhile, too.
Last week, I noticed the hostas in my side garden are pushing up through the soil. This morning I noticed a patch of irises on the move! Stoppppp!
Time for a story, I'd say.
Virginia A. Smith

, Inquirer Staff Writer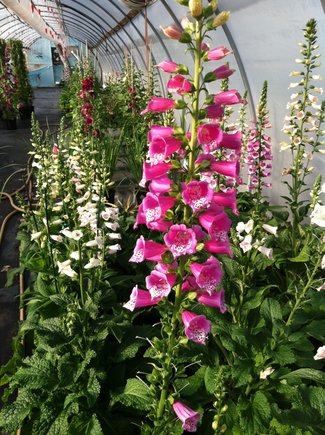 This is one of the hoop houses at Meadowbrook Farm growing stuff for the flower show. With this year's Hawaiian theme, most of the plants will be tropical, grown in warmer climates and shipped to Philadelphia, but here's a spread of foxglove. A nice sight on a cold winter day, wouldn't you say?
I've been doing a lot of background interviews on the 2012 flower show, which runs from March 4-12. The folks at PHS are deep into show mode. This afternoon Sam Lemheney, the show's designer, was walking around the office in a bold Hawaiian shirt - short sleeves, of course - and a lei made of large nuts. Notice I did not say a "loud" Hawaiian shirt. The print was quite nice. He bought it on one of his research trips to Hawaii - somebody had to do it, right? - and rumor has it, when he asked where to buy a real Hawaiian shirt, he was directed to ... Macy's.
Anyway, this afternoon I thought Sam was just being jingoistic about the show. Did he really expect to be dressing like that from now till early March? I asked him. Actually, he was on his way to a meeting with educational exhibitors - a meeting, I might add, that served beer and wine and pineapple and cheese! (How come we don't have meetings like that at the Inky? They'd be well attended.)
Virginia A. Smith

, Inquirer Staff Writer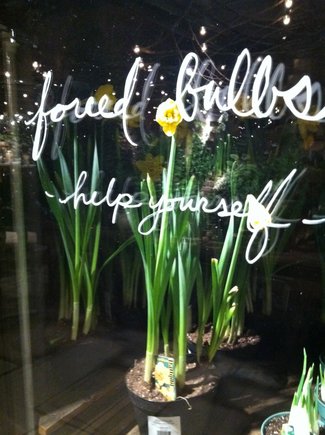 This entreaty would be every gardener's dream. Alas, these bulbs aren't free. Nothing's free at Terrain, my friend! Then again, wouldn't it be nice to have someone else do the forcing?
This spring is going to be an interesting one for me. Because of construction projects at my house - note the plural there, please, we're talking inside and outside - I'll have a chance to redo about half of my hard-won garden.
That's the optimistic view. The pessimist in me is sad to see so much hard work, to say nothing of the expense and the plants that have been growing for five to eight years out there, be obliterated. And it was obliterated, buried under huge piles of dirt. The crew put everything back together very nicely, but a lot was, of necessity, lost.
Virginia A. Smith

, Inquirer Staff Writer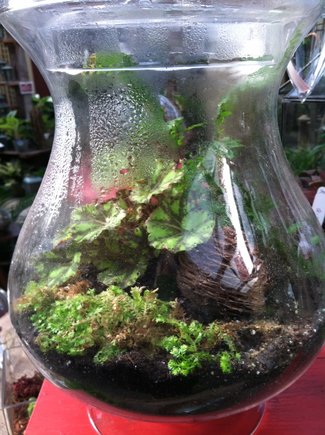 Been reading about terrariums and, so help me, they actually sound pretty simple. Hoping to speak later today with the authors of a new book called Terrarium Craft: Create 50 Magical, Miniature Worlds by Amy Bryant Aiello and Kate Bryant with photos by Kate Baldwin. They all live in the Pacific Northwest.
It's a very instructive book - info on four different kinds of terrariums ... forest, beach, desert and fantasy, as well as practical information and lots of photographs. This could stand beside Tovah Martin's oft-cited 2009 work, The New Terrarium: Creating Beautiful Displays for Plants and Nature.
I did a video from the other night's terrarium workshop at Terrain. It gives a flavor of the event - lots of pebbles clinking on glass, people chatter and laughs. Reminds me that I need to sign up for a few classes this spring.The region is rich with options there.