Archive: January, 2009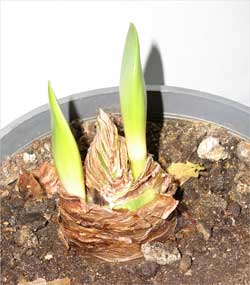 I was almost too embarrassed to contact Walt Fisher, known as "the Botticelli of bulbs," to ask about my amaryllis. He and I had a lovely chat about a month ago for a story on how easy it is to get amaryllis and paperwhite bulbs to bloom by Christmastime. Anybody can do it, Walt said. Anybody can do it, I wrote in my story. The paperwhites - 'Ziva' - performed admirably and have long been sent to the compost pile. But the amaryllis - I have four - just sat and sat in my drafty window sills, refusing to budge. I was ready to toss them, but Walt advised against. "Be patient," he said. I was and am and sure enough, two weeks ago one started sprouting. Last week, the one in this photo began to stir. A third is beginning to poke up. The fourth is stubborn. It may wait till Memorial Day.
Patience, stubbornness and many other gardeners' qualities are remarked upon in a new book by Timber Press called Rhapsody in Green: The Garden Wit and Wisdom of Beverley Nichols, by Roy C. Dicks (Timber Press). Now many of you more experienced hands out there probably already know of Beverley-with-an-e. He was news to me. He was a he, British, and a very popular author who wrote not just gardening books but these are what Dicks is fondest of. In the dead of winter, it's especially easy to see why. Here are just a few samples:
"Gradually my impatient desire for immediate results, which is the besetting sin of all beginners, died down. I began to take a joy in the work for its own sake. Until you actually own a garden, you cannot know this joy."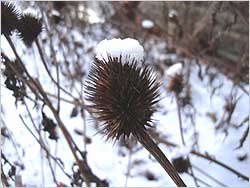 I shot this photo of a rather frozen purple coneflower the other day to remind myself that gardens in winter can be beautiful. It reminds me of a puff of whipped cream. Quite a thought for 7 a.m.
Here's another thought, one that might sounds counterintuitive. If you're a gardener, I think this is a great time to spend! Perhaps you've been trolling online, too, and seeing the incredible bargains to be had. Lots of plant nurseries are offering deep discounts - 20-40 percent off on seeds, 5 percent off mulch orders if received in the next few weeks, half-off on perennials. These breaks usually come at the end of the season. Shows you these businesses, like so many others, are hurting.
Though I vowed I'd ease up this year, I'm thinking just the opposite now. This may be just the time to stock up on some ground covers, perennials and seeds.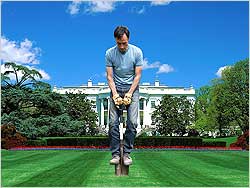 Now comes word that Roger Doiron, of the Maine-based nonprofit group Kitchen Gardeners International (www.kitchengardeners.org) has pulled it off! His "Eat the View" campaign (www.eattheview.org) was the top vote-getter in an online contest called OnDayOne.org. The goal was to pick the best idea to submit to the Obama administration on its first day in office. This is Roger's idea - that President Obama should plant an organic vegetable garden on the front lawn of the White House, just as Roger does on the admittedly much smaller lawn of his white house in Scarborough, Me., to set an example for the whole country. The example isn't just about growing fresh vegetables and eating better, it's about doing our part to be self-sufficient, not pollute the planet with fertilizers, cut down on "food miles" and offer an attractive, healthful alternative to the grassy, monocultured, unsustainable front lawn.
I interviewed Roger, a very thoughtful guy, last summer and did a story about him and his campaign on Aug. 29, reminding readers that growing vegetables at the White House is not a new idea. It didn't start with Eleanor Roosevelt. Our earliest presidents, enthusiastic horticulturists like John Adams and Thomas Jefferson, had veggie gardens, too.
This morning Roger emailed to tell me that his White House Victory Garden idea had won the OnDayOne.org contest, with 10,000 people signing the online petition, and would now be forwarded to the Obama folks. "Momentum is building," he said.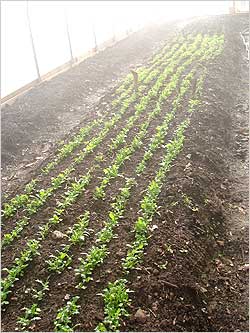 It was warm inside this hoop house the other day, a memory that popped up this morning as I drove to work. My feet and fingers were numb and the car, despite a robust heater, was frosty. This was the scene last week at Weavers Way food co-op's "farm" over at Awbury Arboretum in Germantown. One step inside that hoop house and my glasses fogged up, my coat felt like a suffocating blanket and the air like a sauna. "Farmer Dave" has been planting greens of all sorts in here. I'll bet he does that in his shirtsleeves.
I was also reminded of this moment last night when I picked up a copy of The American Gardener, the official magazine of the American Horticultural Society, from last summer. It was on top of what some might call a "pile" of stuff on my bedside table. I prefer to think of it as my bedside library. Granted, those old magazines get dusty and unsightly but you never know when you might need one of them.
There were articles about good plants for shade (toad lily, Japanese painted fern, hostas) and tough perennials for sun (butterfly weed, Arkansas bluestar) and I found myself getting in the mood for spring. Same effect as the hoop house. This feels somewhat conspiratorial. Is there nothing that says WINTER besides the weather?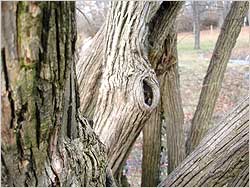 Horticulturists like to talk about the "bones" of a garden, a concept that practically hit me over the head this morning. I took a lovely, long - chilly - walk through the Awbury Arboretum in Germantown with executive director Gerry Kaufman. This, by the way, is like Bartram's Garden, another of those special Philadelphia places that are closeby yet hidden away. Gerry and I traipsed all over the arboretum, on both sides of Washington Lane, through the wildflower meadow, alongside the new bioswales to aid drainage, around the semi-frozen pond, inside the Secret Garden and - still more - up the hill to the Weaver's Way farm (looking great, by the way, even in January) and the two hoop houses put there by Penn State and the Pennsylvania Horticultural Society. Whew.
My visit took three hours, three leisurely hours to talk and get to know each other and this beautiful place. The arboretum is 55 acres. The heart of the property is the old Francis Cope House, the residence of yet another enterprising and civic-minded, 19th-century Quaker family in Philadelphia.
Back to the bones. They were clearly in evidence this morning. We looked closely at tree bark. We stared up at ancient beech trees. (We even saw two soaring red-tailed hawks. What a sight.) We examined wild mushrooms bursting from fallen tree stumps, left in place to provide habitat to insects and other critters. The wind was cold, my feet slowly froze, but I really enjoyed this garden's "bones."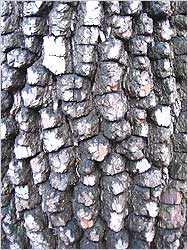 One of the coolest things about an old forest is the idea that underneath the suffocating vines and elderly trees are plants just waiting to bust out of jail. This morning during our exploration of Awbury Arboretum in Germantown, executive director Gerry Kaufman pointed out this persimmon tree, obviously an older specimen. I was so taken by the bark. It reminded me of bicycle chains, chunky and textured in shades of black and silver. It seemed the perfect color scheme for this frosty day and scene. Gerry pointed to more than 20 narrow, whip-like saplings nearby. After this part of the property was cleared, he said, suddenly lots of new persimmons popped up. Persimmons need full sun and air circulation to grow and until this place was cleared out, they had neither. Gerry looks forward to an eyeball-level persimmon crop. Imagine. There are few colors in nature to compare.
I've never eaten a persimmon that didn't turn my mouth inside out from its acidity. It's all a matter of timing. You need to get them at just the right ripeness. But I did make persimmon cookies once, a recipe from a friend's Italian grandmother. It was a bit of a mess but they were cake-like and delectable. Pureed persimmons are also used for puddings and sorbet - what color! - and cakes, breads, brownies and flans, each sounding better than the one before. Recipes often call for a dollop of rum or brandy, ginger, vanilla, nutmeg and the more exotic coriander. Add a little brown sugar, some walnuts, and you've got yourself a heavenly mix.
Meanwhile, enjoy some interesting bike-chain bark.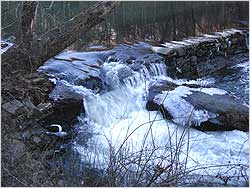 How's this for a wintry mix? T'was a chilly scene in the Wissahickon over the weekend. Even as we brace for snow and sleet this afternoon, the seed catalogues are arriving by the bucketload. Is it me, or are they showing up earlier this year, in greater numbers and looking more luscious than ever? Last year I reorganized parts of my garden that weren't working well and ended up buying quite a few plants. Always the way, it seems, but I vowed (fortunately, this was a silent vow) to cut back spending in 2009.
Now, as I amble through the catalogues, once again everything looks great and I'm already making a (quiet) list of things that would be so nice to have. I keep thinking if I continue to invest in perennials, soon I won't have to buy anything. The catalogue folks know we frugalistas out here are thinking this way, but they count on something else kicking in - that just the simple changeover from December of the old year into January of a new year turns our thoughts to spring and all those plants we simply must have. The economy be damned!
Doesn't mean we can't appreciate the frosty beauty of a Wissahickon waterfall. Just means that in our heads, we're already sprinting towards spring.