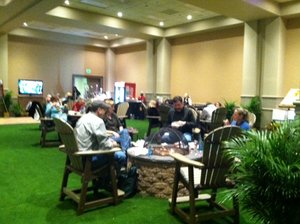 I may be the only person in Philadelphia who doesn't like the smell of meat grilling on the BBQ. When I walked into the show's new Man Cave - The Back Yard - my first thought was ... ewwwww. But don't let me stop you.
Check out the fake grass or whatever it is. I can hardly walk on this stuff. My feet go one way and the "grass" goes the other. What a strange sensation.
The Back Yard also has a putting green, big plastic chairs and flat-screen TVs. And piles and piles of organic products from Espoma. Haven't seen too many people in there. If you like BBQ, head on over. You could have the place to yourself.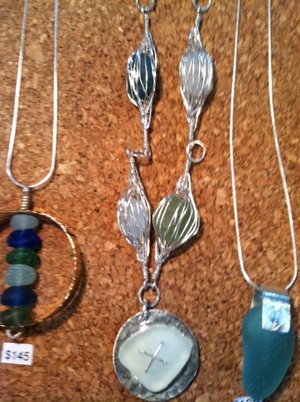 I kid you not. It came up in - totally - innocent conversation with Gene Allen, who sells beach glass jewelry at a booth called Beach Glass Bingo (of course I'm going to tell you where it is - booth 413) at the show. But before we get into that, I have to tell you - I must be getting old - this beach glass is interesting stuff.
Gene says it takes 30 to 40 years for glass on the beach to get totally smoothed out. And the supply of beach glass appears to be dwindling. For one thing, the great places to find it - landfills set by the ocean in Nova Scotia, for example - are being picked clean by collectors, artists, jewelry-makers and people wanting to wreck beach glass businesses.
Another factor: So much is "bottled" in plastic now. And recyclers - yes, we are part of the problem - are cutting into the supply big time, says Gene, a singer and actor who with his partner gave it all up and moved to Hawaii for a better quality of life as a beach glass business guy.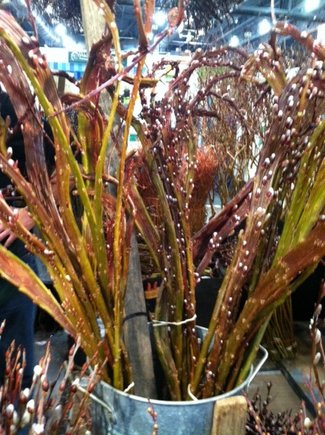 You can buy a bunch of pussy willow spears and have at the crowd - watch it open up and let you through! Or you can buy some fantail willows, which are much more interesting. In fall, the stems -- which are flat, how funky - turn red, green and brown and stay that way for much of winter.
Fantail willows are popular for centerpieces and wreaths, and those fancy seasonal containers people with lots of free time like to make and change and remake and change again. These were grown in Lancaster County, sold for $8 a bunch at Cramer's Posie Patch (and other vendors) at the show.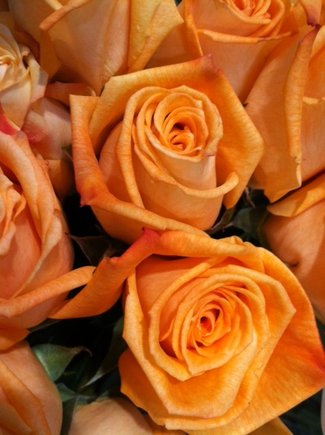 ORANGE! and peach and pink. Not red. So say the folks at Kremp Florist of Willow Grove, a 60-year-old family business that's been coming to the show for 37 years. They have four booths here, and as always, roses are a big draw - for $5.97 a dozen. The roses come from Colombia .. but the pussy willows are from South Jersey.
I've never really understood the appeal of these things, but you see a lot of them walking around inside the Convention Center and out on the street, coming at you like spears.
"Pussy willows are a rite of spring," says Michael Dever, who was behind one of the counters at Kremp's this morning. They can also be rooted or dried. "People just really like them," he says.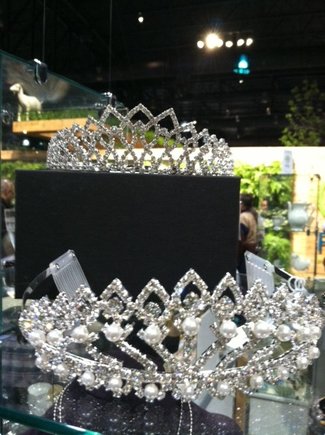 When you travel, do you find yourself buying all sorts of things - jewelry, for me - that seem so right at the moment, so reflective of your trip and then you get home and wonder what alien took possession of your brain and made you buy it? It looks so right in the mountains of Mexico or the desert in Morocco or that tiny village in Cambodia. But in the office or at a neighborhood party?
I thought of this as I chatted with PHS' Bev LoPinto in the PHS shop at the show. She told me that as of yesterday afternoon they'd sold 6 rhinestone tiaras for $44.50 each. Rhinestone pins in the shape of a royal crown are "selling like hot cakes," for between $12 and $60. Fascinators - from $20 to $120 - are also doing well.
This flower show crowd is all for glam, it seems. I wonder how those tiaras will fare when the show's over? Actually, now that I think of it, they may do quite well! Maybe I should get one. I can see it now - a new fashion trend in the office. Come to think of it, a tiara would go great with my magic wand. Now where did I get that?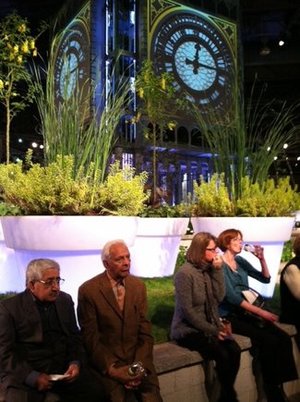 And it looked like a seat to lots of people all week long. But these low walls are not intended to be benches, PHS tells me. Hmm. How come?
Seating has been a perennial problem at the flower show. I thought this an ingenius effort to fix some of that. There will never be enough seats, but a few more is a great idea. From day one, these walls leading to and placed around the Big Ben Plaza central feature have been popular parking spots for tired walkers.
But PHS says they were not designed to be resting places. Alas. There are no "No sitting" signs, like the ones I've seen at several exhibits. So the public has moved in.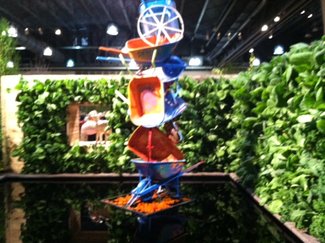 You can make a green wall, as PHS did. This is the second year PHS has done a fantastic display. This one has the collards and kale wall, and a green wall in a Union Jack pattern, and this funky wheelbarrow sculpture in a reflecting pool.
My collards and kale will be in the ground, as always, this year. But it's fun to think vertical.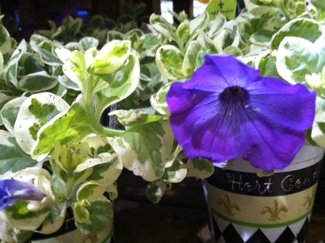 This is one of several new plant introductions at the 2013 show: Petunia 'Glamouflage Grape' from Hort Couture. It's a lovely grape-y color, yes, but it's the variegated leaves that are attracting attention. Reminds me of a story ...
Back in 2006, when I'd just switched over to the Inquirer's Features Department to write about gardens, a colleague who most definitely was not a gardener (and saw little value in having me write about such things instead of news) asked me, "So what are you gonna write about - petunias?" He said petunias with such derision. We were waiting for an elevator at the time, and I laughed. I'm just too darned polite sometimes.
Well, folks, I think this is the first time I've ever written about petunias, and I do so with pleasure. Mike, I doubt you're reading this but if you are, I hope you enjoy this post and picture. And may you have lots of variegated petunias in your own garden someday. They're very nice.