Virginia A. Smith, Inquirer Staff Writer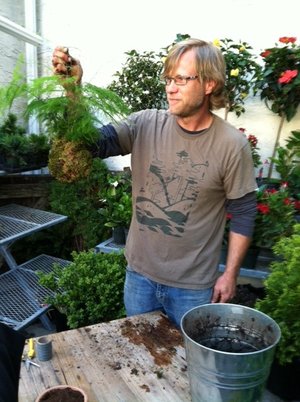 Peter Smith is already wellknown for his ultra hip urban garden shop - City Planter - in Northern Liberties. Now, he's become the kokedama guru. Koke-what?
It's an interesting and highly decorative way to hang houseplants. But there are no pots. Plants are inserted into a mud ball - now we're talking fun - the ball is covered with sheet moss (live or dried), tied every which way with twine or string and hung from the ceiling.
Virginia A. Smith, Inquirer Staff Writer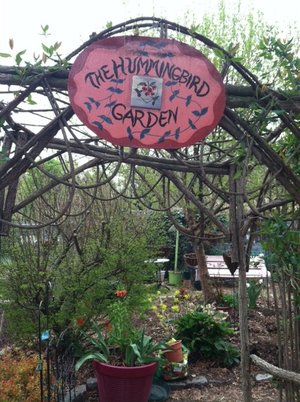 Over the weekend I received an update on the Horticulture Center gardens in west Fairmount Park. They're known as the Centennial Gardens, named for the 1876 Centennial that was celebrated there. You may recall my story and earlier post on super-volunteer Pamela Sodi, who was practically singlehandedly attempting to restore 10 overgrown and neglected garden beds.
After the story ran, readers responded. Pamela says she now has 14 volunteers. They've revived 8 of the 10 gardens and were just assigned an 11th. She even heard from someone who directed her to some grant money for public gardens!
Virginia A. Smith, Inquirer Staff Writer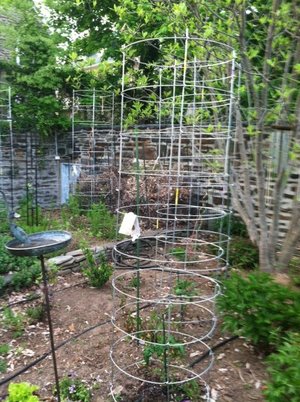 I'm talking tomato cages here. These are 24 inches' diameter and 6 feet tall with 2-foot extensions! I need 'em this big to accommodate the grafted tomatoes I bought last week. Those, you'll recall, have heirloom tops grafted on to hybrid root stock for a combination that Burpee promises will produce the delicious fruit of an heirloom and the increased soilborne disease-resistance of a hybrid.
These plants supposedly grow to heights of 12 feet or more. No way would my crooked old cone cages suffice for such a beanstalk. Last night I placed the new cages around four grafted plants. I tried, anyway. Word of advice: Find a good spot for the cages, then plant the tomatoes. I did the opposite, and found myself trying unsuccessfully to pound the 18-inch posts into the ground. Forgot how much rock is hidden below the soil line in my garden.
Virginia A. Smith, Inquirer Staff Writer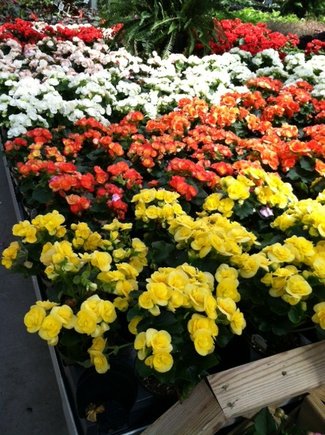 Every garden center I've visited this spring has been selling at least a few Impatiens walleriana, the common impatiens that has been dogged by - fatal - downy mildew the last few years. I understand that some customers won't take no for an answer, but isn't this where garden centers and box stores can step up and educate people?
There are plenty of alternatives to this immensely popular bedding plant - caladium, turenia, and begonias, which are pictured here. I saw many types in my travels to Lancaster County last week, and there are plenty available in the Philadelphia region, too. These were beautiful - note the bright yellow one. It's a tuberous begonia called 'Blitz.'
Virginia A. Smith, Inquirer Staff Writer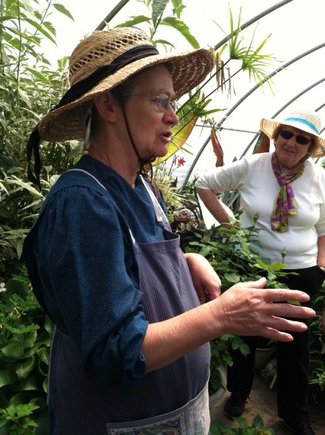 What an outing! Yesterday I tagged along with four ladies from the Maple Glen Gardening Club in Montgomery County as they made their annual trek to plant nurseries in Lancaster County. All told, we made nine stops - yes, nine, which included lunch at the Town Hall Restaurant in Blue Ball. (When was the last time you had a $2 sandwich?)
The ladies bought a lot of plants. I, on the other hand, was the model of self-control. (If only I weren't working!) It was an exhausting but wonderful day, one that included stops at Conestoga, Black Creek, Briar Rose, King's Herb Nook and Willow Brook, among others.
Virginia A. Smith, Inquirer Staff Writer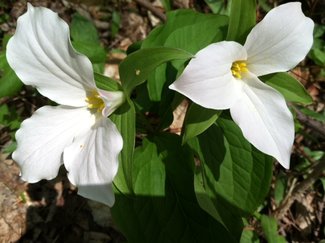 I have no trilliums in my garden - yet. I say yet because soon I'm going to have to have one - or more! These bright white native wildflowers naturalize, which is great news. But I confess I didn't know what this was when I came upon it in the woods. Spring ephemeral, yes. Wildflower, yes. But which one?
Trillium grandiflorum, the big guy. It's perfection, love those three petals, great for shady spots. Two things in the negative column. No fragrance -- :( -- and while this doesn't affect me, it does a lot of gardeners in the area: deer love it.
Virginia A. Smith, Inquirer Staff Writer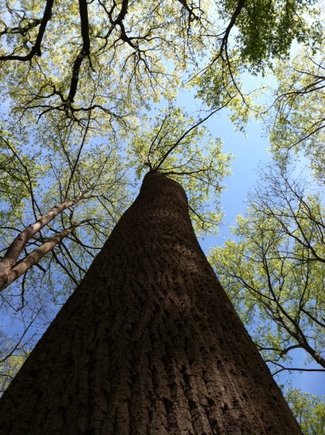 That's how Thomas Jefferson described the tulip poplar tree whose seeds he sent to a friend in Paris in 1805, according to the Thomas Jefferson Encyclopedia. It's a tree worth admiring today, as well. This was one of many encountered on a hike through the Schuylkill Center over the weekend.
These days I'm channeling our second president, having just bought A Rich Spot of Earth, the newest book by Peter Hatch, director of the gardens and grounds of Monticello since 1977. I spoke to Peter a few years ago for a story about olive trees, I think, and he was full of marvelous tales about Jefferson's fascination with them. And all else, which is why Monticello is on my list of "must visit" places!
Virginia A. Smith, Inquirer Staff Writer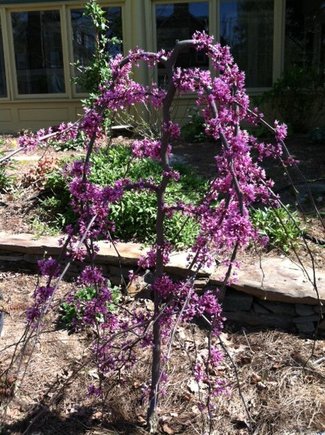 It's redbud season! A spin around the neighborhood last night turned up about a dozen in glorious bloom. Mine is the only weeper, and I love its compact style. Consider this a shout-out to the variety known as 'Lavender Twist.' It should only get about 6 feet tall. It's just right for the spot it's in - small garden, semi-shade, front and center, for all to enjoy. May it live a long time.
Virginia A. Smith, Inquirer Staff Writer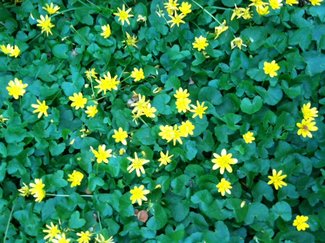 What a weird name for a plant! And one that, if you can suspend your animus, is so pretty. Unfortunately, this one's pretty awful. It's blooming now, and many folks think it's a desirable addition to their garden. It's sold online as such, along with many other nasties. (I'm still dealing with a passionflower Goliath and five leaf akebia, both of which were sold to me by a garden center years ago.)
If you've seen lesser celandine blanketing a forest floor, you'd marvel at how cheery it is ... bright green leaves, snappy little yellow blossom-dots, great coverage, and welcome color in early spring.
Virginia A. Smith, Inquirer Staff Writer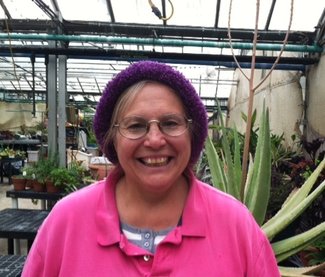 Pamela Sodi is a woman of many talents. Raised on a farm in New Jersey, she knows how to do just about everything related to plants and flowers, from propagating, putting them in the ground, nurturing them through the winter in a greenhouse, saving seeds, and designing a garden. You'd do well to have about 10 of her if you're a staff-starved organization.
Where were we? Oh yes, Fairmount Park's Horticulture Center at Belmont Mansion and Montgomery Drives, in the designated Centennial DIstrict of the park. Every time I visit this part of the city, which isn't nearly enough given that it's literally minutes from my house, I'm amazed at how wonderful it looks. This, despite tough, tough times.