Archive: August, 2008

Pennsylvania delegates say they understand President Bush's decision not to appear at the convention today, and they are responding to John McCain's call to prepare to assist Gulf Coast states that are bracing for Hurricane Gustav.
The President and Vice President Cheney had been scheduled to appear as part of today's opening events at the Republican National Convention in St. Paul, but will be focused instead on Gustav, which is scheduled hit shore late this morning.
Chester County Commissioner Terence Farrell, an alternate delegate, said, "It's a disappointment that President Bush couldn't appear here for one final time and say farewell to so many people who have been so supportive. But, obviously, he has other duties and responsibilities and I'm glad he's attending to them."
Richard Stewart, a delegate from Cumberland County, agreed.
"It was appropriate for President Bush to remain at the helm … to keep an eye on the disaster that's impending. It's too bad that he won't be here but the people here understand that he has to set priorities."
Among those priorities will be providing any needed disaster relief, and the delegates are already making plans to help.
Joyce Haas of State College, vice chairman of the delegation, said that Republicans from Berks County had made arrangements for radio announcements back home asking for donations of baby items, such as diapers and wipes, for families displaced by the storm.
"Berks County did something very similar during Katrina, so they have their network all set up to go," Haas said. Other county delegations are also working on ways to help.
"Instead of concentrating on what's happening as political, everybody's trying to think of what the needs are and how to meet those needs," Haas said. "This is a country that comes together, not as Democrats or Republicans, but as Americans to help others."
Update: This afternoon, as the Pennsylvania delegates boarded the bus for tonight's big event at the Xcel Center, one person walked up the aisle looking suspiciously like ... Sarah Palin. Hair was swept back, glasses on. She thanked one person for noticing the look. Watch the hall tonight. There's got to be more in there while Palin is speaking.
At tonight's welcome reception for delegates at the Minneapolis Convention Center, guests had their choice of American icons to be photographed with, including actors portraying George Washington and Abe Lincoln.
But last night, at the media party on the riverfront in Minneapolis, there was an icon of more recent vintage, a woman portraying vice presidential hopeful Sarah Palin, complete with swept up hair and glasses. And, of course, she also wore a sign identifying herself, just in case the media types couldn't recognize her.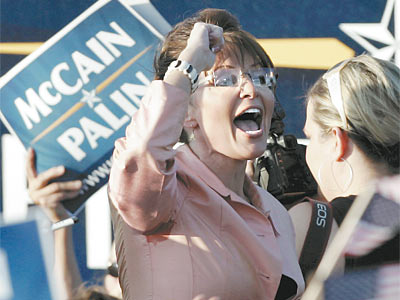 A woman in the CNBC Store yesterday morning at Philadelphia International Airport had one word to describe John McCain's choice of Alaska Gov. Sarah Palin as his running mate.
"Desperate."
She was watching a clip on the store's TV of McCain and Palin at the Dayton, Ohio, rally where the presumptive Republican nominee announced his choice for vice president.
"He's desperate," the woman repeated with a shake of her head.
The Pennsylvania delegates to the Republican National Convention arriving this weekend at the Marriott Minneapolis Southwest in Minnetonka couldn't disagree more.
"She's a really good choice," delegate Colleen Morrone, a Concord Township supervisor, said this morning. "I think she'll connect with families, with working families. She knows what it takes to raise a family, work and also be involved in the community."
She adds, "It's a good opportunity for women in the country, as well as working families, to have somebody representing them."
"It showcases that we're a big tent where everyone, including women and minorities, is welcome," says Pam Levy, an alternate delegate and president of Montgomery County's New Majority Council. "We're bringing them all into the Republican Party."
Much of the criticism of Palin, including the initial blast from the Obama-Biden campaign, took issue with the governor's experience. The delegates pretty much agree that freshman senator Barack Obama should be careful on this score.
"She's the governor of Alaska right now," says Morrone. "That's good experience."
And Palin wouldn't the first governor who spent two years in office reforming a state government and going after corruption before moving on to a national ticket. Democrat Woodrow Wilson ran New Jersey for two years before moving on to the White House in 1913. His previous job? President of Princeton University.
Marion Taxin, an alternate delegate from Rose Valley, likes the fact that Palin's experiences have come from efforts beyond the Beltway.
"I think she's a good choice because she's not the traditional Washington politician," Taxin says. "I'm most impressed by the fact that she's a reformer, and that she has been able to clean up not only the town where she was mayor but also state government in Alaska."
The Democrats may talk about change and reform, but Obama has no credentials in that area, either in his time as a state senator from Chicago or in Washington. And Joe Biden has managed to survive for decades as a U.S. senator without showing much concern about reforming Washington.
Taxin's husband Richard says, "The Republican Party is nominating two reformers who have a tradition of reform and a tradition of working across the aisle. … Obama has no tradition of working across the aisle."
In fact, Richard Taxin says, the Democratic nominee has no achievements worth noting for his time in the U.S. Senate, save one: "His achievement is getting the nomination."
Marion Taxin says that for Palin, reform isn't just a political talking point, it's what has defined her time in office.
"She doesn't have to just talk about it," Taxin says. "She's actually done it. She's walked the walk."
Even better, as far as Taxin is concerned, is that Palin wasn't afraid to go after corruption in her own party.
"When people do things that are wrong it should not be hidden under the table and allowed to continue," Taxin says. "It's very important to have people willing to have the courage to confront that which is wrong and do something about it.
"Palin is a working mother who was able to go into first her own small town and then into her state government and change the way business is usually done. You have to have a lot of admiration for a person like that."
Inquirer opinion columnist Kevin Ferris will be blogging from the Republican National Convention.