Archive: May, 2009
The Associated Press reports:
WARREN, Pa. — A northwestern Pennsylvania newspaper is apologizing for running a classified
advertisement calling for the assassination of President Barrack Obama.
Publisher John Elchert says the ad appeared Thursday in The Warren Times Observer. It read, "May
Obama follow in the steps of Lincoln, Garfield, McKinley and Kennedy!" The four presidents were all
assassinated.
The Associated Press reports:
CLAYMONT, Del. — Delaware Gov. Jack Markell says Sunoco's Claymont ethylene complex should
stay closed until the cause of the explosion and fire there earlier this month is determined and the plant
can run cleanly.
Markell toured the damaged Claymont branch of Sunoco's Marcus Hook Refinery, which straddles
the Delaware-Pennsylvania border, yesterday afternoon after meeting with firefighters to praise
their quick action during the emergency.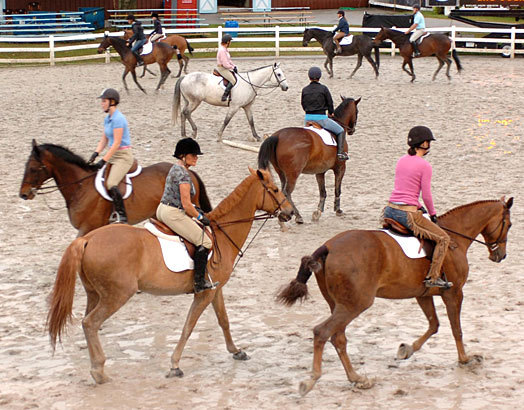 Staff photographer Clem Murray reports:
The Gold Ring is sloppy from the overnight rain but the competitors in the Amatuer/Owner Hunter class are "schooling" their horses before the start of competition today at the Devon Horse Show.
Inquirer staff writer Allison Steele reports from Orlando:
Bonnie Sweeten is due in a Florida state court this morning for a hearing on Bucks County's request that she be returned to Pennsylvania to face charges she faked her and her daughter's kidnapping and used a friend's license to buy airline tickets for a flight to Disney World.
Bucks County detectives are in Orlando, ready to return Sweeten, 38, of Feasterville, to Pennsylvania if she waives extradition.
Inquirer staff report:
The man charged with fatally shooting a shift manager a the Trump Taj Mahal Casino Resort yesterday has been identified as Mark Magee, of Norristown.
Magee, 57, is scheduled to appear in court today on murder and weapons charges in the slaying of Ray Kott.
Officials have not revealed a motice for the slaying.
In a head-to-head fall matchup, U.S. Sen. Arlen Specter (D., Pa.) maintains a lead over Republican Pat Toomey, although the former Lehigh Valley congressman has gained ground, according to a poll released this morning.
Specter holds a 46-37, percent edge, Quinnipiac University found. That is down from a 53-33 percent margin Specter enjoyed in a May 4 poll by the Connecticut university.
"Sen. Arlen Specter's numbers have slipped since the controversy that followed his switch to the Democratic Party, but he's still better off than he would have been if he stayed a Republican and faced a tough primary challenge from former Rep. Pat Toomey," said Clay F. Richards, assistant director of the Quinnipiac's Polling Institute.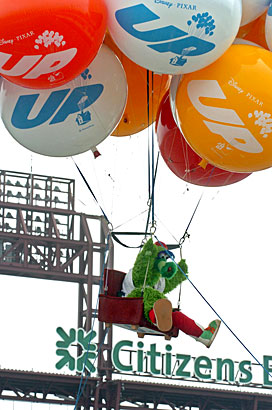 Staff photographer Clem Murray reports:
The Phillies' Phanatic looks a little nervous as he floats into the sky at Citizens Bank Park in a balloon-powered armchair to promote Disney's newest comedy movie UP.
Philadelphia is one of 20 stops on the nationwide tour for the movie, which is about the adventures of a 78-year-old balloon salesman who ties thousands of balloons to his house and floats away to the wilds of South America.
The ex-husband of Bonnie Sweeten, the woman who faked her abduction and took their 9-year-old daughter to Disney World, said this morning he still believes she is a good mother who just had a "bad time."
"She got herself in over her head a little bit," Anthony Rakoczy said on ABC's Good Morning America program. "... and kind of lost it."
Rakoczy, who is flying to Florida today to bring his daughter Julia home, said the little girl was a "little upset" but that she "sounds great."