Join journalist Patrick Kerkstra and University of Pennsylvania urban economist, Kevin Gillen at noon on Wednesday to chat about "Ravaged By Neglect, The Delinquency Crisis," on the city's failure to deal with delinquent properties and their toll on neighborhoods. Gillen did the analysis at the core of the yearlong Inquirer/PlanPhilly project.
On a mobile phone? Click here to follow along.
The governor of Connecticut is calling for a National Moment of SIlence at 9:30 a.m. Friday to remember the victims of last week's tragedy in Newtown. Inquirer reporters around our regions will report on how local residents are marking the event.
Inquirer reporter Miriam Hill and Melissa Dribben provide live coverage of today's federal civil trial in the Ride the Ducks tour boat tragedy that claimed the lives of two Hungarian tourists.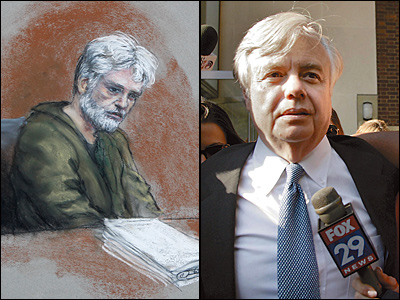 Philly.com is providing live coverage of Day 2 of the resentencing of former state Sen. Vince Fumo. Today'd hearing is set to begin at 9 a.m. On mobile? Click here to follow the coverage. Check out today's stories, with more coverage of the case: Fumo told of sentence and The hair. The beard. Is that Fumo?
Tell us what you think about The Inquirer's series, Justice: Delayed, Dismissed, Denied by commenting below.
Former Philadelphia Eagle Dhani Jones says his careers as a pro football player and a TV travel show host have made him better at both. And now he's got a book that tells how.
"The Sportsman," written with Jonathan Grotenstein, tells how the TV show, which seemed like a distraction from his football career, actually served to "cross-train" him, enabling him to become a better, more globally aware person.
The self-proclaimed "travelholic" is on the road 100 days a year for his "Dhani Travels the Globe" show on the Travel Channel. It's taken him to Thailand, where he tackled a style of kickboxing; Switzerland, for schwingen (wrestling); Australia for surf lifesaving; and Singapore for jai alai and dragon boat racing.