Archive: September, 2008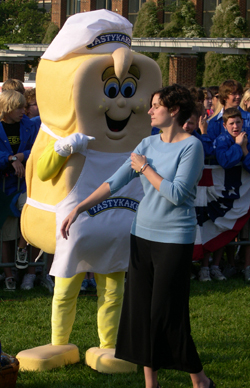 A giant Butterscotch Krimpet, or at least a guy in a krimpet suit, approaches the set with a mini-entourage bearing baskets of Tastykakes. "Look, a Twinkie!" someone in the crowd yells. Such indignity! Have to ask the mascot for a response. Unfortunately, he can't talk. But he puts his hands on his hips, showing his dismay. Has he been called worse? He shakes his head. Where are the Cupcake mascots? He puts his hands together and leans his "head." They're home sleeping? He nods. Soon, he's off to deliver a basket of Tastykakes to Al Roker.
It's part of a sampling / cooking segment about local foods, with fare from Reading Terminal, including Dienner's Barbecued Chicken, Fisher's Soft Pretzels, Rick's Steaks and Bassett's Ice Cream.
That'll do it. Battery's dead ... show's nearing an end. Heading over to the Mint soon to talk with a sculptor / engraver about his new designs for the back of the Lincoln penny.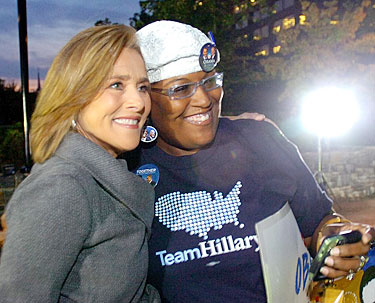 Vieira cheers Philadelphians who came out to support the Today Show this morning. Roker interacts with the enthusiastic visitors on set.
"Women could make all the difference when it comes to this election," Vieira says as she prepares for her segment with three un-decided female voters from Pennsylvania.
Cassandra Oryl, a registered Republican, is an undecided voter. Her concerns lie in which candidate will "go out and restore our country internationally." Oryl is a fan of Palin, which adds to her confusion.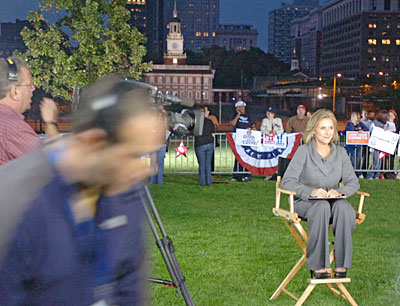 Meredith Vieira looks remarkably calm as she does her introductions, her teasers for othere stations, a standup talk, and as she simply waits, sitting in her light gray pants suit.
"It's the crew that's doing all the work behind the scenes," she says during a break, getting a chance to answer some questions. The show's sort of like a duck, she said -- looks peaceful on the surface, but those feet are paddling madly underneath.
After Lauer interviews the MAN WHO WAS CUT IN HALF, which can't be seen from here, since Lauer's in New York, Roker does the weather with Ben Franklin. Roker says Franklin was one of the original meteorologists, and asks if that kite and key story was true. Ralph Archbold, the city's Franklin impersonator, quips, "If there's a thunderstorm, I'l let you pull the string."
Roker mentions Archbold's recent marriage to Betsy Ross - actually the woman who plays her here in Philly - and Archbold says it happened July 3, right here on Independence Mall, with music by Philly Pops.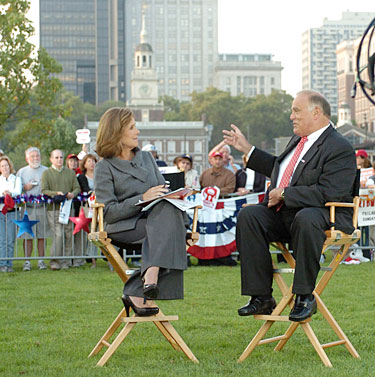 Why is Obama struggling? Vieira asks Rendell. With an unpopular president, and a financial crisis, shouldn't he be far ahead in Pennsylvania?
After taking a shot at McCain about wanting to wants to deregulate health care, Rendell says that Republicans havve lot of Pennsylvanians convinced that Obama's going to raise their taxes. Rendell says he's been going around the state to spell out that Obama will cut middle class taxes.
Rendell himself has said Obama needs to be less professorial, even more aggressive, he says as people get to know Obama they'll come around.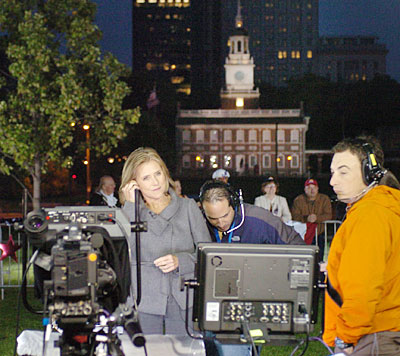 Those Today trumpets blare and there's a voice -- Matt Lauer? he's not here -- while coanchor Meredith Vieira sits on a wood studio chair on grass on Independence Mall. She talks about "our tour of today's battlegrounds," including Pennsylvania. "The suburbs around this city could very well determine whether John McCain or Barack Obama could become our next president."
Lauer's voice talks about the financial crisis, then promos that story about THE MAN WHO WAS CUT IN HALF AND LIVED! HE CAN STILL PLAY BALL WITH HIS KIDS!"
Then it's Ann Curry with the news.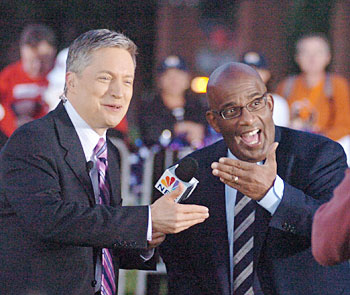 Weatherguy Al Roker is quite the cutup. He's joking around with NBC10's Bill Henley, talking about local anchor Terry Ruggles and NBC's dubious "Weather Plus." Watching Channel 10 on little portable TV, he notices a spot about disease and says, "THAT ought to be a good time." He says of a helicopter overhead, "He's coming lower now. He's going to give us a BUZZ cut."
Vieira calls out: "Hey, Al, you know you work for this show, right?"
"We're not on yet, are we?" says Al.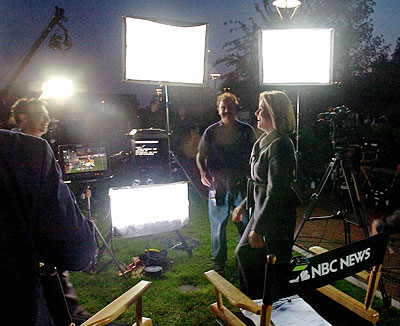 'I saw Meredith with rollers in her hair!" said Mary Reilly of Philadelphia, one of the early onlookers at the Independence Mall set from which the Today show will broadcast this morning.
The show airs from 7 to 9 a.m. on NBC10, hosted by Meredith Vieira and Matt Lauer.
A few minutes later, Vieira herself comes out, her hair looking properly smooth and full-bodied, and goes along the temporary fence to meet and greet the public.