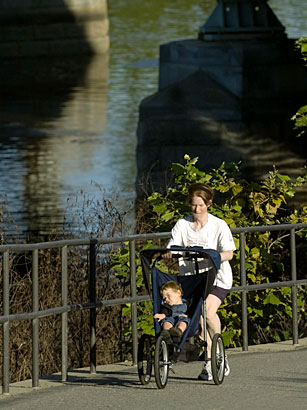 Staff photographer Clem Murray reports:
It was a perfect morning for a run along the Schuylkill, what with the sun shining and temperatures in the upper 50s.
Here, Melissa Lerman, a Children's Hospital of Philadelphia pediatrician, pushes her 20-month-old son, Benjamin, along the Schuylkill River Trail near the Spring Garden Street bridge.
The Associated Press reports:
Two new polls show Republican challenger Chris Christie maintaining a lead in the New Jersey governor's race.
Quinnipiac University poll has Christie leading Gov. Jon Corzine by 10 percentage points, 47-37 percent. That's roughly the same margin as Quinnipiac polls in July and early August.
Inquirer staff report:
A security guard was shot in the leg this morning during a stickup at a West Philadelphia bar, police said.
Police are seeking at least three men who were wearing hoodies and masked their faces with bandanas during the 12:30 a.m. robbery at the Comfort Zone Bar at 58th and Market Streets.
Inquirer staff report:
A 67-year-old man has been charged with injuring the grandson of Langhorne's mayor in a golf club attack, a newspaper reports this morning.
The Intelligencer said the alleged assailant believed the 16-year-old victim, who required hospital treatment for a head fracture Saturday, had hit a golf ball through a window of his Middletown home.
Inquirer staff report:
Gov Corzine will sign into law today legislation requiring New Jersey hospitals to make public more detailed information on hospital medical errors.
The legislation also bars hospitals from charging insurers or patients for procedures to correct certain medical mistakes or hospital-acquired conditions.
Under the law, the state's Department of Health and Senior Services Department will publish reports detailing how often certain egregious errors occur at each hospital. The errors include operating on the wrong body part or leaving an instrument inside a patient's body.
Read more breaking news in our From The Source blog.
Inquirer staff report:
A 66-year-old man died this morning from injuries suffered in a house fire in North Philadelphia, officials said.
The victim, not identified, was rushed to Hahnemann University Hospital suffering from smoke inhalation, but did not survive.
Inquirer staff writer Peter Mucha reports:
Police are investigating the daylight shooting that left a man critically wounded inside a van in North Philadelphia this morning.
The victim, described as in his 40s, was rushed to Temple University Hospital with a head wound after the 8:18 am explosion of gunfire at 10th and Clearfield Streets.
Inquirer staffer Robert Moran reports:
A double shooting in Southwest Philadelphia tonight sent two men to the hospital, one in critical condition, police said.
At 6:34 p.m., police were called to the 700 block of South 56th Street, where the two men had been shot, police said.
A 21-year-old was shot in the face and was taken to the Hospital of the University of Pennsylvania in critical condition, police said. A 19-year-old was shot in the right leg and right buttock. He was taken to HUP and reported in stable condition.
No arrests were reported.
Read more breaking news in our From The Source blog.