Inquirer staff report:
Philadelphia Eagles quarterback Michael Vick is scheduled to appear this morning with Wayne Pacelle, President of the Humane Society of the United States, at a charter school in North Philadelphia.
The 11:30 a.m. appearance at the Nueva Esperanza Academy in Feltonville comes as the Eagles are launching a campaign to combat animal abuse in response to criticism over the team's hiring of the convicted dogfighter.
Inquirer staff report:
A 16-year-old Camden County is missing and feared drowned after disappearing in rough surf yesterday in Seaside Heights.
New Jersey State Police boats and a helicopter today resumed a search for Sal Roberts, of Voorhees.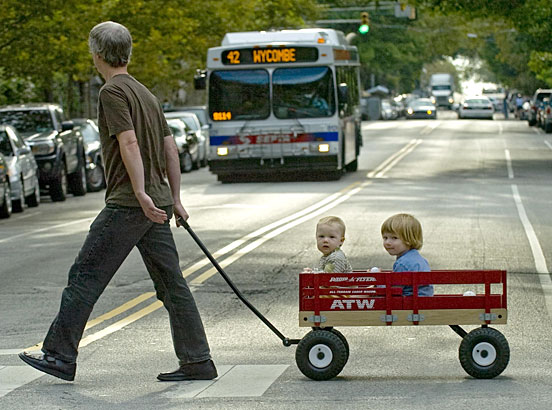 Staff photographer Clem Murray reports:
You may not see them as much as you used to, but red Radio Flyer wagons are still out there being put to good use.
Inquirer staff report:
The Philadelphia Zoo announced this morning that its Sumatran orangutan Tua is expecting for the first time.
The 16-year-old Tua is due to give birth in October.
Inquirer Staff Report
Delaware State Police are advising motorists to avoid I-95 northbound near Marsh Road in Wilmington because of an accident investigation.
A 26-year-old Lancaster woman who had to be extricated from her car by mechanical means following the 8:15 a.m. crash had been airlifted to Christiana Hospital with what are described as life threatening injuries.
The Associated Press reports:
New Jersey environmental officials say it's a bad idea to build a wind farm in the Delaware Bay because it could threaten migratory birds and other natural treasures in the area.
The Department of Environmental Protection spelled out its opposition in an Aug. 20 letter to Delsea Energy, a Toms River company that has proposed building 106 turbines in the bay.
Inquirer staff report:
Homicide detectives are investigating the fatal shooting of a 22-year old man this morning one block from the Police 12th District stationhouse in Southwest Philadelphia.
The gunfire was reported about 6:15 a.m. and the victim, hit multiple times in the body and once in the head, fell mortally wounded on the sidewalk at 66th Street and Woodland Avenue. He was pronounced dead at 6:30 a.m.
Inquirer staff report:
A motorcycle crash has killed one person and snarled traffic on northbound I-295 near Route 130 in Bordentown.
The accident was reported about 4:15 a.m. but lanes were still blocked more than two hours later, backing up traffic for miles.