Join journalist Patrick Kerkstra and University of Pennsylvania urban economist, Kevin Gillen at noon on Wednesday to chat about "Ravaged By Neglect, The Delinquency Crisis," on the city's failure to deal with delinquent properties and their toll on neighborhoods. Gillen did the analysis at the core of the yearlong Inquirer/PlanPhilly project.
On a mobile phone? Click here to follow along.
The governor of Connecticut is calling for a National Moment of SIlence at 9:30 a.m. Friday to remember the victims of last week's tragedy in Newtown. Inquirer reporters around our regions will report on how local residents are marking the event.
Inquirer reporter Miriam Hill and Melissa Dribben provide live coverage of today's federal civil trial in the Ride the Ducks tour boat tragedy that claimed the lives of two Hungarian tourists.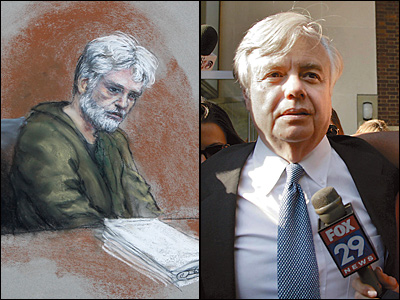 Philly.com is providing live coverage of Day 2 of the resentencing of former state Sen. Vince Fumo. Today'd hearing is set to begin at 9 a.m. On mobile? Click here to follow the coverage. Check out today's stories, with more coverage of the case: Fumo told of sentence and The hair. The beard. Is that Fumo?
Day 2 of The Philadelphia Inquirer Travel Show will feature a best -selling author, a Mom, a Professor and two Grannies.
After drawing an estimated 3,000 attendees on Saturday, the show at the Pennsylvania Convention Center in Center City has on tap for Sunday:
Patricia Schultz, author of 1,000 Places To see Before You Die, will discuss some of the most interesting places to visit around the world.
Emily Kaufman, The Travel Mom, will tell how to take the stress out of planning and taking vacations.
Steve Silosky, the Traveling Professor, will show how to see Paris and save money.
Pat Johnson and Regina Fraser, known as the Nannies on Safari, will preview their upcoming trip to India.
In addition, Wendy Wu will unveil China's "off-the-beaten-path" spots worth exploring, Friendly Planet Travel's Peggy Goldman will show how to compare offers to get the best deal, and Sandy McDowell will give tips to get the best bang for your vacation buck. Plus, planning a N.J. vacation.
TV travel show hosts Pat Johnson and Regina Fraser suggest these products to make your trips easier and better:
ScottEVest – comfortable, with lots of pockets, some hidden. www.Scottevest.com
Sony Cybershot cameras
LA Fresh – cleaning and personal hygiene lotions and products in easy-to-carry sizes. http://lafreshgroup.com
Sample-size products
Instead of books, an Ereader, Kindle or Sony Pocket Reader.
The Grannies TV show is carried on PBS – six new episodes are scheduled to debut in May, two each covering Peru, South Africa and India. They spoke at today's Philadelphia Inquirer Travel Show, attended by an estimated 3,000 people. The show will resume at the Pennslvania Convention Center tomorrow, 10 a.m.-4 p.m..
Peggy Goldman of Friendly Planet Travel in Jenkintown, speaking at The Philadelphia Inquirer Travel Show, suggests these international adventures:
Costa Rica, 7 days. $899
Taste of Thailand, $1,299
Greece, including cruise to Greek isles, 8 days, $1,399
Best of Turkey, 14 days, $1,699
Ecuador, including stay at an Amazon ecolodge, $1,299
China: Beijn, Xi'an and Shanghai, 10 days, $1,359
India: Taj Mahal Express, 9 days, $1,199.
Prices include air, hotels, transfers, tours, some meals. Not including air fare to N.Y., Los Angeles or Miami; taxes and fees.
Former Philadelphia Eagle Dhani Jones says his careers as a pro football player and a TV travel show host have made him better at both. And now he's got a book that tells how.
"The Sportsman," written with Jonathan Grotenstein, tells how the TV show, which seemed like a distraction from his football career, actually served to "cross-train" him, enabling him to become a better, more globally aware person.
The self-proclaimed "travelholic" is on the road 100 days a year for his "Dhani Travels the Globe" show on the Travel Channel. It's taken him to Thailand, where he tackled a style of kickboxing; Switzerland, for schwingen (wrestling); Australia for surf lifesaving; and Singapore for jai alai and dragon boat racing.