Bobrovsky to start tonight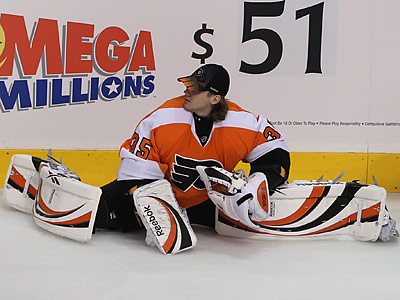 To read our story about Scott Hartnell's interesting ice time saga, click here. ----- OTTAWA – Tonight will be the battle of the backups in Ottawa.
Bobrovsky to start tonight

To read our story about Scott Hartnell's interesting ice time saga, click here.

-----

OTTAWA – Tonight will be the battle of the backups in Ottawa.
With Senators starter Craig Anderson addressing family issues, lending way to Alex Auld starting in net, the Flyers have turned to Sergei Bobrovsky for his first start of the season.
It makes sense. Yes, the Senators 1-4-0 and coming off a 30th place finish, but Ottawa has been a house of horrors for the Flyers over the years. They are 0-6-0 at ScotiaBank Place during the last three seasons and just 1-7-2 there since 2006.

Considering Ilya Bryzgalov has made 4 straight starts and his Russian counterpart has been champing at the bit, Bobrovsky sounds like the go-to guy to try and stop a road losing streak against one of the Eastern Conference's worst teams.
Bobrovsky – still 23 but suddenly not a rookie anymore and now the second-highest paid backup in the NHL at $1.75 million – put together a strong preseason. He was 3-0-0 with a stellar 0.40 goals-against average and .984 save percentage.
"I'm ready for it," Bobrovsky said at practice on Monday.
With Bryzgalov's penchant for a heavy workload in the regular season, since he hasn't appeared in less than 65 games in each of the last three seasons, Bobrovsky would be on pace for about 16 starts this season if you figure on a roughly 4-off, 1-on scenario. That would leave 66 games for Bryzgalov.
Sounds about right.
For Bobrovsky, things seem to be falling in place off the ice. His English is much improved and he is attempting to speak more and more. He married long-time girlfriend, Olga, in the August and after a year-long visa dispute last season, she finally arrived in the United States on Monday.
The only thing missing so far has been a chance to impress in the regular season.
TONIGHT'S LINEUPS: Here are the projected lineups for the 7:30 p.m. game, subject to change:
PHILADELPHIA:
Forwards
Jaromir Jagr - Claude Giroux - James van Riemsdyk
Wayne Simmonds - Danny Briere - Jakub Voracek
Matt Read - Sean Couturier - Scott Hartnell
Zac Rinaldo - Maxime Talbot - Andreas Nodl
Defense
Chris Pronger - Matt Carle
Kimmo Timonen - Braydon Coburn
Andrej Meszaros - Matt Walker
Goalies
Sergei Bobrovsky
Ilya Bryzgalov
Notes: Congratulations are in order for Braydon Coburn, who did not fly with the Flyers to Ottawa and took a separate, commercial flight later on Monday night to witness the birth of his daughter, Rory. Coburn will play tonight. Rory is the Coburn's first child.
Scratches: Andreas Lilja (healthy), Jody Shelley (serving final game of 5-game suspension).
OTTAWA:
Forwards
Milan Michalek - Jason Spezza - Mika Zibanejad
Colin Greening - Stephane Da Costa - Daniel Alfredsson
Nick Foligno - Peter Regin - Chris Neil
Zack Smith - Zenon Konopka - Erik Condra
Defense
Erik Karlsson - Filip Kuba
David Rundblad - Chris Phillips
Sergei Gonchar - Jared Cowen
Goalies
Alex Auld
Craig Anderson
Notes: Sergei Gonchar is technically day-to-day with a bruised ankle but is expected to play.
Scratches: Brian Lee (healthy), Bobby Butler (injured reserve).
QUOTABLE: "I think Mika can play in the NHL. He's going to play in the NHL. It's just whether or not we decide it's a good environment for him here and a good enough situation for him here, with games where he's going to be able to do enough and learn the league and develop his game the way that he should."
-Senators coach Paul MacLean on forward Mika Zibanejad, 18, who was drafted two spots ahead of Sean Couturier in June. The Senators are deciphering whether or not Zibanejad will stick past the nine-game window in which he can still be returned to his previous team. Like Couturier, Zibanejad cannot be sent to the AHL. Unlike Couturier, Zibanejad must be sent back to the Swedish Elite League and not Canadian juniors.
MacLean said the Senators' environment, meaning wins and losses, will determine a lot. The Flyers, fortunately, do not have to worry about the same toxic environment for Couturier. The rebuilding Senators are 1-4-0 and coming off a 30th place finish. Zibanejad picked up an assist in his first NHL game and has not scored since.

WHAT TO WATCH FOR: Aside from MacLean's mustache on the bench, easily the league's top muzzie, look out for All-Star defenseman Erik Karlsson who leads the Sens in scoring with 6 points in 5 games.
ANOTHER THING: Harry Zolnierczyk has been re-called from the Phantoms as a precaution for injury against a forward.
For the latest updates, follow Frank Seravalli on Twitter: @DNFlyers
---
Get exclusive videos and analysis in our new app for iPhone and Android. Download it here.