No Suspension for Richards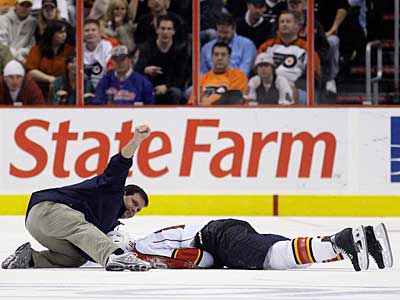 Flyers forward Mike Richards will not be suspended.
No Suspension for Richards

After a 12-hour wait, the Daily News has learned that Flyers captain Mike Richards will not be suspended for his open ice hit on Florida's David Booth on Saturday night.
"The hit was reviewed by the Hockey Ops staff," NHL deputy commissioner Bill Daly told the Daily News Sunday morning, "and was determined to not warrant any supplemental discipline."
Daly told us that the play, as reported on Frequent Flyers last night, was not reviewed by NHL executive vice president for hockey operations Colin Campbell because of a possible conflict of interest. Campbell's son Gregory is a forward for the Panthers.
Panthers GM Randy Sexton said Booth was released from Pennsylvania Hospital this morning and is making his way back to South Florida this afternoon. He sustained a concussion but was otherwise uninjured.
Should Flyers captain Mike Richards have been suspended?

Yes
  711 (25.1%)
No
  2125 (74.9%)
Total votes = 2836
This comes less than 24 hours after the NHL suspended Carolina's Tuomo Ruutu for 3 games for a head hit on Colorado's Darcy Tucker on Friday night.
What are your thoughts? Was the hit suspension worthy or did the NHL make the right call?
You can view the hit right here: