Jagr ready; What about Pronger, Coburn?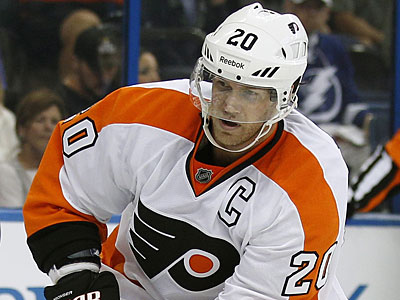 Frequent Flyers Jaromir Jagr is set to return to the lineup after practicing Tuesday, but the Flyers still have some lingering injury problems. Wayne Simmonds, Kimmo Timonen and Chris Pronger all missed practice Tuesday, but Braydon Coburn was back on the ice for the second day in a row.
Jagr ready; What about Pronger, Coburn?

Jaromir Jagr is poised for his return to the Flyers' lineup.

Jagr, who practiced with the Flyers on Tuesday in Voorhees for the first time since tweaking his groin in last Thursday's win over Phoenix, said it's been tough to sit out with an injury.
"At my age, missing 2 games feels like losing one year of your life," Jagr said, smiling. "You know you don't have many left."

Jagr watched his teammates fall to Carolina last night from inside their workout room in the bowels of the Wells Fargo Center.

Now, after practicing, he believes he can play on Wednesday on Long Island.

"It was a great practice, I did a lot of game drills," Jagr said. "It didn't bother me but I didn't go 100 percent just yet."

Wayne Simmonds, Kimmo Timonen, and Chris Pronger also missed practice.

All 4 of those players were at the team's practice facility, including Pronger, who is still suffering from a virus. According to Flyers general manager Paul Holmgren, Pronger remains day-to-day. Strangely, Holmgren said on Monday that the team is still "running tests" on him.
Braydon Coburn, who also missed Monday's game with an upper-body injury, was back on the ice for the second day in a row. His non-contact status has not changed. On Tuesday, he was not wearing a "non-contact" yellow jersey, but he said there wasn't much contact on the penalty killing drills he was doing. Coburn said he "feels great," but referred all injury questions to Holmgren.

With Coburn and Pronger's status up in the air, both rookie defenseman Marc-Andre Bourdon will be flying with the team on their 25-minute flight to New York on Tuesday afternoon. Rookie defenseman Kevin Marshall has been sent to Adirondack along with Brayden Schenn.
Marshall and Bourdon both played more than 14 minutes in their NHL debuts on Monday against Carolina.
Harry Zolnierczyk, who was "parked" in ECHL Trenton for the day on Monday to make room on the 23-man roster for Bourdon and Marshall, was recalled from the Titans.
LEGION OF CHARITY: Former Flyers linemates Eric Lindros and John LeClair are teaming up to raise money for Children's Hospital of Philadelphia in advance of their alumni game appearance against the Rangers alumni on Dec. 31 at Citizens Bank Park.
LeClair and Lindros will be hosting a meet-and-greet lunch at Morton's in Philadelphia on Dec. 15, with 100 percent of the money being given to CHOP. After the luncheon, Lindros and LeClair will visit CHOP.
On Dec. 16, Lindros and LeClair will appear at the Granite Run Mall in Media, for a public signing from 6 p.m.-8 p.m.
"I am really looking forward to coming back to Philadelphia and have the opportunity to give back to the community where I began my career. CHOP has always had a special place in my heart and I am excited to contribute to their excellence and spend time with the kids," Lindros said in a statement.
"I feel very fortunate to reunite with Eric for such a great cause. Having remained in the area with my family, I am more than happy to put together this event to support the place we call home," LeClair said.
BRENNAN CALLED-UP: Local product T.J. Brennan, from Moorestown, N.J., is expected to make his NHL debut tomorrow night against the Bruins.

Brennan, who was drafted by Buffalo in 2007, was re-called by the Sabres last week but never played. Now, with defenseman Tyler Myers out for 4-to-6 weeks with a wrist injury, Brennan is hoping to see his first NHL action.
Brennan, 22, who has 69 points in 154 AHL games, honed his skills locally with the Philadelphia Little Flyers before moving on to the Quebec Major Junior Hockey League.
For the latest updates, follow Frank Seravalli on Twitter: @DNFlyers