Archive: September, 2011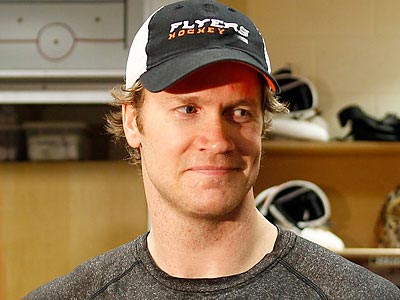 Flyers general manager Paul Holmgren has been saying for weeks now that he remains "very optimistic" that captain Chris Pronger will make his season debut with the rest of the team next Thursday in Boston.
We just didn't know he was really that optimistic.
Pronger, set to turn 37 on Oct. 10, will make his preseason debut tonight against New Jersey at the Wells Fargo Center. Tonight's game, one of the final two preseason tune-ups, will be televised on Versus and Comcast SportsNet.
Forward Tom Sestito, who was waived by the Flyers on Tuesday, has been suspended by the NHL for the rest of the preseason and two NHL regular-season games.
Sestito was suspended for a boarding major against the Rangers on Monday night.
The Flyers are hoping Sestito will be with their AHL affiliate to start the season.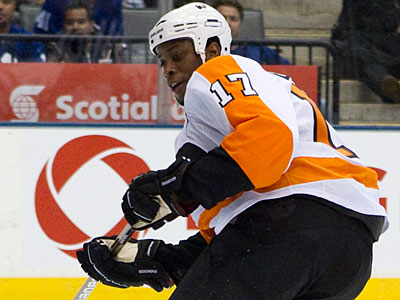 The man who racially targeted Flyers forward Wayne Simmonds in a preseason game in London, Ontario, last week has been arrested.
At a press conference on Wednesday, London police chief Brad Duncan announced that Christopher Moorhouse, 26, of London, has been arrested and charged under the trespass to property act, a provincial statute.
Moorhouse was allegedly the one who threw the banana at Simmonds, one of the few black players in the NHL, during a shootout attempt at the John Labatt Centre on Sept. 22.
The Flyers have waived Tom Sestito, as Flyers general manager Paul Holmgren confirmed a TSN report. The Flyers are believed to hope they can send Sestito to their AHL affiliate in Adirondack.
Holmgren said that the Flyers' plan all along was to waive Sestito on Tuesday, even before his hit on Monday night that will likely warrant a suspension. Sestito has not yet had his hearning with the NHL's dean of discipline, Brendan Shanahan.
The Flyers are a little more than a week away from opening night and their injury list is already long.

James van Riemsdyk and Andreas Nodl have lower-body injuries, according to Holmgren. Neither player practiced on Tuesday. JVR is not likely to play before the Oct. 6 season opener at Boston. Nodl could play this weekend.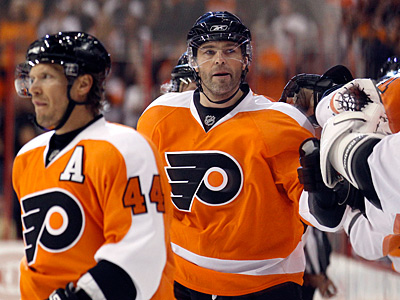 Jaromir Jagr may be the antidote for a power play that killed the Flyers last season.
Just don't suggest to him that his impressive preseason presence on the point is your reason for optimism.
"I can't promise anything," Jagr said again, trying to cool feverish expectations that have stemmed from his 5 points in just two exhibition games, including back-to-back power play goals against the Rangers on Monday night.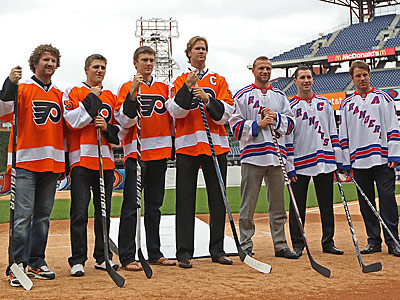 It's official: The Flyers will host the Winter Classic against the New York Rangers at 1 p.m. Jan. 2 at Citizens Bank Park.
NHL commissioner Gary Bettman announced the event today, which he called the worst-kept secret in sports, at a news conference at the Phillies' ballpark. The Daily News reported back in April that the Flyers and Citizens Bank Park would host this game.
An outline of the rink was set up. The rink runs from right above first base across the infield to third base. Center-ice looks to be at about second base.
Here is the Flyers lineup for tonight's preseason game against the New York Rangers at the Wells Fargo Center:
GOALTENDER
Ilya Bryzgalov, Michael Leighton
Question marks surrounded Scott Hartnell's health when he missed the third period of Friday's preseason win in Detroit and then wasn't on the ice on Sunday for practice.
Turns out, there is good reason for that.
Hartnell had an elevated heart rate on Friday night in Detroit, discovered after some abnormal twitching started in his right arm, according to general manager Paul Holmgren.