Archive: September, 2010
Flyers fans are the "craziest fans" in the NHL, according to the latest edition of The Hockey News.
The magazine set out to find the toughest places to play in the league, and the Wells Fargo Center came out on top.
1. Wells Fargo Center
The what? That's the old Wachovia Center. Which was the old Spectrum…ah, you say, Philly! In Philadelphia, Santa Claus gets pelted with snowballs and goons are beloved figures. If you don't play hard and hit, you won't survive the Flyers faithful – and that's just when they're playing road hockey.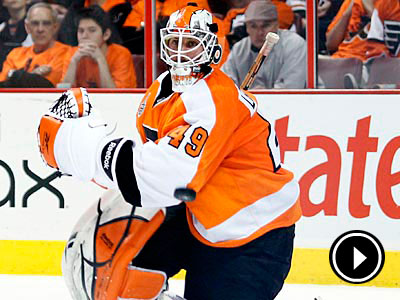 Video: Frank Seravalli of the Daily News talks with CineSport's Noah Coslov about the Flyers' moving forward without Michael Leighton and Ian Laperriere.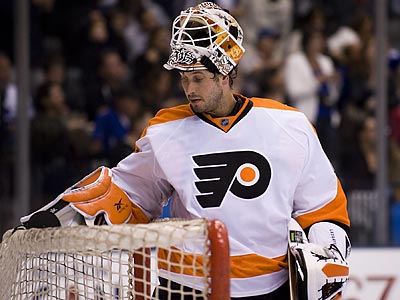 Flyers general manager Paul Holmgren called Michael Leighton's latest setback a "bombshell," saying it caught him off-guard Tuesday when he found out that Leighton will be out at least one month with a bulging disc in his lower back.

Hardly anyone is truly surprised, given Holmgren's ambiguous handling of the injury on Monday.

Holmgren said a second opinion on Monday night convinced him of the problem.
"We got a curveball thrown at us, too," Holmgren said.

Holmgren revealed Leighton will not require surgery right now, opting instead of rest and rehab to see if they can get everything to "settle down." If you recall, the Flyers tried the rest and rehab method with defenseman Ryan Parent's bulging disc last year, which ultimately required surgery to fix the problem.

"My personal experience with bulging disks is they go back in eventually," Holmgren said. "It's not a herniated disc, which is a bigger issue in and of itself. It's a bulging disk, and we think with strengthening and rehab and time that he'll be OK. Right now we think that time period is a month just to let everything settle down. In goal, it's a little more dicey than a regular player because of the way he's bent over all the time in net."

However, the biggest bombshell of Tuesday's afternoon wasn't Leighton's announcement. Holmgren also announced that playoff hero Ian Laperriere will be out indefinitely.

Laperriere is suffering from post-concussion symptoms, Holmgren said, likely related to the slap shot he took to the face back on April 22 in the first round against the Devils. An MRI shortly after the injury, which required between 80-100 stitches, revealed internal bleeding on the brain.

Laperriere had appeared in just one of the four preseason games so far and missed practice on both Monday and Tuesday.

Laperriere returned to the lineup on May 21 in the Eastern Conference Finals against his hometown Montreal Canadiens before making the first Stanley Cup Finals appearance of his 15-year NHL career.

Holmgren, who said he "kind of had a clue" as to how Laperriere was feeling, said Laperriere was not "completely honest" with the Flyers medical staff as to his condition before returning to the ice in the playoffs. Holmgren said "before he played last year, the spot didn't go away but the bleeding had stopped."

Laperriere said before he returned that the spot had completely disappeared.

Holmgren noted Laperriere struggled with the symptoms – usually headaches, dizziness, vision problems and nausea – throughout the summer. It is unclear if they were intensified with the start of training camp on Sept. 17.

"He never let on over the course of the summer that he was having any effects over the summer," Holmgren said. "But in my talks with him on Saturday he did say he wasn't completely honest about how he felt and he tried to work through some things."

With Laperriere out of the lineup, Holmgren said it would not sway the club's decision on whether to sign right winger Bill Guerin to replace him. Guerin, 39, is still in camp on a tryout contract.

Meanwhile, Holmgren also said goaltender Johan Backlund "has not yet factored into" the Flyers goaltending equation, but could later this week as he returns to action for the first time since offseason hip surgery. Backlund is likely to play in one or both of the final two preseason games this weekend.

Holmgren added that the salary cap will not impact the Flyers' decision regarding goaltender Sergei Bobrovsky. Bobrovsky, 22, will actually earn $200,000 more than Leighton if he is on the NHL roster this season.

However, $875,000 of Bobrovsky's $1.75 million deal is filled with performance-based bonuses. Those bonuses do count against the salary cap but the Flyers can choose whether to apply them to this year's cap or next year's.
"I don't think finances are an issue," Holmgren said. "What we decide, either way, it will work."

It is unclear whether Leighton or Laperriere will start the season on the Long Term Injured Reserve (LTIR), which would free the Flyers of their combined $2.716 million cap hit. If on the LTIR, both players would be required to miss at least 10 games or 24 days.

The Flyers will resume their preseason schedule tonight in Newark against the Devils, likely with Bobrovsky in net and Brian Boucher as the backup.

For the latest updates, follow Frank Seravalli on Twitter at http://twitter.com/DNFlyers.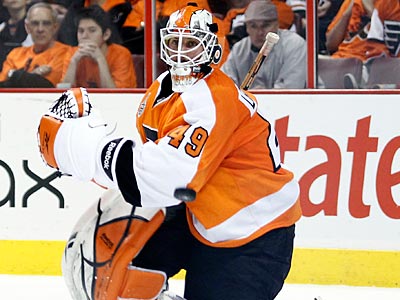 Flyers goalie Michael Leighton is expected to resume on-ice activities by "the earliest would be Thursday," general manager Paul Holmgren said on Monday at the Flyers Skate Zone.
Holmgren said Leighton's lower back strain is not something he is "too concerned about" and that he did not think Leighton was overly concerned, either.
"We're going to hold him off the ice, until the earliest would be Thursday," Holmgren said. "[It will] give him a few days to settle down."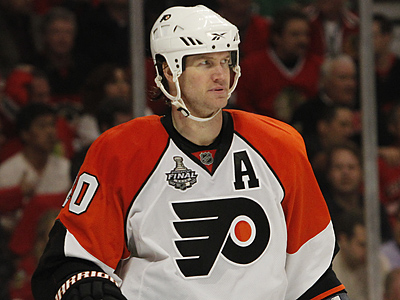 As we enter the second and final week of the [excruciatingly long] preseason schedule, the Hockey News came out with its annual prediction issue.
Neither the media – chosen by THN – or a collective group of fans picked the Flyers to win the Stanley Cup.
However, a few Flyers were mentioned elsewhere in the magazine, particularly in the Top 20 at each position:
LEIGHTON UPDATE (4:30 pm): According to Flyers general manager Paul Holmgren, goaltender Michael Leighton had an MRI on Sunday and the Flyers are awaiting the results. Holmgren said they will know more on Monday. Leighton re-aggravated a lower back injury on Friday night in the Flyers' preseason win in Toronto.

In other news: the Flyers have trimmed 28 players off their training camp roster, with 18 being sent to the Adirondack Phantoms, of the AHL; five being returned to their junior team; and five being released from tryout contracts.
The following players were assigned to the Phantoms and will report to the team's training camp later this week: forwards Greg Moore, Luke Pither, Matt Clackson, Garrett Klotz, Pat Maroon, Tye McGinn, Zac Rinaldo, Andrew Rowe, Shane Harper and Stefan Legein; defensemen Chad Denny, Jesse Dudas, Cullen Eddy, Dan Jancevski, Logan Stephenson, and J.P. Testwuide; and goaltenders Nic Riopel and Brian Stewart.
The following players have been returned to their junior teams: D Ricard Blidstrand (Regina, WHL); F Michael Chaput (Lewiston, QMJHL); F David Labrecque (Shawinigan, QMJHL); D Brendan Ranford (Kamloops, WHL) and D Tyler Hostetter (Erie, OHL).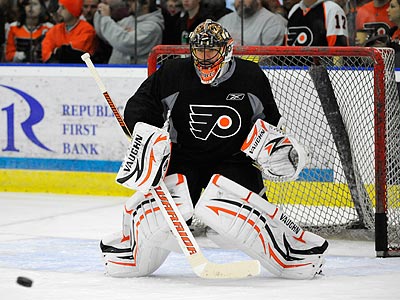 The Flyers play their second preseason game against the Toronto Maple Leafs in London, Ontario. Frank Seravalli of the Daily News provides live updates via Twitter.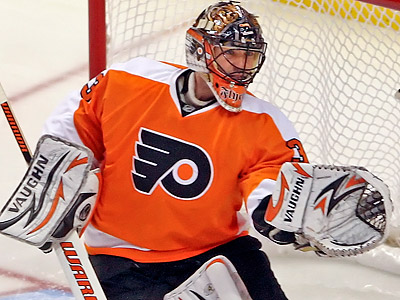 LONDON, Ontario -- For some of the Flyers' veterans, it will be a long weekend.
Because of concern for injury with so many preseason games - the Flyers will play 8 exhibition games, at least two more than any other team in the Atlantic division - Flyers coach Peter Laviolette has decided to send just a handful of veterans to London tonight for a preseason clash with the Toronto Maple Leafs.
The team has yet to arrive in London (as of 3:00 pm EST) for tonight's 7 o'clock start at the John Labatt Centre. The game will be broadcast on NHL Network (Comcast channel 858 in HD or 739 in SD).