Archive: August, 2012
NEW YORK -- Even as yet another day ticked toward the expiration of hockey's Collective Bargaining Agreement on Thursday without a new proposal to mull from the Players Association, NHL deputy commissioner Bill Daly remains hopeful next season will start on-time.
The NHLPA is expected to present a counterproposal on Friday in New York. The CBA expires just before midnight on Sept. 15.
"Well, obviously the clock is ticking," Daly said. "We're almost into September now. I would say the positive thing is I think both sides are committed, if there's reasons to meet and continue to move forward, to meet as often as it takes to get a deal done.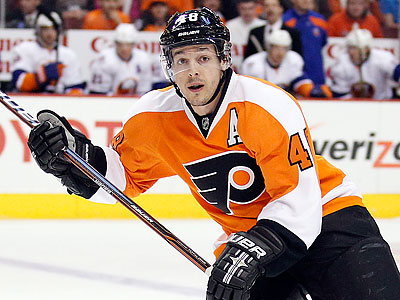 NEW YORK -- Without a new Collective Bargaining Agreement hashed out in the next 17 days, nearly every single NHL player will become a free agent at 11:59 p.m. on September 15.
For most, that means the ability to bolt for Europe, to most professional leagues start playing games this week.
From last year's roster, there are only 9 players who are not permitted to play in Europe: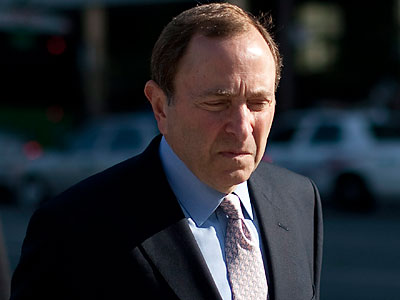 NEW YORK -- NHL commissioner Gary Bettman stood in the lobby of the league's Manhattan headquarters on Tuesday and professed that his leadership team made a "significant" and "meaningful" step toward navigating an impasse with the NHL's Players Association.
The real test will come on Wednesday, as hockey creeps within 18 days of its second labor stoppage in 7 years, when the two sides are scheduled to meet again.
Donald Fehr and the NHLPA needed the night to pore over the league's latest proposal, which came on Tuesday, more than 6 weeks after their first proposal from July 13.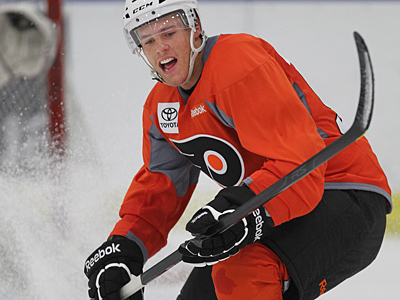 Nick Cousins, a third-round pick of the Flyers in 2011, was charged with sexual assault, according to Sault Ste. Marie, Ontario police.
Cousins, 19, was arrested with two teammates on the Saute Ste. Marie Greyhounds. According to a release from the Sault Ste. Marie police, the alleged assault was against "a female known to them."
The Sault Ste. Marie police confirmed the charges to the Daily News.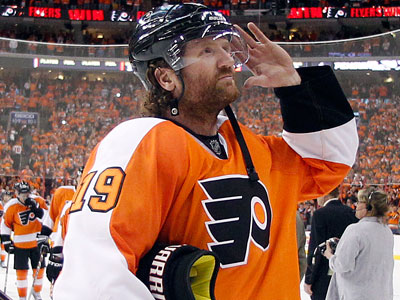 Scott Hartnell has signed a contract extension with the Flyers, according to general manager Paul Holmgren
The 6-2, 210-pound left winger played in all 82 regular-season games last year, scoring career-highs in goals (37) and points (67). Hartnell, 30, scored 16 power-play goals, second in the NHL.
"We are pleased to announce that we have agreed with Scott on a multiyear extension," Holmgren said in a statement. "Scott has been a very good player for us over the last five seasons and we look forward to many more good years to come."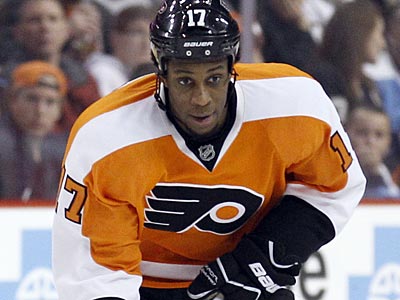 Wayne Simmonds has spent a little more than one full year as a member of the Flyers, but he took a huge step on Wednesday to making Philadelphia his home for a long time.
The Flyers and Simmonds agreed to a six-year contract extension, the team announced Thursday morning.
Simmonds, 23, will earn approximately $24 million over those six years with the estimated $4 million in average annual value reported by TSN's Bob McKenzie. It is unclear how the deal will be structured as to whether it is back-loaded or front-loaded.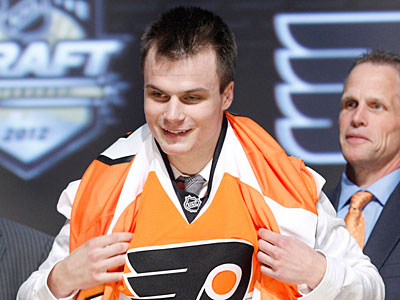 One day after losing defenseman Andrej Meszaros to a possible season-ending injury, the Flyers locked up one candidate to replace him in the lineup.
The Flyers announced that they have signed defenseman Marc-Andre Bourdon to a multi-year contract extension, in addition to signing first round pick Scott Laughton to a three-year entry-level deal.
Bourdon, 22, appeared in 45 games for the Flyers last season. He was a restricted free agent this summer, after earning a prorated share of his $875,000 contract last season. Bourdon was originally re-called in November from the Phantoms after Chris Pronger and Braydon Coburn went down with their injuries. He skated in one first round playoff game against the Penguins.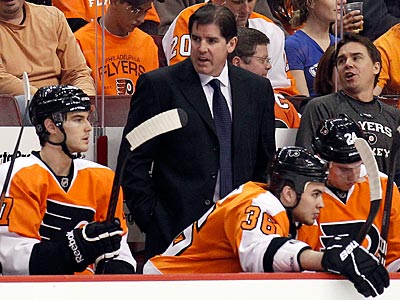 Peter Laviolette had his contract extended Wednesday by the Flyers.
It is a multiyear extension, according to Flyers general manager Paul Holmgren.
"I was really excited to come to a market like Philadelphia, and an organization like this with the history, the ownership, and working for Paul," Laviolette said. "I'm as excited today as I was back then about being able to move forward. There's a great group of players here and to come back and be able to continue to work here is where I want to be. Philadelphia is a big market and I was really excited back then and I'm still really excited about that."