Archive: July, 2013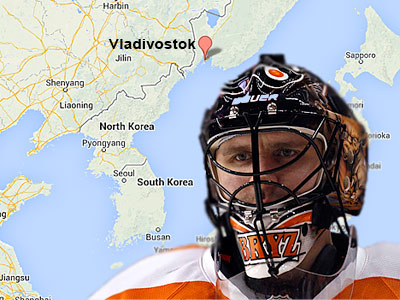 On June 24, one day before his client was bought out, Ilya Bryzgalov's agent bragged in an e-mail to the Daily News that he had "half a dozen" NHL general managers saying they would "have (Bryzgalov) on their team anytime."
More than a month later, Bryzgalov has not yet found a home for next season.
Last week, Bryzgalov was left off Russia's Sochi Olympic evaluation roster, even though he played for his country at the World Championships in May. Sergei Bobrovsky and 38-year-old Evgeni Nabokov were invited.
Aside from the chewing gum and timely timeouts, it is the indelible image of Peter Laviolette's tenure with the Philadelphia Flyers.
April 1, 2012. Consol Energy Center, Pittsburgh. Game No. 79.
Laviolette, walking the tightrope that is the dasherboards between benches, climbed past the protective plexiglass separating the Flyers and Penguins and shattered Max Talbot's stick in frustration at the direction of Penguins coach Dan Bylsma - on national television.
As far as Ron Hextall could tell, the Flyers' hierarchy was set in 2006.
Bob Clarke, the Flyers' general manager, was just 56 years old. The Flyers were two years and one lockout removed from an Eastern Conference final appearance.
Hextall, then 43, was the team's director of player personnel. Paul Holmgren was above him as Clarke's assistant general manager, the heir apparent should Clarke ever decide to leave his post.
Wayne Simmonds said yesterday he thinks the Flyers' goaltending switch from Ilya Bryzgalov to Ray Emery and Steve Mason will not help only on the ice - but also in the dressing room.
Simmonds joined Sportsnet 590 in Toronto on Thursday morning to promote his charity efforts this weekend when he was asked about the Flyers' eccentric former netminder.
The question posed to Simmonds was: "Are you guys better off with Emery over Bryzgalov, just from a dressing room standpoint and stability?"
Poll: Ray Emery vs. Steve Mason

(6253 votes)
Turns out, the Hockey Hall of Fame does have room for one of the game's great innovators. Finally.
Nearly 32 years after last setting foot behind an NHL bench, Flyers Stanley Cup-winning coach Fred Shero was elected to hockey's hallowed Hall on Tuesday in Toronto. Shero will enter in the "Builders" category posthumously on Nov. 11, 2013 along with players Chris Chelios, Brendan Shanahan, Scott Niedermayer and Geraldine Heaney. Former Flyer Eric Lindros did not make the cut in his fourth year of eligibility.
Shero, who passed away on Nov. 24, 1990 as a result of complications from stomach cancer, was a two-time Cup winner and the 1974 Jack Adams Award winner as coach of the year.
The Flyers got their goaltender.
The Flyers have agreed to a one-year, $1.65 million deal with free agent Ray Emery.
Emery, 30, was the top free agent goaltender available. He was a sparkling 17-1-0 with a 1.94 goals against-average and .922 save percentage.
Poll: Ray Emery vs. Steve Mason

(6253 votes)
The Flyers and Claude Giroux are moving closer to a contract extension. The deal is not finalized but could be with a day or two.
The deal for Giroux, the Flyers' captain, will be for 8 years and $66 million, according to sources. The new deal will kick in for the 2014-15 season.
Get the full Frequent Flyers experience at PhillyDailyNews.com.