Archive: June, 2012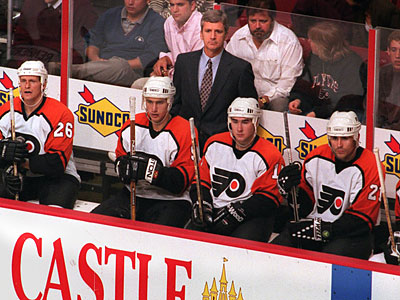 In an effort to bolster their lacking farm system, the Flyers made two important hires on Friday.
For one, the Flyers announced that former NHL head coach Terry Murray, who has amassed 499 career wins, is the new head coach of the AHL's Adirondack Phantoms.
Ian Laperriere, who retired earlier in June after an 18-year NHL career, will officially assume the full-time post of Director of Player Development to aid in skill, fitness and nutrition development of prospects.
Ian Laperriere has been named Flyers director of player development, general manager Paul Holmgren said Friday.
"We are pleased to add Ian to our staff as director of player development," Holmgren said. "Ian will work closely with all of our young prospects in the system from skill development to fitness to nutrition. We feel that Ian's experiences and enthusiasm for life and the game of hockey make him the perfect man for this important role."
Laperriere, 38, recently retired after playing 16 seasons in the NHL. He signed with the Flyers as a free agent for the 2009-10 season and played all 82 regular-season games and 13 playoff games.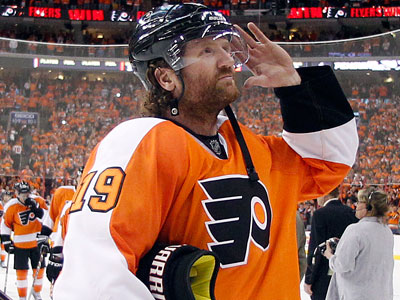 Facing one of the most important crossroads in the NHL's recent history, one Flyer will have a big say in whether next hockey season starts on time.
After a three-day executive board meeting at the Peninsula hotel in Chicago, the NHL Players' Association announced that 31 players, including Flyers forward Scott Hartnell, will be a part of the negotiating committee with executive director Donald Fehr.
Hartnell, 30, spent three seasons as the Flyers' team representative for the NHLPA. Braydon Coburn is the Flyers' current team representative, but not a member of the negotiating committee.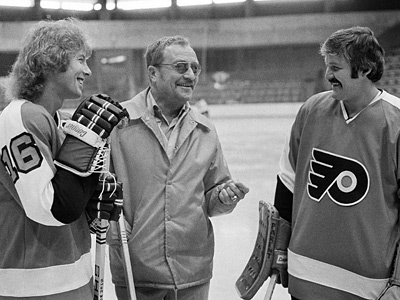 Former Flyers coach Fred Shero was not elected into this year's Hockey Hall of Fame class.
Shero led the Flyers to their two Stanley Cups in 1974-75.
Four players were named on Tuesday: Joe Sakic, Adam Oates, Mats Sundin and Pavel Bure. Oates played 14 games for the Flyers in 2001-02, scoring three goals and seven assists.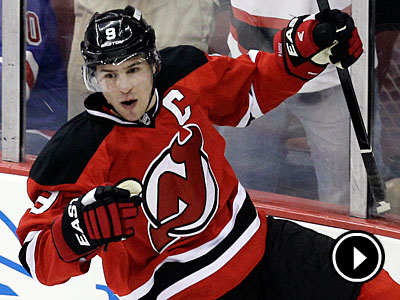 Video: With the dust settled on the NHL Draft and the Flyers' acquisition of Luke Schenn complete, what's next for the team? Could Zach Parise end up on the Flyers' roster? CineSport's Brian Clark asks Frank Seravalli of the Philadelphia Daily News.
Former Flyers forward James van Riemsdyk, who was traded to Toronto for Luke Schenn on Saturday, thanked Flyers fans with a message via Twitter today.
This is the first time he will play for a team other than the Flyers in his NHL career.
"Would like to thank everyone in Philly for the support over the past few years. Met a lot of great people and made some great memories. Very excited to start the next chapter in Toronto. Really looking forward to it."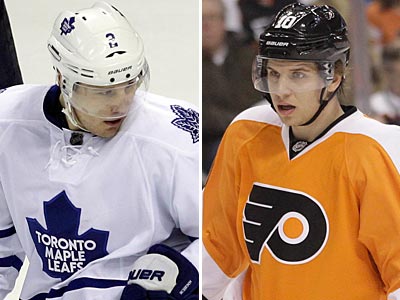 PITTSBURGH -- Brayden Schenn was watching the NHL Draft on Friday night in Saskatchewan when he heard the news about Penguins forward Jordan Staal being reunited with his older brother, Eric, in Carolina.
Schenn, 20, said he was "genuinely excited" for the Staal family. But he wondered if he would ever get the same chance to play with his older brother, Luke, in the NHL.
Less than 24 hours later, the Flyers and Maple Leafs took a big step in making that dream become a reality. They completed a straight-up swap in James van Riemsdyk for Luke Schenn, a mere hours after the Draft was completed in Pittsburgh.
Poll: Do you like the JVR-Schenn trade?

(5398 votes)
PITTSBURGH -- Even after the Kings captured the Stanley Cup just a little more than a week ago in Southern California, the Flyers' relationship with Los Angeles continues to take strange turns.
On Saturday, for instance, the Kings drafted Czech Republic native Tomas Hyka with the 171st pick in the 2012 Draft. Hyka, 19, was very impressive in the Flyers' prospect camp last summer, before the Flyers found out they could not sign the draft eligible player as a free agent. He went on to post 64 points in 50 games with Claude Giroux's old junior team this season, before being snapped up by the Kings... with a pick that was originally property of the Flyers.
Now, former Kings coach Terry Murray, who was fired by Los Angeles on Dec. 12, is nearing the start of an unprecedented fifth stint (see below) with the Flyers organization.