Archive: February, 2011
VOORHEES, N.J. -- After hunkering down in his office at the Flyers Skate Zone with head coach Peter Laviolette for the last hour of the NHL's trade deadline, general manager Paul Holmgren has come up for the air.
There is one new Flyer to report.
The Flyers confirmed just after 3 p.m. that they did not make any major league moves before the NHL's trade deadline, though they made a minor league deal in shipping Phantom Greg Moore and prospect Michael Chaput to Columbus in exchange for forward Tom Sestito.
Frank Seravalli chats Flyers at 2 p.m. Monday in the final hour before the NHL trading deadline, with up to the minute updates. He will be joined by special guest Travis Hughes from BroadStreetHockey.com.
On a mobile phone? Click here to join the chat.
The Flyers have gone to the waiver wire to try and bolster their banged up defense.
On Saturday morning, the Flyers claimed defenseman Nick Boynton off waivers from the Chicago Blackhawks. Boynton, 32, a veteran journeyman, has played 595 NHL games.
"Nick is a right shot defenseman that will bring experience and depth to our team," Paul Holmgren said.
Video: CineSport's Noah Coslov turns to the Daily News' Frank Seravalli to get his take on what the Flyers need and what the team could pull off before Monday's trade deadline.
---

Get exclusive videos and analysis in our new app for iPhone and Android. Download it here.
The Flyers have re-called rookie defenseman Erik Gustafsson from the Adirondack Phantoms.
Gustafsson, 22, will meet the Flyers in Ottawa later this afternoon in preparation for their game with the Senators tomorrow night.
Gustafsson's re-call – after general manager Paul Holmgren said earlier in the week that he was not interested in bringing up a young player from the Phantoms to sit as a healthy scratch – may say more about Chris Pronger's wrist injury.
Video: The Daily News' Frank Seravalli breaks down the Flyers overtime victory over the Islanders on Thursday night.
---

Get exclusive videos and analysis in our new app for iPhone and Android. Download it here.
The Flyers search for a depth defender includes Colorado.
According to two sources – one an agent that represents multiple big-name players, and the other is a league executive – Flyers general manager Paul Holmgren has made inquiries with Avalanche general manager Greg Sherman about captain Adam Foote.
Foote, 39, has had injury questions himself this season – and over the last few seasons – but has the leadership, experience and skill to be a decent fit with the Flyers.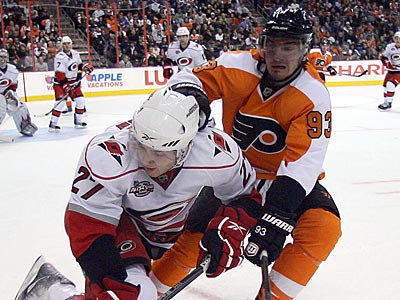 Nik Zherdev has cleared waivers.
Despite reported interest from Atlanta and Nashville, no team was willing to take a flier on Zherdev and his 15 goals, despite just having to pay him $494,624 for the remainder of the season.
Zherdev posted 15 goals in 47 games with the Flyers before being waived on Wednesday at noon by the Flyers, at the request of Zherdev and his agent, Jay Grossman.
The Flyers have waived Nik Zherdev and his $2 million salary.
Zherdev has been on the outs with coach Peter Laviolette -- and the Flyers could not even find him in Raleigh on Friday night when Mike Richards came down with a stomach illness.
General manager Paul Holmgren said Zherdev and his agent, Jay Grossman, requested that they try and find something else. Holmgren said there was not much interest in way of a trade.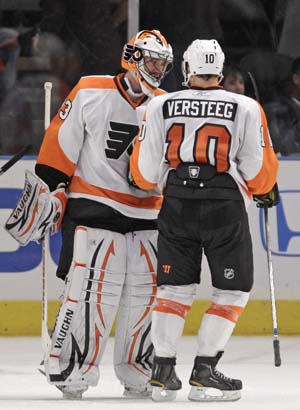 The building where Kris Versteeg hoisted the Stanley Cup on June 9 is now his home.
Tonight, against the Phoenix Coyotes, Versteeg will make his Wells Fargo Center debut with the Flyers after his trade from Toronto last week. Versteeg has collected 1 goal and 1 assist in his first 4 games with the Flyers – all of which came on the road.
To read about why Ville Leino was the key to the Flyers landing Versteeg, and how he put aside financial gain to help the team win, click here.