Archive: December, 2009
BOSTON – Cruising around on the freshly snow covered ice in Fenway Park – with buildup from flakes falling from the sky and not shavings from the Flyers' skates laying on the pristine surface – Riley Cote couldn't help himself.
Cote huddled with Jeff Carter near the red line and scooped up all the snow he could, as the Flyers' regulars went in one-on-one with goaltenders Michael Leighton and Brian Boucher practicing for the shootout.
Once piled, Cote and Carter packed the snow – wincing each time the cold snow touched their hands – and set up an arsenal in front of the penalty box.
Mike Richards and Chris Pronger will be on the Canadian Olympic team, it was announced today. Pronger will be an alternate captain.
Flyers defenseman Kimmo Timonen was selected for the Finland team.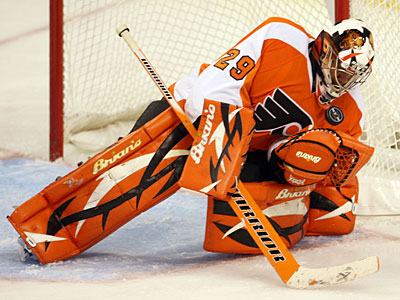 For the first time since undergoing abdominal surgery on Dec. 9, Ray Emery was back on the ice with a few teammates for a light skate at the Flyers Skate Zone in Voorhees.
Emery alternated shots with Brian Boucher from Riley Cote, Mika Pyorala and Danny Syvret.
Boucher backed up Michael Leighton in Sunday's win in Long Island but said that he wasn't ready to play in a game yet. A point blank shot from Florida's Michael Frolik last Monday cut open his right ring finger, requiring stitches. Boucher said that when he took shots, the cut – which is on his blocker (stick holding) hand – the vibrations from his stick reverberated through his hand.
UNIONDALE, N.Y. – With usual extra defenseman Ole-Kristian Tollefsen out with a knee injury, the Flyers have gambled by playing the last couple weeks without an available body.
They lost that bet on Saturday in Carolina. (And almost lost the game after having a 3-0 lead. But we won't mention that.)
Ryan Parent missed the game with back spasms, leaving the Flyers with just five defensemen for an important game against the Eastern Conference's worst team.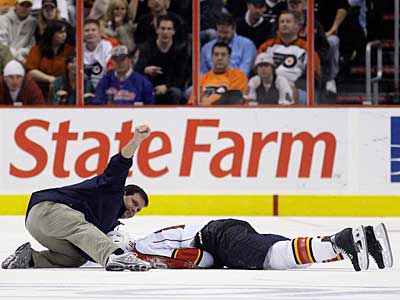 David Booth is angry. He told the Florida Sun-Sentinel himself yesterday.
"Yeah I'm angry," Booth said. "How could you not be angry? Everyone would be angry."
He is still angry about what happened here on Oct. 24, when Mike Richards blindsided him with a chilling open-ice check.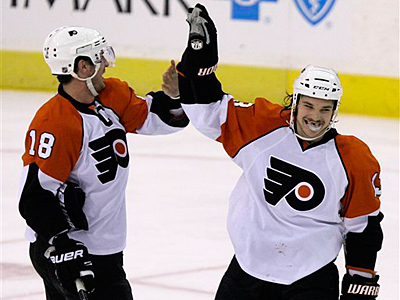 UPDATED at 11:15 a.m.:
The Sixers and Flyers released a statement saying both teams will play tonight despite the snow:
Tick, tock. Tick, tock.
That noise?
Oh, that's the ticking time bomb inside the Flyers' locker room.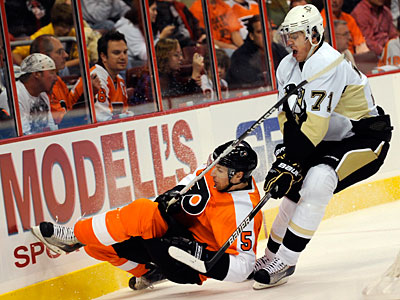 Danny Syvret was originally called up from Adirondack to replace Ole-Kristian Tollefsen in the lineup tonight in Pittsburgh.
Instead, the Flyers called him and told him not to come, that Braydon Coburn would be ready to return tonight in Pittsburgh. He missed last night's game with an ankle injury.
Syvret had two points in 13 games with the Flyers this year, then scored seven points in eight games with Adirondack.