Archive: January, 2012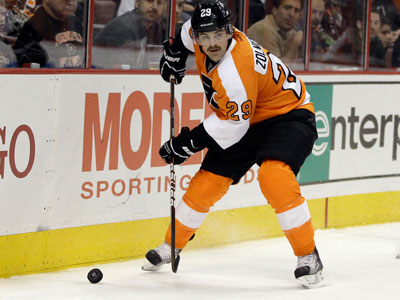 UPDATE: Due to a scheduling conflict, Harry Zolnierczyk will begin his chat at 4:00 p.m.
******
EARLIER: Flyers forward Harry Zolnierczyk will take your questions in a live chat at 2:30 p.m. Wednesday.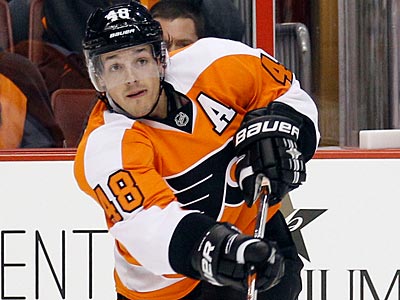 With plenty of time over the last week, Danny Briere went back and reviewed the video of his Jan. 21 game in New Jersey, hoping for some sort of clue as to who or what delivered the knockout punch that has him sitting out with a concussion.
Most players would look for the culprit and write down his number for their next matchup.
Others would cry foul, wondering why a certain hit wasn't up for supplementary discipline.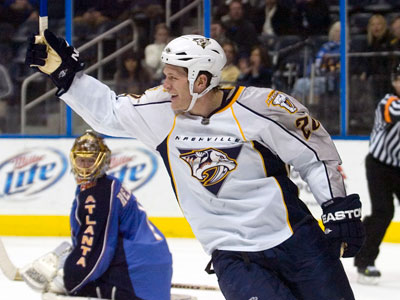 OTTAWA -- Skating alongside his former teammate in Sunday's NHL All-Star Game, Kimmo Timonen said he was gently trying to massage the idea of the Flyers into Nashville defenseman Ryan Suter's subconscious.
"I told him that Philly is a nice town," Timonen said with a smile. "He would probably enjoy Philly."
With exactly 4 weeks until the Feb. 27 trade deadline, no one knows quite what will happen with Suter in Nashville - who is easily the biggest name atop the pending unrestricted free agents list this year.
OTTAWA -- Statistics say that approximately 4 percent of the world's population was born with natural, red hair.
Scott Hartnell, the Flyers' resident ginger, just happened to be on a line with two others - in Vancouver twins Daniel and Henrik Sedin - in his first NHL All-Star Game on Sunday afternoon in Ottawa.
That was how the game started.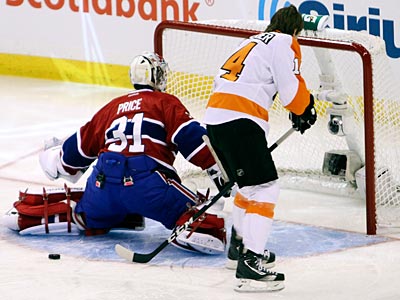 OTTAWA -- Sean Couturier skated in on Carey Price from the red line carefully juggling the frozen puck with the blade of his stick.
Flip, flop.
The puck would bounce hop in the air, doing a revolution or two before landing calmly on his blade as he carried in on Price with the Scotiabank Place crowd sitting on the edge of their seats.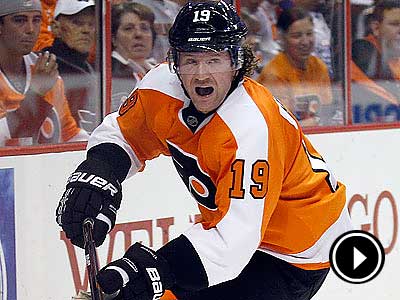 Video: The Flyers are fourth in the NHL's Eastern Conference at the All-Star break. The Daily News' Frank Seravalli & CineSport's Noah Coslov discuss the team's concerns and Scott Hartnell's fantasy draft position.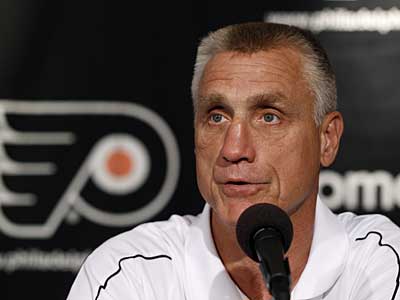 SUNRISE, Fla. -- It didn't have any of the tradition or pomp and circumstance of President Obama's State of the Union address on Tuesday night in Washington, but Flyers general manager Paul Holmgren offered up his State of the Flyers this week.
Watching the Flyers' 3-2 victory over the Florida Panthers on Tuesday night, it was hard to fathom that 9 out of the 20 players on the ice were not even members of the organization at this point last year. And that number does not include players like Marc-Andre Bourdon, Erik Gustafsson, and Ben Holmstrom, who were with the Phantoms.
All things considered - devastating injuries, scheduling quirks and new faces, as outlined in today's game story - Holmgren is pleased with what he's watched through the first half of the season.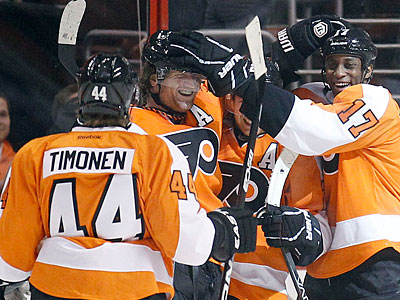 SUNRISE, Fla. -- When the rosters were first announced on Jan. 12, Scott Hartnell said he had a feeling it might take until the third or fourth round of injury replacements for him to finally make it to his first NHL All-Star Game.
Turns out, the third time is the charm.
According to TSN's Bob McKenzie, Hartnell has been selected to join the All-Stars this weekened in Ottawa as an injury replacement for Chicago captain Jonathan Toews.