Archive: April, 2012
PITTSBURGH -- With the dawn of a new playoff series, the Flyers enter the first round well-equipped.
Aside from the standard, team-issue gear, the Flyers are wearing new playoff t-shirts under their equipment, one that pays homage to their post-game victory song.
The back of the shirt, as pictured, says "16 Knock Knock's" in honor of Mac Miller's song "Knock Knock," which the Flyers made famous through HBO's "24/7" documentary.
Join Daily News Flyers beat writer Frank Seravalli for a live chat about the Flyers-Penguins playoff series starting at 2:30 p.m. Wednesday.
If you're on a mobile device, click here to follow along and post questions.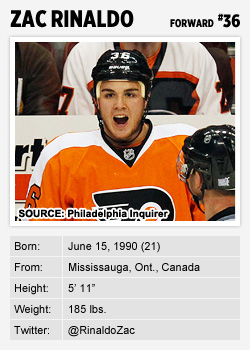 Voorhees, N.J. - Tues. April 10, 12:05 p.m.
I'm jacked up for the playoffs to finally start. Our flight leaves at 2:30 this afternoon and I couldn't be more excited to get to Pittsburgh.
I think what the team needs to do is just get bonding again. That's a big thing for the playoffs, for me at least, is just to bond with the guys and get even a little tighter than we normally are. That's a huge thing.
I didn't mind the practice schedule this week, playing Saturday and then Game 1 on Wednesday. I think that's a good thing for our team. It works to our advantage, we can work on our systems and fine tune things.
The ballot from NHL headquarters arrived in my inbox on March 29.
For the most part, it has sat there - unclicked - for the last two weeks because I haven't exactly known what to do with it. As a voting member of the Professional Hockey Writers Association for the Hart, Norris, Calder, Selke, Lady Byng trophies and the All-Star teams, it is an honor I take seriously.
I put in at least three to four hours of research - carefully checking statistics, glossing over injury reports, reading through newspaper stories, just to make sure I've got the most complete picture possible.
Video: Sidney Crosby, Evgeni Malkin and the Pittsburgh Penguins begin their NHL playoff run vs. Ilya Bryzgalov and the Flyers. CineSport's Noah Coslov and the Daily News' Frank Seravalli discuss.
Judging by the way he spoke and the tone of his voice last week, Danny Briere did not sound confident he would be ready to return to the lineup for Game 1 of the Eastern Conference quarterfinals.
"I'd like to be ready for the playoffs," Briere said last Tuesday. "I just don't know at this point."
So, it was somewhat of a surprise that Briere - who suffered an upper-back contusion on April 1 - was back on the ice with his teammates on Monday in their first preparation practice for Pittsburgh.
PITTSBURGH — With the NHL regular season ending on a Saturday for the first time since 1928, the league had plenty of time to put together a schedule for the first round of the Stanley Cup playoffs.
The schedule, as follows, was released live on NHL Network:
Game 1: Wed. April 11 - Philadelphia at Pittsburgh - 7:30 pm, NBC Sports Network nat'l, CSN local
Game 2: Fri. April 13 - Philadelphia at Pittsburgh - 7:30 pm, NBC Sports Network nat'l, CSN local
Game 3: Sun. April 15 - Pittsburgh at Philadelphia - 3:00 pm, NBC national exclusive
Game 4: Wed. April 18 - Pittsburgh at Philadelphia - 7:30 pm, NBC Sports Network nat'l, CSN local
Game 5*: Fri. April 20 - Philadelphia at Pittsburgh - 7:30 pm, NBC Sports Network nat'l, CSN local
Game 6*: Sun. April 22 - Pittsburgh at Philadelphia - TBA
Game 7*: Tues. April 24 - Philadelphia at Pittsburgh - TBA
* if necessary.
PITTSBURGH — All season long, Flyers forward Zac Rinaldo kept a close tab on the NHL's penalty minute leaders - checking daily to see if his name was near the top of the list.
For some, it is a meaningless stat, something that would be more of a source of shame than anything else.
For Rinaldo, the penalty minutes were a source of pride - proof of blood and brawn - as long as they didn't hurt the team and make his Flyers shorthanded.
PITTSBURGH -- Nick Grossmann has played just 22 games in a Flyers uniform since arriving from Dallas via trade on Feb. 16.
That was more than enough of an audition for Flyers general manager Paul Holmgren.
The Flyers signed Grossmann to a multi-year extension on Friday, as announced by the team. Financial terms of the deal are not yet available.
The new deal avoids having Grossmann become an unrestricted free agent on July 1. He was acquired from Dallas in exchange for a second round pick in 2012 and a third round pick in 2013.
Video: The Flyers defeated the Sabres 2-1 on Thursday night at the Wells Fargo Center, which helped set up a first round playoff matchup with the Penguins. Frank Seravalli reports from the Wells Fargo Center.