Archive: February, 2011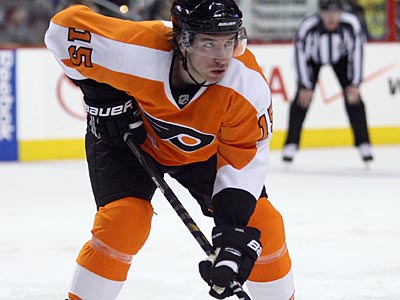 RALEIGH, N.C. -- One thousand, seven hundred.
It's a big number.
Last night, the Flyers picked up the 1,700th win in franchise history, giving them an overall record of 1700-1167-457-75 since they began playing at an empty Spectrum in October, 1967.
SUNRISE, Fla. -- At first glance, everything seemed to be normal with Ville Leino on Tuesday night in Tampa Bay.
Leino did not pick up any points but skated 15:53 in the Flyers' shootout win over the Lightning.
His movements, though, in timeouts and in between stoppages, painted an entirely different picture. Leino took every opportunity to stretch his legs and skate, even stretching as deep as the Flyers' tunnel in between the bench and their locker room.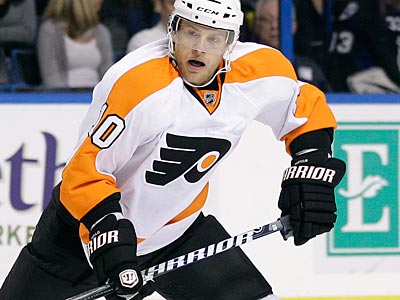 SUNRISE, Fla. -- Kris Versteeg was nervous.
He said his heart was beating fast and his mind was racing during his first few shifts as a Philadelphia Flyer last night in Tampa Bay. But as the game wore on, Versteeg settled down and seemed to fit in more with his teammates and Peter Laviolette's system.
"I think I was more over-thinking things and being nervous than anything," Versteeg said. "I just tried to be in the right place at the right time, trying to mesh with my new teammates and line mates.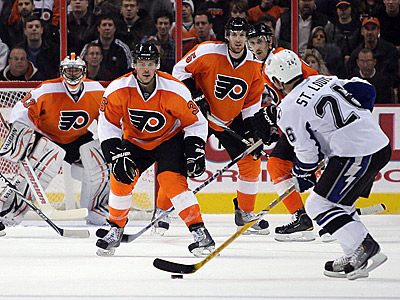 For our analysis of the trade for Kris Versteeg, click here.
TAMPA, Fla. -- Peter Laviolette is not a big believer in the term "statement game" or even the term "measuring stick," though it has been thrown around his locker room quite a bit.
With a 13-4-0 record since Jan. 1 and first place in the Eastern Conference, it's hard to have a measuring stick game against a team below you in the standings.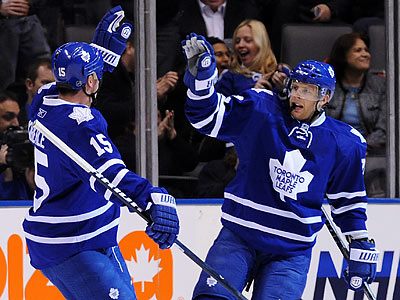 The Flyers have traded their No. 1 and No. 3 draft picks to Toronto for 24-year-old forward Kris Versteeg, according to general manager Paul Holmgren.
Versteeg, 24, is a 5-10, 179-pound winger with a righthanded shot. He has 14 goals and 21 assists in 53 games this season, his first with Toronto. He played three seasons with the Chicago Blackhawks, and won the Cup with them last year.
"Kris is an exciting young forward," Holmgren said in a statement. "He's 24 years old and he'll fit in with our group of players here. He's a quality forward that can play in a lot of different roles for our hockey team. He can move up and down our lineup. He can kill penalties. He can play on the power play. We think he's a guy that over the last few years, particularly in Chicago, has really blossomed into a good forward and we think he's going to be a really good addition to our team."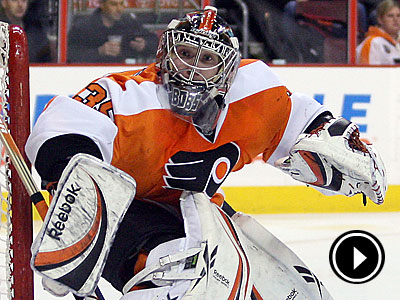 Video: The Flyers will face a tough test Tuesday in Tampa. Frank Seravalli and Dave Isaac look forward to the Flyers' crucial matchup against the Lightning.
---

Get exclusive videos and analysis in our new app for iPhone and Android. Download it here.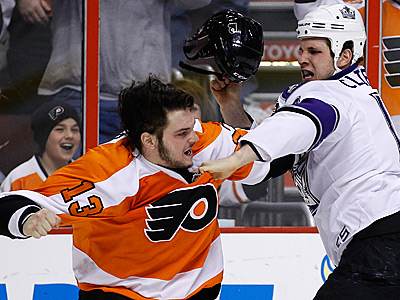 With the puck spinning on its edge like a quarter on a table, sitting in the sacred blue paint in front of an unknowing Jonathan Quick, Danny Briere tried to take a stab at it.
Before Briere's stick could touch the puck, he was denied by Quick's glove and the play was whistled dead.
Pushed by a Kings defenseman, Briere bounced against the end boards and looked up to the rafters and smiled. That was all he could do. The Flyers were exasperated and exhausted.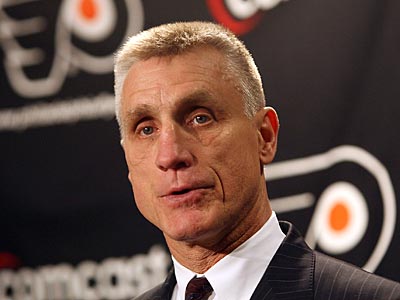 With the NHL trade deadline just 17 days away on Feb. 28, now seems like as good a time as ever to start trying to figure out which teams in the Eastern Conference will be buyers or sellers as one of the season's most exciting days approaches.
Here's my take, in current standings order:
1. PHILADELPHIA (77 points) - Personally, I do not see Flyers general manager Paul Holmgren wanting to do too much to a stable roster that has played so consistently this season. But that doesn't stop the rumors from flying, that Holmgren has already spoken to many general managers. This Flyers team doesn't need any help on the blue line or in net, though a solid scoring winger with experience couldn't hurt. Still, Holmgren isn't going to shake up this team's chemistry or move a decent piece to get one.
Verdict: STANDING PAT