Archive: October, 2010
CineSport's Noah Coslov checks in with the Daily News' Frank Seravalli as they discuss the Flyers' 3-2 win over the Pittsburgh Penguins in the season opener, including the play of rookie goalie Sergei Bobrovsky and how the Flyers were able to win despite the absence of Chris Pronger.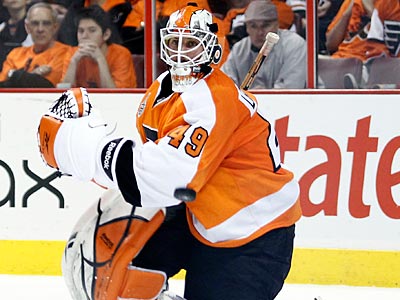 Flyers goalie Michael Leighton will undergo back surgery Monday and is expected to miss 6 to 8 weeks, the team said.
The procedure, a partial dissectomy, will be performed at Methodist Hospital in Philadelphia.
More to come.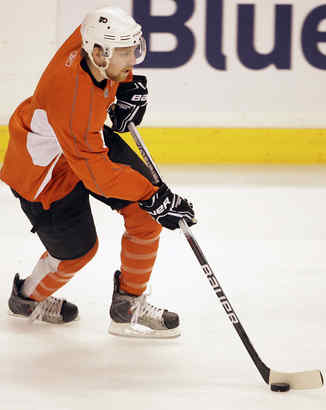 PITTSBURGH -- Claude Giroux received an x-ray on his ankle post-game, after being hit in the skate with a shot in the Flyers' 3-2 opening night win over division-rival Pittsburgh.
Giroux declined to talk about the injury but was seen visibly favoring his ankle while walking back to the locker room.
Flyers general manager Paul Holmgren said Giroux's injury was "nothing," less than five minutes after Giroux returned from the x-ray room. Holmgren had not even received the results yet.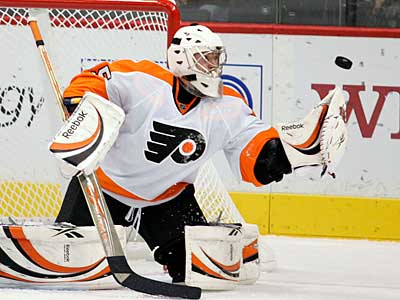 PITTSBURGH -- The move, to say the least, was surprising.

Flyers coach Peter Laviolette announced to the team's web site early Thursday morning that his starting goaltender tonight will be Sergei Bobrovsky, not veteran Brian Boucher as nearly everyone surrounding the team expected.

Would Bobrovsky, who is just 22, really be thrown to the wolves on opening night of the brand new Consol Energy Center in front of a national audience?

Are Sidney Crosby, Evgeni Malkin and the rest of the Pittsburgh snipers really the best players to introduce Bobrovsky to his first North American pro game?

All of those questions - and possibly a lot more - will be answered when the puck drops on the Flyers' 2010-11 season at 7:08 pm on VERSUS.

Laviolette called it a "gut decision."

"It's not just based on a day or two," Laviolette said. "From the time he's been here, he's been sharp. Every game, every situation, every practice, every scrimmage, he's looked really good.

"I think 'Boosh' [Boucher] came in and he played well. You'll see both goaltenders early in the season here, but we had to have a starting point somewhere. And I really like the way [Bobrovsky] has put together a body of work in the last month. He's been very sharp every day."

Bobrovsky, who played the last two years in Russia's KHL, posted a 1.76 goals-against average and 93.9 save percentage in 205 minutes in the preseason, albeit against subpar NHL talent.

Boucher, meanwhile, had the exact save percentage and a slightly higher 1.90 goals-against average in 47 less minutes of work.

A debut like this could go one of two ways:

-Bobrovsky could be shelled by a Penguins team that attacks a Chris Pronger-less Flyers defense and routs their cross-state rival in their plush, new arena.

-OR-

-Bobrovsky is absolutely stellar, catches the Penguins looking around at the new sights and sounds of their building, catches fire and the Flyers ride him to a strong season.

Perhaps the Flyers are looking for a more permanent replacement in-case Michael Leighton's bulging disk is more serious than first thought. It does not suggest here that Leighton's injury is more serious than it currently stands, but Leighton was officially assigned to the Long Term Injured Reserve on Thursday, leaving him out of action for at least 24 days or 10 games.

Or, of course, Bobrovsky's start falls somewhere in between all of that.

Laviolette is probably banking on the latter.

Still, no one saw this coming.

Pick up a copy of Friday's Daily News for Boucher's candid reaction to being told he would not start.

Pronger out
Chris Pronger will likely not be in the lineup tonight, choosing to nurse his surgically-repaired right knee for at least another day or two.

Pronger skated for about 30 minutes after practice with the Flyers' other two scratches, defenseman Matt Walker and forward Andreas Nodl.

Nodl was re-called by the Flyers on Thursday as expected.

It's pretty telling for the Flyers to start the season with Bartulis instead of the much more expensive Matt Walker. Walker will make $1.7 million this season, a full $900,000 more than Bartulis. That's an expensive cap hit for an 8th defenseman.

It's also an audition of sorts for Bartulis, to see if he can hold the spot.

Lineup
Here are tonight's lines:

Forwards
Carcillo - Richards - Carter
Hartnell - Briere - Leino
Van Riemsdyk - Giroux - Zherdev
Shelley - Betts - Powe

Defense*
Timonen - Coburn
Meszaros - O'Donnell
Carle - Bartulis
*The defensive pairings are subject to change with Pronger out.

Scratched
Nodl
Walker

For the latest updates, follow Frank Seravalli on Twitter at http://twitter.com/DNFlyers.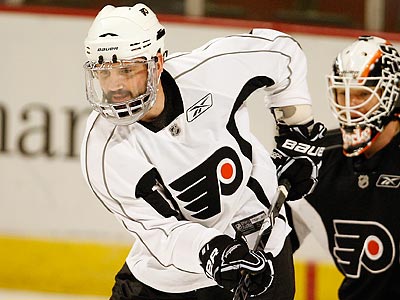 Flyers forward Ian Laperriere is expected to miss the entire season and his career could be in jeopardy, the Daily News has learned.
Technically, Laperriere has been placed on the short-term injury list with post-concussion syndrome, but doctors are trying to determine whether his symptoms are from concussions or from the eye injury that he suffered in the first round against the Devils last year.
Because Laperriere is older than 35, his status has salary cap implications for the Flyers that the team is still evaluating.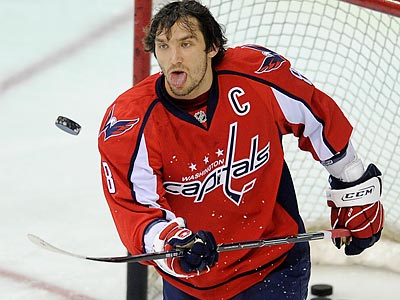 With the puck set to drop on another season on Thursday, where do the Flyers stack up in the Eastern Conference?
Here is my prediction for the final regular season standings come April:
1. WASHINGTON -- While the Southeast division has improved a little bit with Tampa Bay, it is still one of the weakest divisions in the NHL. That means the Capitals will accumulate more than enough points to run away with the conference. But as we saw last year, that doesn't necessarily translate to postseason success. This year, their goaltending is even more suspect with Michal Neuvirth and Semyon Varlamov. Their dynamic offense will continue to carry them but their lack of goaltending and defense will continue to haunt them in the post season.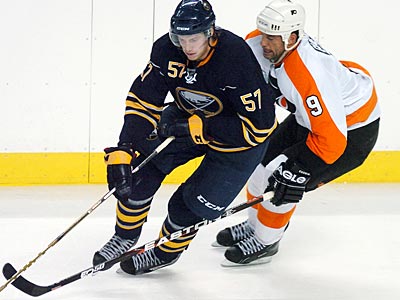 Veteran winger Bill Guerin was released today by the Flyers, general manager Paul Holmgren announced during a conference call with the media.
Guerin was trying to make the club as a free agent.
The Flyers sent Johan Backlund, Marc-Andre Bourdon, Erik Gustafsson, Jon Kalinski, Mike Testwuide, David Laliberte and Ben Holmstrom to Phantoms.
BUFFALO -- With the NHL's deadline for roster cuts due at 3 o'clock on Wednesday afternoon, Flyers general manager Paul Holmgren said on Sunday night that waivers will not have an impact on the cuts made.
Johan Backlund, David Laliberte, Oskars Bartulis and even Matt Walker are the bubble players still in training camp that would need to clear through waivers - and be available to all 29 other teams - if they aren't added to the salary cap by Wednesday.
Backlund could generate some interest on the waiver wire if the Flyers choose to keep Sergei Bobrovsky as the backup to Brian Boucher, with Michael Leighton out for the first month of the season.