Archive: March, 2011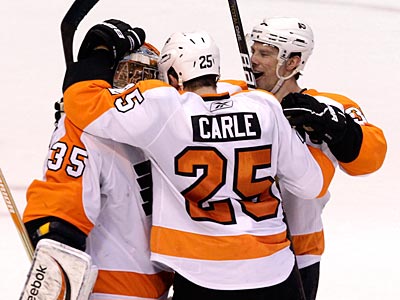 DALLAS -- Peter Laviolette had a blank expression on his face.
It was almost as if the question that he knew was coming - after Saturday night's drama-filled shootout win in Dallas - caught him off guard.
"Does it mean anything to clinch a playoff berth?" a reporter asked.
UPDATED [9:45 pm]: The Islanders failed to defeat Carolina in regulation, and so the Flyers must wait until Saturday to clinch a spot in the playoffs. Carolina's overtime win also prevented Washington from clinching a spot. The Flyers can earn a postseason berth with a win on Saturday in Dallas no matter what any other team does.
----
FARMERS BRANCH, Texas -- The mathematics are convoluted.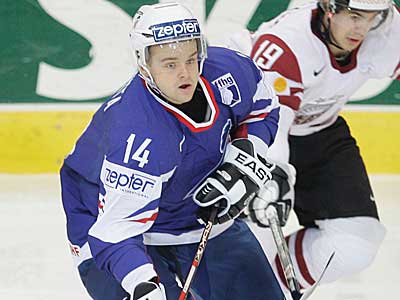 DALLAS -- It's official.
The Flyers have the worst farm system in the NHL.
Even though the Flyers have had the lowest average first pick in the NHL draft every year since 2007, the Flyers' farm system still ranks 30th in the NHL in viable prospects, according to The Hockey News' annual "Future Watch" edition which was released this week.
DALLAS -- Each week, Flyers beat writer Frank Seravalli will answer your questions. Send him an e-mail with your question to seravaf@phillynews.com.
Frank,
Enough with [Sergei] Bobrovsky already. He's young, raw, and will and has imploded in the third period. His time in down the road like in 2 to 3 years, not now. [Brian] Boucher can do it, he's been close before, if he played game six in last years final, there would have been a game seven. I have been a season ticket holder since before you were born and I'm not dumb enough to think that Boucher will stand on his head but I do know he's better under pressure, he handles the puck better,and communicates better then Bobrovsky. I think 'Lavi' also knows this and he wants to keep Boosh fresh so he will still play Bob but hopefully less then a third of the remaining games.
-Howard Littman
Howard,
Personally, I think you're spot on that Boucher should be the playoff starter. I think it's his to lose, at this point. He has been steady all year. It's about time that Boucher has gotten back-to-back starts. Bobrovsky really didn't look too hot against Atlanta [last Saturday] in the third period with the game on the line. How will he react in Game 6 of a series? He goes through these long stretches where he seemingly has no idea where the puck is on the ice. It's like he's lucky to have it hit him. Yes, he's flexible and he's quick and he makes saves Boucher could never. But he's also never really been tested, he still has a lot to learn, and he lets in goals that Boucher would never. Who knows what Laviolette will decide to do, but I think he's already leaning towards Boucher.
-Frank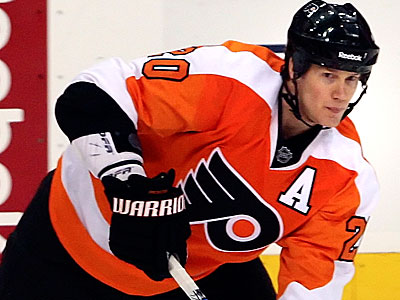 UPDATED: Brian Boucher will start in net tonight for the Flyers against Atlanta. Also, Nick Boynton will be scratched and Erik Gustaffson will be in the lineup.
EARLIER:
ATLANTA -- Chris Pronger was disappointed.
ATLANTA -- If you were looking for a particular stat to explain the Flyers' 3-2 win over the Panthers on Tuesday night, you need to look no further than the blocked shot column.
The Flyers blocked 22 shots, including 9 in the 3rd period, which equaled the number of shots that got through to Brian Boucher. That allowed Boucher to pick up his 6th win in his last 8 starts.
"We did a good job of blocking pucks and keeping them to the outside," said Jeff Carter, who posted his second two-goal game in his last 4 contests.
SUNRISE, Fla. -- After Sergei Bobrovsky allowed 5 goals in a little more than his last 20 minutes worth of work, Flyers coach Peter Laviolette is turning to Brian Boucher against the Florida Panthers tonight.
The Flyers, in need of a win to stay in front in the Eastern Conference, have collected just 4 wins in their last 10 games.
They face the Panthers, who would love nothing more than to play the role of spoiler, as this will be their 10th consecutive season to not skate in the playoffs. That is an NHL record for one franchise while in one particular city.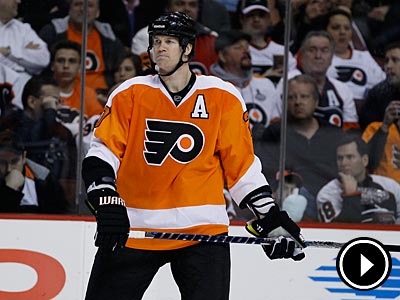 Video: The Daily News' Frank Seravalli talks about Flyers defenseman Chris Pronger's right hand injury and says who should step up in Pronger's absence.
---

Get exclusive videos and analysis in our new app for iPhone and Android. Download it here.